California Dreamin' - The Paolo Bettini Diary 2004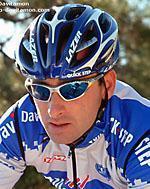 In action
Photo: © Quick-Step Davitamon
He's from California, down near the beach, but this guy's no surfer dude. Paolo Bettini is from La California, near Cecina on the Tuscan coast in Italy. The Quick.Step-Davitamon rider had a fantastic 2003 season, winning his second consecutive World Cup, this time with three wins in one season - a feat unequalled by any other rider - plus an Italian championship and the world number one ranking. Bettini is back on Cyclingnews in 2004 with his exclusive English-language diary.
On the road to the Adriatico
March 10, 2004
Hi to all my friends on Cyclingnews! Buongiorno a tutti!
Finally we're at Tirreno-Adriatico, a race I really like a lot, especially since the finishes are usually at the end of short, steep climbs that are great for me and remind me of the Belgian or Dutch classics. And once again this year, Tirreno-Adriatico is a wide open race with no clear favorites. There will certainly be a big struggle between the sprint kings Cipollini and Petacchi, who are warming up for another showdown at Milan - San Remo.
In the last couple of weeks since my last race, I've had some pretty good training, but the weather hasn't been the best. It seems like it's rained almost every time I've been out on the bike and the only good thing I can think is that it's been lousy weather everywhere. My form is continually improving and besides a few stages in Tirreno-Adriatico just for sprinters, it looks like a good test for me to prepare for "la Classicissima", Milan - San Remo.
Our Quick.Step-Davitamon team is really competitive and focused now. We'll have our Lion of Flanders in the Tirreno-Adriatico team, Mr. Johan Museeuw. He decided not to ride because he was having some back problems, but has come back in record time and I'll be really happy to have him with me for Tirreno-Adriatico. Johan is a rider with so much experience and smarts. He brings so much to our team. To have Museeuw on our team the week before Milano-San Remo gives me a lot of confidence. His advice is always really helpful, especially in the last big stage race before the first classic of the season.
Monday we heard good news in France when our teammate Pedro Horrillo powered to the win in stage one of Paris-Nice. It's a big win for him and the team. Who knows if it won't be a good sign for our team?!
Arrivederci!
Paolo