California Dreamin' - The Paolo Bettini Diary 2004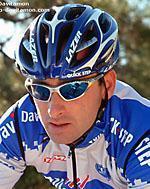 In action
Photo: © Quick-Step Davitamon
He's from California, down near the beach, but this guy's no surfer dude. Paolo Bettini is from La California, near Cecina on the Tuscan coast in Italy. The Quick.Step-Davitamon rider had a fantastic 2003 season, winning his second consecutive World Cup, this time with three wins in one season - a feat unequalled by any other rider - plus an Italian championship and the world number one ranking. Bettini is back on Cyclingnews in 2004 with his exclusive English-language diary.
Addio Marco
February 15, 2004
Hi everybody,
I'm finding it very hard to write my diary right now. We got the news of the death of Marco just before the final TT in the Tour of Med and it left us all stunned.
When certain things happen, you just can never find the right words to describe what you are feeling. Together with the other Italian riders in the race today, we wanted to remember Marco by wearing a black armband during the last stage. It was a symbolic gesture that was also shared with my teammate Virenque.
It's tough to find a reason just now and I think we have to wait a while and have respect for Pantani. The only thing I want to say is that I send my most sincere condolences to Marco Pantani's family and the people who wished him well.
As for the rest, unfortunately, it doesn't matter anymore.
Paolo Bettini