Recently on Cyclingnews.com
California Dreamin' - The Paolo Bettini Diary 2004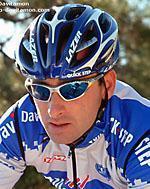 In action
Photo: © Quick-Step Davitamon
He's from California, down near the beach, but this guy's no surfer dude. Paolo Bettini is from La California, near Cecina on the Tuscan coast in Italy. The Quick.Step-Davitamon rider had a fantastic 2003 season, winning his second consecutive World Cup, this time with three wins in one season - a feat unequalled by any other rider - plus an Italian championship and the world number one ranking. Bettini is back on Cyclingnews in 2004 with his exclusive English-language diary.
Planning for a busy year
February 5, 2004
Ciao Bambina! Buongiorno a tutti Cyclingnews readers!
It's been a while since I've been able to do my diary, but here I am, back for 2004 on Cyclingnews. You know, one season really comes pretty quickly right after another and so the winter break seems to get shorter and shorter. Now the winter is over for me and actually, it's been a pretty busy time. As you might know, I became a dad just before the world championships in Hamilton on September 28. Little Veronica has grown up right in front of my eyes.
As in any family, the birth of a new baby brings such joy and also a lot of responsibility. Our rhythms of life have changed completely and at the same time, it's changed our priorities. At first, it was hard with our baby. More than once, we stayed up all night with Veronica, but our happiness to have a new daughter has repaid any sacrifices we might have had to make. And now, we can see that Veronica is becoming more aware of the world around her and is starting to interact with it. Last week when I left for Majorca, it seemed to me that Veronica knew somehow that I wasn't going to around for a while. I'm sorry I have to leave her to go to the races. But since I know that my wife Monica and Veronica are waiting for me at home, it's a big motivation to do my best and come home to them soon.
Perhaps my results will come a little later this season, since I don't have the same condition I did last year in this period, but I'm not worried or anything. Maybe it's even better this way. Last year, I was very strong at the Giro del Mediterraneo, and could have burned myself out early. This year, I want to be really competitive at San Remo, then keep my form for the Northern Classics. That's the plan for the first part of my season, then after the Classics, I'll take some time off from racing to recharge my batteries and start up again in the races before the Italian championships. I want to be in good form this year to defend the title I took last year in Saltara. I've checked out the course at Santa Croce all'Arno last month and I found that it was an easy course. It won't be easy to win again, but to do so is one of those challenges I really like.
Last year at the Tour de France, it was great to wear the Italian Champion's 'maglia tricolore' jersey. Along the roads, even far away, the people recognize you and really cheer you on! So after the Italian Championship, I'll be back on the French roads in the Tour to prepare very well for August.
No need to hide the fact that the summer World Cup races and the Olympic road race are fascinating for me, so after the hot August is over, I'll start to prepare for the World Championships in Verona in early October. As you can see, my dance card this year is already pretty full! If I could chose... a Classic, the Olympics or the World's? No! I'm already getting ahead of myself, but after the year I had in 2003, I really have to give it my all to go for these great possibilities this season.
Ciao!
Paolo Bettini