Model racer: The Niki Gudex Journal 2005
Downhill and cross-country racer, graphic designer and model, Australian mountain biker Niki Gudex is nothing if not versatile. Riding for the SRM Power Team, Niki will be the first ever female rider in the team. She'll continue to focus on the NORBA series while making time to race back in Australia. Follow all the adventures in her exclusive diary on Cyclingnews.
Niki Gudex's website: www.nikigudex.com
Intense For Intense.
Frolicking at Disneyland
Photo ©: Niki Gudex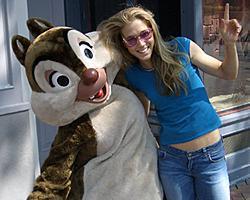 Sydney to LAX, the first of many long haul flights for the season; this one was in order to attend the Sea Otter Classic event. The Sea Otter Classic is held in Laguna Seca and I went there to race in the Sony Playstation 2 Pro XC MTB Stage Race, (4 days consisting of Super XC, TT, short track and long course XC). Most of my training is based around races that last about 2 hours, none of which are included in the Sea Otter. Combined with this being very early in the season for me, it was always going to be interesting.
This season I am riding for the new Intense Cycles XC team. Tara Llanes kindly loaned me one of her trucks for the next week, so I was able to drive it out to Temecula, California, to meet up with Jeff Steber and check out the Intense Cycles factory. It is a pretty cool place and it was really interesting to see how the bikes are made. After navigating the US highway system I made my way to Oakley to catch up with everyone that I hadn't seen since October.
Niki's Spider hardtail;
Photo ©: Niki Gudex

Having the support of people like Oakley and Intense makes the biggest difference when you are on the other side of the world, away from friends and family. I am focused on achieving great results outside of Australia and I really believe that I now have the equipment and support to do that. I just need a more powerful engine, but I am constantly working on that. On the Wednesday Jeff and I drove up to Monterey together and the 6 hour drive was the perfect opportunity for us to get to know each other a bit more. We arrived at the race site in the afternoon with enough time to check in and then head out on the course. Thursday was our first day of racing, the Super XC, which is kind of like Super Motard for motorbikes. For the most part it was on the Laguna Seca racetrack, with a small diversion off onto the dirt.
Friday was stage 2, the TT. At 5 miles, it was not much longer than a DH event, so I tried to think of it as a downhill race and just work every section (what were climbs doing in a downhill race anyway?) All things considered, I was happy with how it went. I worked the downhill and put everything into the climb.
Niki puts the hammer down
Photo ©: Niki Gudex

Stage 3 was an afternoon start on the Saturday. The short track is not a new event but it was the first time I had ever raced it, so I was excited to see what it would be like. I think with a bigger engine (it is on back order) it will be a really fun race format. Thanks to every one out there cheering for us, it is always nice to have an enthusiastic crowd at an event. That evening I had dinner with an interesting group (Thomas Frischneckt, Seb Paradis, Steve Blick, Andreas Aeschlimann, Brett Hanson and Bob Roll.) It was a good group of people with lots of stories. Frischi is cool. I think that there is so much to learn from someone like him, not only about how to be a successful racer, but how to have a long career and enjoy every minute of it. The long format XC was held on Sunday, the fourth and final stage. At 36 miles on dirt it was a lot longer than what I am used to racing, but it was pretty open and fast.
Applying Windex
Photo ©: Niki Gudex

One section of the course had poison oak which brushed against me. My teammate Amon recommended I use Windex spray to try and get rid of it, then a cold shower just to be certain. Not the nicest thing when all you want is a hot shower but it had to be done. After this race and the three previous days of racing, I was pretty tired, but there was no chance to rest yet as we drove most of the night, arriving early morning back in Dana Point. When it all added up, I finished 32nd overall. Ideally I would have liked to have been higher but I am trying to keep things simple and take it one step at a time. I found I really enjoyed some of the shorter events, because there is just so much atmosphere from the crowd to push you that bit harder. Racing at the Sea Otter Classic was also a good indicator of how my training is coming along. The base is there, I just need to get that intensity to be able to respond to attacks when they happen.
Gracia and Niki
Photo ©: Niki Gudex

Monday was an opportunity to kick back. Cedric Gracia, Steve Blick and I went to a "mall" where we found someone selling fluoro hand painted live crabs as pets, crazy. Tuesday was the 20th day of the 4th month, or as Blick calls it the 420. We decided to honour this special date with a visit to Disneyland. By the way, Tuesdays are a good day if you are ever thinking of going, it was pretty quiet there. ;) I was lucky enough to catch up with both Mickey and Chip, though I am not sure if they remembered me from the last time we'd seen each other, nearly twenty years ago... they don't talk much. After Disneyland I figured I was almost tired enough to catch a plane, so it was straight to the airport for the 11pm flight.
I now have another two weeks at home before I head back to the US again. Getting that race intensity shouldn't be a problem, starting from mid May I will be racing 4 NORBA and 2 World Cup events in 7 weeks. I will savour these next two weeks at home.
Have fun on the bike.
Niki
Photos
Images by Niki Gudex