Model racer: The Niki Gudex Journal 2005
Downhill and cross-country racer, graphic designer and model, Australian mountain biker Niki Gudex is nothing if not versatile. Riding for the SRM Power Team, Niki will be the first ever female rider in the team. She'll continue to focus on the NORBA series while making time to race back in Australia. Follow all the adventures in her exclusive diary on Cyclingnews.
Niki Gudex's website: www.nikigudex.com
Wet and Wildside
I'm sure the guy in red knows the way
Photo ©: Rick Eaves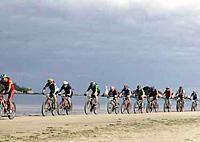 The sun is shining in Launceston today, ironically because it has been so cold and wet the last few days. I am on the plane home to Sydney from the West Coast of Tasmania, having spent the last four days competing in my first Wildside mountain bike race.
This is the first time I have competed in Wildside; actually it is the first time I have competed in a stage race. It was a lot of fun, but I initially found it difficult to know how to pace myself.
The Wildside MTB consisted of seven competition stages linked by six cruising stages. We started in Cradle Mountain, an amazing location even when covered in cloud. It was such a positive atmosphere at the starting line, in fact that was one of the most enjoyable aspects of the event for me. There were around 300 competitors of varying ability and everyone was equally enthusiastic.
Making a splash
Photo ©: Rick Eaves

The first was the Cradle stage, which was a nice introduction to the area and the ground we would be riding on for the next few days. I brought my Intense Spider which turned out to be the perfect choice for the varied and at times wild terrain.
That afternoon we moved on to the Que River stage - I got completely submerged in this river... and suprisingly that was one of my favourite experiences. It's not often that you find yourself with your head below water in a mountain bike race! Although I did have to take my bike apart that night to get any excess water out.
I am not sure how many rivers /creeks /water crossings we endured, but I do remember how many mornings I had wet shoes.
The next day we began with the Stirling Valley stage, which had some good downhill sections. I had one very stubborn hitchhiker - a leech which neither the bumpy downhills or even the high pressure jet at the bike wash could get rid of.
You soon warm up when you're moving
Photo ©: Rick Eaves

John 'Koz' Kozlowski was writing an article which involved heart rates, so he came by when I was on the start line for the afternoon stage, my heart rate was sitting on 51. I had warmed up but then taken a brief rest before the start. It certainly didn't stay low that long because this stage began with a 6 km climb.
In this stage we crossed the suspension bridge over the Montezuma Falls. I called this the "muddles" stage, because it was essentially mud and puddles for the entire stage. It was a fun finish too, it opened up at the end and you could really stay on top of a big gear and hold some speed. I had a guy right behind me who later came up and said thanks for the lines because he had so much mud in his eyes he was depending on me to guide him in to the finish.
The next morning was the Spray Tunnel TT which started at the Zeehan golf course, then the hardest of all, the Trial Harbour cruise stage from the TT finish to lunch. It was bitterly cold and the mud was very gritty. We spent lunch huddled in a fisherman's shed with a hot furnace (melted jackets for some) and plenty of chocolate.
Spectacular Tasmanian forest trails
Photo ©: Rick Eaves

The Granville Harbour stage began with the 2 km climb back out of Trial Harbour. This track was fun - undulating with numerous descents, short tough climbs and again a few creek crossings.
The last day was the Hells Gates stage, a mass start beginning at the Strahan Esplanade. We were led out by the local police car, with a helicopter flying overhead to capture the day's action. Part of this stage had us riding along the shore line of Ocean Beach for about 7 kms of wet sand, the waves occasionally lapping at our wheels. After this we went through pine forest, before some time on the road and then back to town for the finish.
Time tunnel
Photo ©: Rick Eaves

So this marks the end of my first stage race and I don't think I could pick a favourite stage, as they were all enjoyable for different reasons. The downhills were fun and so were the muddy uphills, it all added to an amazing event.
I ended up second in the Women's GC, with Lisa Mathison taking first. We were all awarded authentic Tasmanian wood trophies with an engraved echidna, lucky we don't have to go through customs!
A big thank you to the event organisers and all the support crew, you guys made all the difference!
My next major race is our national championships at the end of February. At this stage I am planning to compete in both the cross-country and downhill. It should be fun, but it is always grueling to try and fit them both in over one weekend. Although, after Wildside I will just think of it as a stage race of a different kind!
Anyway until then, have fun on the bike...
Niki
Photography
Images by Rick Eaves