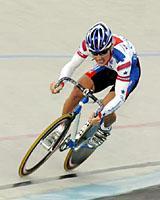 Photo ©: Anthony Bartoli
Carney's last stand: The Jame Carney diary 2004
Welcome to the Jame Carney diary for 2004. One of the US' longest-serving domestic pro riders, Carney is a track endurance specialist and coach of several other American track specialists. He has ridden for the Shaklee and Prime Alliance teams but this year is captain of the Northwestern Mortgage Cycling Team. And the only member. Follow Jame's lively accounts of his adventures as he tries to make it to the World Championships, exclusively on Cyclingnews.com.
www.jamecarney.com
Track World Cup 04/05 Round 1 - CDM, Moscow, Russia, November 5-7, 2004
Werd up from Moss-Cow
"Ring"…"Ring"… "Ring," this line is tapped so I must be brief. They got to you first but they've underestimated how important you are. If they knew what I know, you would probably be dead.
Say "werd" son, say "werd". Don't call it a comeback; I've been racing for way too many years.
I am tired of the racism. What is the deal with everyone talking about "dogg"? All I hear is "Whut up, dogg?" There are a lot of other pets out there that deserve respect. From here on out, I will recognize our other buddies. After all I bought some of them as fur helmets on the street markets of Moss-Cow. Viva, my kitty? How's it hanging, gerbil? Hey now brown cow? Werd up, squirrel?
Sorry for being absentee for such a long time. I have way too many chapeaus. Obviously, I'm a biker but I am also a coach, newly crowned team director, student, husband, nerd hole, pirate, board of trustee athlete rep, disco queen, single speed cross star in my own mind, retired moose hunter and I'm a good kisser.
Here is the Low Down on the Moss-Cow World Cup. The 2005 season has started and it isn't even 2005 yet. I like it, this makes perfect sense and it is right up my alley.
My bad luck was well documented this year in the earlier World Cups. Missing Moscow because of a molar gone bad, having the wrong gear put on in Mexico, getting bit by a dog in Manchester, getting crashed out in Sydney and then being sick for Worlds. It wasn't a fun 2004 until I got back to Pencil-tuckey. What I didn't divulge before about my woes is that I was pretty stressed out about maybe having hepatitis C. You see party people, a scum bag that allegedly has hepatitis C spit on my face at the 2003 Track Natz. The problem here is that you can't find out if you have been infected for at least six months after the incident. I didn't find out until almost April that I was free and clear from infestation. It was pretty hard to concentrate on training knowing that it might just be a waste of time.
Anyhow, after the smoke cleared and I got back to T-town, I had to rediscover what I was doing and why. A few things got me back on track. Getting to really work with the juniors that I had taken on helped. Being home with friends and family also helped. But hitting the same training rides that I used to do at half my current age, racing on Friday nights and locating Space Ghost were the aspects that really drove me back to form. I was lost in 2003. Because I took so many classes that year, I was racing on zip. The mileage that I recorded for that year was lower than any year since I've been a senior in high school (1986). Doing my old training rides cured this. I know how many repeats I used to do so when half seemed very hard, I knew I had to step her up and start mowing down the candy. When the crowd at T-town expected the old me, I had to deliver. Plus, I couldn't let my crew beat up their coach. I had to set a good example. My days are numbered but they need to see what happens when you put in the time. As for the SG, it rules. I like Star Gate and Space Ghost. I think that maybe that MacGyver is Space Ghost in disguise. Who knows? It is a mystery. All I know is that I had almost given up on riding as well as I had in the past (2000 & 2001) but then sometime late in July this year, it all came back. Sorry kiddies, I'm not old and crusty yet.
Anyway, on to the current issues at hand. I scored my start positions for the Moss-Cow World Cup at the US Natz in early September. I won the points race for my 7th time and we broke the time standard so I was an automatic. Since that point, I've been in schooly so prepping for this World Cup was not going to happen. All of my riders, including myself needed a break so right after Natz is when we all pulled the plug and started on our Buddhas (big fat bellies). Speaking of which, I had no idea how light I got this season until I got home in Dirty Durango (mid September). I have not been sub 150 for about a decade but I was now down to a steady 148 with no voodoo or any poo to speak of. Don't worry, my blubber is back and I'm chilling around studio 154.
The new training tools I used to get ready for the Moss-Cow World Cup were reversing my load and doing the "Dew". I usually train under a three dayz "on" and one day "off" program. My week is the fantastic four! I spite society's week. Why should we live under a seven day week? I can't find a reason other than Elway so I reject. Well now in my hard-core schooly phase, instead of being "on" for three dayz and "off" for one, I flipped it and I was "off" for three and only "l" for one. My one day "on" was all "Dew". For all of you that don't do the "Dew" or feel the need, it is simply Mountain Bike Madness. You've all seen the Mountain Dew commercials, right? That was my training.
Upon arriving in Moss-Cow, I was pretty relaxed. Welcome to the new USAC. With Anje Bek recently fired, everyone seemed to breathe much easier. I asked one of our head honchos (Stevie J) at the Melbourne World's why USAC had hired a guy that they had already fired twice before. Well, I guess I got my answer; so they could fire him a third time. By the way, Johnny Barrios owes me 50 bucks because I bet him at our Natz that Anje would get fired again soon. Thanks, JB.
Our crew for this World Cup was extremely old. Hey when I'm not the oldest guy on the team, it's an ancient team. Our hotel was pretty nice; much better than the year 2000 one. Ladies of the night would start to hang out in the lobby around 11 PM every night. Yes, I am talking about HOOKERS. The food was good too. They had a dessert table that I visited often. I have to stop talking about hookers and all this gabbing and move on to the racing.
Long story short, I put on a huge gear, went from the gun and won the scratch race. Seriously, that is what I did. After only really Mt Biking on my brand new Cannondale Scalpel, I need to push a big gear. You want to know what gear I was in? Give me 5 bucks and I'll tell you. I was super relaxed before the start of the scratch race. I showed up later than usual to the track prior to the event and I was actually drinking coffee. Coffee usually gets me pukey before events I get nervous for. I wasn't nervous because I expected to get my can kicked. I was at this World Cup more for Becky Conzelman (fellowship) than anything else. The only thing that bummed me out was that they were weighing bikes. The UCI has a stupid rule that was made for road bikes but sometimes they apply it to the track. All bikes must weigh 6.8 kilos. There is nothing that is not stock on my bike and I am at 6.6 kilos. Just because I ride a 50 cm bike, shouldn't mean that I should have to add weight to my bike to get to that limit. The UCI rule was made so road racers didn't switch to unsafe bikes for uphill finishes. I had to drop two chains into my seat tube to make the limit. How does dropping two chains into my bike make it safer?
Back to the action, I just covered every move I could get to and rode strong like a swan. After being in a few breaks, a counter went as soon as my break was caught again. I checked myself for a hernia quick and then countered the counter cuz thought it would be cool. It was because that was the break that stuck. My good friend, Mathew Gilmore bridged up to the three man break so now we were four. All I had to do to retrieve a $1000 bonus from USAC now was to beat one of these dudes. A medal equals a thousands bucks in USAC eyes. With about 500 meters to go, my buddies swung up on me. I was happy to take the lead because "when in doubt, lead it out" was on my mind. I also remembered a technique that my friend John Walrod once spoke of. He told me if you take the lead and never relinquish it until you cross the finish line, you'll win every time. I decided to test this theory from about 450 out. It worked so I think I'll adopt this move for future events. Remember these moves: From the Gun, Attack from the Back & Never Relinquish. They will do you well. Oh yeah, big gear too.
On the podium, they put the World Cup Leader Jersey on backwards on me. The scratch race is the first event so mistakes will always happen here if anywhere. I didn't care. I am a virtual lock to ride Worlds in the Scratch Race now. I know two of my best buddies are probably thrilled about that. Can you guess who they are?
The next morning, I woke up and I was dead. Now I know why you don't race that big of a gear, especially when you are not that fit. I got my azz rocked in the points race and the Madison didn't go much better. That is the way she goes. One win in convincing fashion is worth two in the bush, right?
Other race notes:
1) Steven Alfred and Becky Fellowship Queen did the time standards for USAC so they now join me and Blachey on the "Talent Pool" squad. The Aussies have the "Shadow" Team. We have TP.
2) Kevin Blitz crashed at low speed in the Keirin before the moped pulled off and acquired splinters in his big bootage.
3) The "Flying Helmut", Jan Van Eijden was DQ'ed for no good reason in the Kierin. Crap like this hurtz the sport. The "Flying Helmut" is one of our last hooking heroes.
4) I got ripped off at the Russian Street market. I paid way too much for the Fur Helmuts I bought. They didn't have any squirrel or muskrat.
5) Brad "Puff Daddy" Huff survived the Madison with only crashing once. He saved it about 45,000 times. He tried to punt the Dutch rider during his only fall. Every Madison he does from here onward will be EZ for him. There is not a scarier track on the planet to do a Madison on than Moss-Cow. The pace for this WC was 53.5 kph.
6) I refer to the Madison as the "Coalition of the Willing" because you have to be willing to eat shit if you enter this event. There is always a crash or two or seven in these puppies. We had 40 riders in the "Coalition of the Willing" at this one.
7) Nathan Clarke known by Darren Young as "Channel 13", mastered the 59 seconds on/1 second off interval.
8) The "stranger" was found and over utilized in Moss-Cow.
9) Russian Cooks like to serve chicken fried chicken and mystery meat at every opportunity.
10) I got zero schooly done while I was in Asia but everything is cool cuz my professors are like Camaros (Ellis, Goold & Knight-Baloney).
11) It took 29 hours for me to get back to Dirty D from the Kremlin.
12) Finding out who the US Prez is while you are in Russia is kind of funky. Four more years of Bush beer, whether you like it or not.
13) The Italians decided to field a SK8'ter chick women's Team. Their average age must have been 17.
Overall, it was a good little trip. It was a very good way to start off the new season. My Team is coming together very nice. We need some confirmation on a few equipment sponsors soon cuz we're off and up out for Tasmania on December 14th so that is a little nail biting. That is one of the hardest things to deal with about track cycling shifting to a winter sport. We're going to prep for that Sydney World Cup in Tasmania for 2 months.
Time for me to switch hats again, we have a USCF Board of Trustees conference call today to sort out some rules and jazz. I am one of the Athlete reps. My first meeting was in mid October and it was more fun and productive than I thought it was going to be. Now that I am aware of the system works, I am up for changing some policies. If any of you USAC members have issues and you want them changed or addressed; let me know. I am thinking of proposing a rule that would place a requirement on promoters to give back a certain percentage of entries that they receive to the prize list. What do you think about that? I know a lot people that don't even race anymore because entries have just gotten way to out of control.
OK, this thingy is over 2 Gs so I need to end it. After I graduate this December, the idiocy will be more under control and organized.
Here is a code tip for the future: Miniature Panther = House Beaver = Cat. They are all the same thing.