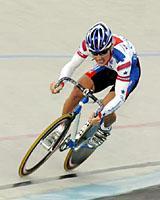 Photo ©: Anthony Bartoli
Carney's last stand: The Jame Carney diary 2004
Welcome to the Jame Carney diary for 2004. One of the US' longest-serving domestic pro riders, Carney is a track endurance specialist and coach of several other American track specialists. He has ridden for the Shaklee and Prime Alliance teams but this year is captain of the Northwestern Mortgage Cycling Team. And the only member. Follow Jame's lively accounts of his adventures as he tries to make it to the World Championships, exclusively on Cyclingnews.com.
www.jamecarney.com
Alpenrose Challenge - NE, Alpenrose Dairy, Portland, OR, USA, July 16-18, 2004
Rated R
True fact: Portland, Oregon has more strip clubs per capita than any other US city. Do you want me to tell you my theory why this is the case? Construction workers often can't work on rainy days and it rains a lot in Portland. This creates a hang out opportunity. Apparently strip clubs are a pretty cool place to chill at. I wouldn't know but I have heard the rumors. Test the theory for yourself if you care. The next rainy day, go to your local establishment and survey the population. Tell them that Uncle Sam sent ya, not me.
Portland also has an unbelievable amount of coffee shops. This is a very good thing, because if you can recall, my diet is a very strict candy, coffee and cake only diet. One more thing to admire in the Portlandnese environment is the "Keep Portland Weird" bumper stickers. Portland is full of crazy artsy sculptures and monuments. Virtually every block has a random piece of chaos to ponder at. Portland rules, but I hate the rain.
OK, I race at T-town the night before my plane ride to Oregon. The problem that exists for me is rain delays. We just spoke about how much I like the rain and now it is hassling me full throttle. My flight leaves at 6AM so sleep wasn't going to play a big part of my night anyway, but I need some.
After all is said and done, I win two of the three events at T-town. The first event I scored a victory in was the Miss-n-Out. It played out very friendly to me and I was able to turn on the jets hard core for the finish line. The next event was the Chariot. Chariot racing is about as fun as eating raw chicken while sunbathing nude with a bunch of fire ants. The way it goes is fairly simple. You draw for position and then they line up the guys on the pursuit line (usually around six dudes): "One" on the bottom, "two" next to him higher on the track and so on and so on. The next thing you know the official says, "Riders Ready" and then he shoots the gun. The bell immediately rings because the race is only one lap. It is a crazy sprinters event but with extra riders and a twist of danger. If you draw a crappy position, your only hope is to get your nose ahead of the other dudes at the gunshot so you can turn left and pinch everyone off; not a very nice thing to do.
I got through my heats drawing #1 and #2 so I was cool, but in the final I drew #6. This sucked the baloney pony because I gambled hard and geared up to a 93.9. If I drew #1 or #2, I think I would have had a good shot but instead I pretty much doomed myself to embarrassment by gearing up and drawing ghetto. "Riders Ready" and bang: I give it a go but to no avail so I shut it down after two pedal stokes. I went for the pass in turn 4 but only passed two guys. That is the way it goes. Andy Lacken-toss won it handedly which was cool anyhow since it was "Penn State Night" at the velodrome and he goes there. The last event on the list was the Points Race and it was pretty much a points race. No one lapped so it basically came down to sprinting and that is my pleasure. I didn't have a chance to gear down so I had to do this puppy in the 93.9 which hurt at times but at other times it was cool to really punch it. Mike Free-Ham was second with a very solid ride. All in all, a very long night with the delays but a successful one. I say "bye-bye and toot Lou" to everyone and head home to Autumn Park to finish packing. We all usually go out to wind down but I have a big weekend ahead of me so I gotta rumble.
Things go slower than expected and I am in bed by 1:00AM; not the best scenario. I'm getting up at 4:30AM so it will be a rough time in Portland. Boom, I'm up and off out and airport-bound. I get there at 5:00 so I am good to go, but the agent tells me that the flight has been cancelled: Big problem. The next flight is delayed so that isn't really an option either. Long story short, after checking every scene twice, they pull some crazy maneuver that is highly suspect and a seat miraculously opens for me, so the day is saved. I thought for sure I wasn't going to end up going, but it was meant to be. I was supposed arrive at 10:30AM but now it is going to be 2:30AM. This means I will have to go straight to the track from the airport and build my bike ASAP and head right to the line. That is exactly how it goes and I win my second Miss-n-Out in less than 19 hours. It was a most painful move that I do not ever want to go through again. Good girl extraordinaire, Marjon Walrod was my Indy car racer from the airport to the track. She isn't too cool for school and came straight from an exam to get me. The next event for the day was the Madison. I was riding with Big Bad Bobby Lea. Our most fierce competitors were the Uruguayans and they are tough as nails. We fought the power with them well and were in the lead on points at halfway but then they sneak attacked us from the back in our two team break and left us to wolfs. They finished a lap up and were crowned the champs. Our second was acceptable and we were happy to take the cash.
Day One for me was over. All the other riders did time trails the day before here. Kenny "G" Williams won the men's Kilo and Pursuit and Steven Alfred destroyed all challengers in the sprint.
After the racing, Marjon and John Walrod brought me over to a BBQ to meet some of there buddies. The conversation was educational and informative. This is why it is sometimes good to venture out of your own surroundings. I was pleasantly surprised to learn about the critical aspects "dry docking" and how it is performed. I supplied some of my new found friends with some interesting concepts of my own. Now that wisdom has been shared, world watch out.
After a few burgers and pose downs, I was ready to hit the hay. The next morning I had the Keirin Heats so I needed to be rested for the battle with the big boyz.
It is 7AM and it is wake feeling extremely beat. JW and I head out to a Coffee Shop to check out the live Tour coverage. I guess the Tour is pretty cool even though it is Road Racing. I'm a big fan of the hype that surrounds the event and all the smack that gets talked. At the Shop, we run into Todd Littlehales. He is a recent retiree from the US domestic road circuit. He and my brother used to battle out like Xena at the large criteriums. He seems to be a happy camper and he is in the right place: Portland pretty much rules. After my cake and coffee breakfast, we were off and up out for the Track.
The morning session was Keirin heats for me. The stress was on me because my Biomechanics Professor (Dr. Bob) from Fort Lewis College was there to watch with his daughter. I wished he was there the day before to see me win the Miss-n-Out cause it was going to be very difficult to pull out a top three in this Keirin, let alone a victory.
My heat was a little crazy because the lap before the moped was going to pull off it ran out of gas. Josh Kick-off nearly drove straight up into the bikes tailpipe and I nearly did the same to him. Josh is cute and a little debonair but I try hard to steer clear from the man love and from surfing pavement. After a restart, everything went smooth and I was able to "razor" the big men my heat and get in the final clean.
Apparently some action occurred at the Velodrome the night before and I was asked by a few folk about my whereabouts at 2 AM. Newsflash: I am an old dude now and I need my beauty rest. I have pasted the high-jinx stick and no longer am the phantom of the night.
After a burrito lunch, I do the celesta and take a nappy-poo. I have to; remember I'm old and crusty. After a couple hours, I awake from my coma and we're off again. This time to River City Bicycle Shop to do a little scoping. River City helped bring me in for the weekend so I owe them major props: Thank you. It is one of the biggest bike shops I have ever been in; they have everything. They even have a coffee stand with cookies that is manned by attractive young woman. Pretty good little trick to bring in the customers. Big Old JW works there a few times a week so he knows the skinny. One item that intrigued me was the Wood Fenders. I definitely need some of these puppies. Dirty Dave (Head Honcho of River City) is going to make me some Purple Heart ones for my Road Bike. There is nothing worse than riding wet roads in the Durango winter. You always have to protect the bum or as some of my friends would call it; the policy. After we checked the rest of the scene, we were off to the track again.
The Big Keirin Final had eight dudes in it. Kind of crazy on a 265m bumpy cigar shaped steep track but hey, rubbing is racing. My plan was simple: Bobby and I would go all out from the start and jump on the moped and then maneuver it so he would lead me out. I figured that if Bobby went all out as soon as the moped dropped off the track, I could maybe ride Steven Alfred around a bit behind him and maybe (big maybe) hold him off with some nifty riding. "Bang", the race starts and I get on the moped like a cheetah on pancakes. Bobby pulls up next to me and I say, "Here you go sir." The plan is set but as soon as the moped pulls off, Steven jumps by us and says, "sorry, Charlie." This now sucks because I am trapped on the bottom (boxed in) behind Steven and Bobby. As the swarm tries to take Steven out of turn four with a lap to go, I do the sneaky submarine move and bust under Bobby as he leaves the sprinters lane. I am now on the Man (Steven) and I am going to try to "Damn the Man." As soon as we hit turn three on the last lap, I go for the pass. As soon as I go for it, Steven serves me up with a sweet stall move. It was a clean and fair little hook and it did the job. I would have done the same thing. It was impressive because he could not have done it at a more perfect moment. I still almost got around but didn't. I was very content with the silver. Luke Perry took third. He was in town visiting new Portland local, Jason Priestly.
Points Race Nightmare: All good things must come to an end. I don't lose many Points Races in the US. I haven't lost one all this year and I have won the one here in Portland the past two years but all streaks must end sometime. Last year here at Alpenrose, I dropped out of my first US Track Race. My asthma is triggered by allergies and exercise. I had an attack that would have killed a cow last year in the scratch race. Because I didn't have any problems with in the other races this weekend, I thought I was free and clear. This was the wrong assumption. I think I didn't have problems in the other races because I came straight from the airport, didn't warm-up at all and just raced. As soon as the second sprint happened in this Points Race, I knew I was screwed and I should have bailed but that is not in my nature. One of my new mottos is "Never Give Up, Never Surrender." Long story short, I got smoked. That goes in my top 10 of most painful situations ever. Breathing threw a straw for about 15 miles is not fun. I hate all medications and try to stay off them as much as possible but I should have brought my inhalers here. The race was won by Mike Creed and Joey Dirty D was second. They rode strong and smart and beat up on the Uruguayans dudes.
The last event of the competition was the flying lap. The record is held by Jeff "Two Ton" LaBauve at 15.24. He was absolutely flying the year he did that so no one thought that it was possible to beat but no one told Steven Alfred it was impossible. Well, I guess it was impossible because Steven did 15.25 but the impossible was almost possible and that's a fact Jack.
Post Race Action!!! The racing is over and the damage has been done so it is time to ease the pain with some booze. I only say this because I got a special surprise (margarita) bottle right after my last event. There is always a crazy trickster spectator or two that try to pull something on me. It was sweet surprise though and an appreciated beverage. After that Points Race, I needed a relaxer. We all went out to some joint for food and fun after packing up all our gear and reminisced over the past. Beyond this point, like Chapelle, I plead the 5th. I am like; I would say I am exactly like a reporter that will not reveal his source.
Special Note: Mr. James Monroe Carney needed an extra day in Portland to recover from the shenanigans.
Peace Out to All and a special thanks goes out to Sam's Club for letting me in illegally; much appreciation goes your direction.