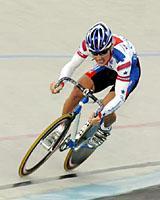 Photo ©: Anthony Bartoli
Carney's last stand: The Jame Carney diary 2004
Welcome to the Jame Carney diary for 2004. One of the US' longest-serving domestic pro riders, Carney is a track endurance specialist and coach of several other American track specialists. He has ridden for the Shaklee and Prime Alliance teams but this year is captain of the Northwestern Mortgage Cycling Team. And the only member. Follow Jame's lively accounts of his adventures as he tries to make it to the World Championships, exclusively on Cyclingnews.com.
www.jamecarney.com
World Cup Qualifier, Frisco Superdrome, Frisco, TX, USA, April 30 - May 2, 2004
Frisco, Texas: The Land of Strip Malls
Semi-true fact, there are more strip malls in Texas than in any other place on the Earth.
The only thing open for me here in Texas is the Scratch Race. Colby has the Points Race pre-qualified and we are the only logical discretionary pick for the Madison. I pondered the idea of riding some sprint events here but then decided against it. I really don't need to eat it before the Madison in Sydney.
Big Bad Mike Free-Ham and Tonsil Hockey-man Conzelman pick me up from the airport and we're off to the Strip Malls. I decided to fly in the day before the event so I could train more at high altitude. Durango, where I live, is at 6,500 feet but I often go up the passes and that takes me solidly over 10 grand. Becky has friends and family in the surrounding area so we are all set and won't be giving the Motel 6 any money for sketchy beds. That is always a pleasant thought. When we were on Team Shaklee, my brother, John Walrod and I were always comparing each others beds to see who was going to be the lucky one who ended up with some sort of a skin infection from the nastiness. We always seemed to be in the most ghetto hotels on that Team. Walrod usually came out the loser and had to take Listerine Baths. My host house had a Ridgeback (type of Dog) and I was psyched on that because that is one of the dogs in my final 4 to get after I quit biking (September 1st, 2005).
Our Host houses rule and all my luggage arrived so I'm styling.
Day one's action: Becky C is smoking and rules the woman's 500. We get all of the official splits and we are happy with her 36.50. The conditions were very bad (windy & cold) so that combined with the fact that the track has been newly painted with spray on sand paper, we can not be disappointed.
The time standards in the US is never change for conditions so you have to pray that LBJ creates conditions that will allow you to go fast. That sounds pretty lame but it is what we have to live by. Here are the rules: (1) You have to do the time standard at a WCQ or a WC, (2) The time standard does not change even if the track has been completely modified or there is a tornado, (3) If the time standard is not met, USAC can nominate whomever they want regardless if they raced the selection event or not.
This all spells out that Becky isn't going to Sydney for the next World Cup. That is fine. She won't be overlooked after she rips a stellar time at Nationals in September. I don't care what the are conditions then, she'll be at least .5 seconds faster if not 1 second faster in the same nasty weather. The chance of the weather being as bad is about 2%.
The men's Keirin was entertaining because this BMX Pro dude had on a full gold skinsuit, a gold bike and gold booties. Some people were calling him "Gold Member" and others were calling him "Gold Finger". It's all disco to me. Little Andy Whack and Wash leads out the Keirin from the gun and is never passed so he wins. That doesn't sound too impressive but "Gold Stranger" is on his wheel the entire time and just about everyone else in the ride at one time, tried to rub him off the wheel. The gold was like glue. The rest of the events got cancelled that night because of rain. This gave me the opportunity to ask the Head Honchos of USAC why we weren't having Scratch Race Heats. There were 29 people on the start list and Frisco in a wood 250. I brought to there attention that at World Cups, we bring the field down to 20 riders for the final. The point that I was trying to make is that if the UCI only thinks 20 of the best riders on the planet should be the field limit at World Cups then I think we should race with 29 guys in Frisco especially because some of them were cat 3s. The officials loved me for bringing this subject up.
Day two action: So we have to get up bright and early to start the morning schedule off with what we missed the night before. It's not a huge deal but that doesn't even go smooth because the track is still wet until about 10 AM. I think we were supposed to start at 8.
The Scratch Race is first and we're off. The crap hits the carpet pretty quick and attacks are coming and going. After a few rounds of this, three dudes slip off and it is danger time. It is time to bridge so 4 of us make the jump individually. We are now a super solid group of 7 and we are not coming back. While in the break, I'm thinking of what is going to happen next. I'm thinking that if this thing just stays off, I'm pretty golden but if we lap the field early I could get ganged up on. I try to regulate the pace and to keep my eyes open. Today is my lucky day, the field is detonating and because of this if we catch groups smaller than us, they'll get pulled. The officials from Houston were told to pull riders out of contention and dropped riders fit that mold. The first group we eliminate has USAC's newest Star in it, Walker Star. He is fresh off his 15 day high hemacrit vacation but his 15 K Scratch Race today is only going to be about 7 K. We then catch another group of 6 and they are pulled. Now it is just us and another group of six that are hanging about 100 meters in front of us. Here is the key, we are the field because we are 7 and they are dropped riders because they are 6. It's about 10 laps to go and I'm trying to think of what I want to do and "Bam" there goes Doug Bek over the top attacking. Way too early in my book but he didn't figure out that as soon as he caught the group in front of us they were going to get pulled. Advantage: me for counting riders.
The rest of us slowly start to reel him in. This again is working towards my favor because after we catch him; there will be less time for others to attack. We're all back together and Mike "Tool Time" Tillman goes for it but he is snuffed out by the Curtis Gun. I had strategically put myself on Curtis's wheel because I thought he might be the most dangerous character in the break. Mike swings up and there goes "Mr. Sandbagger", Kenny G Williams. He was taking wimpy pulls in the break so I didn't think he had the power for a maneuver. Mike Free-Ham goes right after him and I am right on his wheel. This is all happening with 1.5 laps to go. Mike is a couple bike lengths off Kenny's wheel but I give him the opportunity to close the gap. I coach Mike so if he had the gas, I wanted to have a clear shot. After about 100 meters, it is clear that I need to go for it or Kenny is going to steal the win so I stand up and take him at the line. Close call on my part but it was the right thing to do.
Everything ended up cool anyhow because Mike Free-Ham won the Points Race later that night. It was a very exciting race. The lead changed about 10 times. Many people thanked me for not racing and I'm not really sure how to take that but whatever. I enjoy watching racing as much as doing it. Even though Mike raced with a rubber chicken zip tied to his stem I was still proud of how he rode. He did everything he had to when it was necessary.
We will see if anyone was paying attention to Mike's rides this weekend. He was really the only rider under the age of 21 to put the smack down in the Scratch and Points Races. Another young dude that rode well but might not get the recognition that he deserves is Josh Kick-off (Kirkoff). He didn't have the same results as Mike but he did put himself in good positions and rode strong. The talent is there but the US has no program. Mike Tillman, "The Blade", my brother, Colby Pearce and I are well over 30 and we need to go out to pasture soon. I plan on hanging it up come the conclusion of the 2005 season.
Hopefully, I will be able to organize something that brings all of this talent together so these young guys have the 2008 Olympics to look forward to. Worst case scenario, I am going to drag a bunch of them to Tasmania with me this December. I need to supply Tazzy with some replacements for me because this December will be my absolute last as a rider for the Carnivals. I've heard the lowdown on how the US plans to select Teams for World Cups next year and it is going to give me the ability to adventure over to Tazzy for one last time to race.
Gold Member was no match for the "Foaming Pipe Snake" (Giddeon Massie) in the sprint final. I won a dollar off Jason Snow on this one. I think I ended up winning about 6 bucks for the week and lost none.
Day three primary action: Team Sprints and Madison were on the platter for today. My two young Mazda protégés, Gui and Mike won the tag team event with style. They finished a lap up on Kenny G and Curtis Tollhouse Cookies. They also learned a lot from the ride. I expect them to give Colby and me some headaches in the near future.
Josh Kick-off rode the Team Sprint prior to the Madison so he won the Iron man slash most versatile athlete competition.
The Team Sprints were done on a beautiful day so this gave the Flaming Fellowship (Becky C) the opportunity to rip an opening lap. She did an 11.9 for the first half and then came through with a 19.9. This time is faster than any other woman rode at the Manchester World Cup in the Team Sprint and the 500 (held 2 week earlier). Manchester is a much faster track than Frisco so we were very pleased. It of course was ignored by certain individuals but no matter, actions speak louder than words so a few more of these actions will be coming soon and they won't be denied.
All in all it was a good trip. Dr. Bing made the drive up North from Houston to watch the racing so it was good to see him again. The officials did a very good job this time. They were much improved from the previous WCQ. If they keep on this track, I won't have much to bitch about anymore. Some people didn't appreciate my complaining last time but look at what it gave us; good clean officiating. The end result is what matters. The flip side of "If it is not broken, don't fix it" is "It may not be PC but sometimes you have to put the smack down on a hoe".
Coolest new thing: You can ride slow on Frisco with the new surface. The slipperiest track on the planet is now the stickiest track on the planet. It is a sandpaper Velodrome.