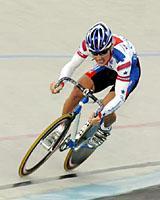 Photo ©: Anthony Bartoli
Carney's last stand: The Jame Carney diary 2004
Welcome to the Jame Carney diary for 2004. One of the US' longest-serving domestic pro riders, Carney is a track endurance specialist and coach of several other American track specialists. He has ridden for the Shaklee and Prime Alliance teams but this year is captain of the Northwestern Mortgage Cycling Team. And the only member. Follow Jame's lively accounts of his adventures as he tries to make it to the World Championships, exclusively on Cyclingnews.com.
www.jamecarney.com
Track World Cup Round 3 - CDM, Manchester Velodrome, UK, April 9-11, 2004
Average
The trip was average. Nothing good came of it but nothing really bad happened either. I did get bit by a dog the day before the Madison but I was expecting some more bad luck. Things have turned unfriendly for me as soon as I leave US airspace.
Day 1 notes: "Sky High" Walker Star blows the blood test and goes over the allowed limit for high haematocrit. Because it happened the day of the Scratch Race the US can not substitute a rider in for the event. This bummed out the BTN since he really wanted to ride the event. Too bad he is third in line behind Colby and then me for that spot if it became open.
So I didn't bring a Road Bike to Manchester because I have already been to this town before. The riding is crap and the chance of rain everyday is about 4000% so why bother. The only other item worth mentioning is that the "scenery" is also extremely lame in England so going for road rides can be tiresome. The secret meaning to the above statement is that there aren't very many hot chicks about to spot. As a married man I can still be a "spotter" but it is illegal for me to be on the "tag and release" program. I got bit by the dog riding my track bike to the track from our hotel. I know that sounds like a stupid thing to do and it was. Track bikes don't have brakes or gears so when the dog went for me, I was hopeless to fend him off. Colby could have saved me but he ditched me like Meg Ryan dumped Denis Quade by hanging a hard left (he was on his road bike).
The only thing I could try to do was blast the dog in the head with my foot so I clipped out and tried to nail him. I missed and he bit my foot. Kicking a dog while riding a fixed gear track bike on the road with no brakes and wearing a single strap backpack is a difficult task and I failed on my first attempt. I am pretty good at the "beginners luck" thing but not this time. He just nipped me so it wasn't a big deal but then I tried to hook him into the curb and while doing that I ripped out some of my spokes from the rim by making the radical maneuver. My last option was to jump off my bike (remember I have no brakes) and strangle the dog with my bare hands so I try to lock up the rear wheel and dismount. As soon as I do this, the dog turns around and starts back to home. So I ruined my wheel and I got bit. If I got to kill the dog, I would not have been so frustrated.
Day 2 notes: The men's sprints were stellar this round. The "Flying Helmet" better known as Jan Van Eigdan was in full effect. He rode one of the Japanese riders to Stone Hedge and back before crossing the finish line. Rousseau also had stylish matches. My suggestion to all is to see these bike riders before they are gone. Most of the up and coming sprinters (minus NG) are just brutes. They have all the tools but don't have all the bells and whistles. They are like when you buy a brand new car and don't get any of the options. Sure a no option stock brand new sports car is still as quick as one that is fully loaded but who wants to drive it if it doesn't have a stereo.
The Madison went as normal for me and Colby as it has been going. We made the majority of the splits but none of them worked out and we were fried by 10 K to go. I still pulled out a 3rd place finish in the final sprint and that ended up getting us 10th in the race. The average speed of the race was 54.1 kph. That is the fastest official Madison I have ever heard of. Sure you see some BS once in a while from the Six-days but that is just hype. Do you really think those guys are doing over 54 kph in a 52 x 16 (87 inch gear)? Americans are guilty of that to. At some of our Criteriums, the announcers say, "Stand back, these guys get up to nearly 50 mph in the sprint for the finish." What is that, plus or minus 12 mph? If it needs to be exaggerated then it's not that cool. That is Ancient Chinese Secret #152. The Madison heats were both over 53 kph. More crashes happened in these. I almost made my front 5 spoke a 3 spoke when a German showed me some love during an exchange. There seems to be a crash in just about every Madison we do at the World Cup level. So far we have been able to miss each one but it isn't fun starting a race knowing that you have about a 15% of falling for sure.
We are now in 18th place in the World Cup standings and 18 Teams go to Worlds so we are right on the bubble. High stress situation!
Day 3 notes: Colby had an excellent ride and finished third in the Points Race that day. He did lose a sprint to "Roe Sham Bow" (Wan Kam Poe) during that ride so he will receive some hazing for that. There are typically two types of Points Race Riders; Sprinters and Launchers. I have always been the sprinty type and Colby is definitely a Launcher. I think the new rules actually help the Launchers. The race just seems to get more agro. Multiple laps seem to be taken by multiple groups now where as before usually only one group would lap and then that group would defend their lap. This is just my opinion but it seems like the way it goes.
I'm happy for Colby even though I know my own personal Points Race ambitions are down the toilet now. He has stepped it up and deserves the success that he has been getting. The race was super tight for 2nd through 6th, only about one point separated each of these placings.
Post Game Wrap-up: Nothing much gained or lost this round. We still have to figure out why our travel plans are so weird. USA Cycling Travel Plan: Get up at 4:00 AM and get to the Manchester Airport to fly to London and then hang out in London for almost six hours to wait for out US flight. The thing is we can drive to London from Manchester in about 3 or 4 hours. Another time where we finish racing, pack up all of our stuff, get a minor amount of sleep and then have a hell travel day. It is the perfect prescription to get sick. My guess would be that 27.4% of our athletes get sick coming home from these World Cups. That isn't a joke; almost all of our Team got sick coming home from Moscow.
Anyhow, I am home for a couple weeks and then I'm off to Frisco, Texas for the next World Cup Qualifier.