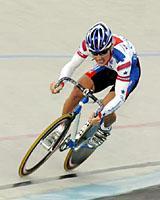 Photo ©: Anthony Bartoli
Carney's last stand: The Jame Carney diary 2004
Welcome to the Jame Carney diary for 2004. One of the US' longest-serving domestic pro riders, Carney is a track endurance specialist and coach of several other American track specialists. He has ridden for the Shaklee and Prime Alliance teams but this year is captain of the Northwestern Mortgage Cycling Team. And the only member. Follow Jame's lively accounts of his adventures as he tries to make it to the World Championships, exclusively on Cyclingnews.com.
www.jamecarney.com
World Cup Qualifier, Alkek Velodrome, Houston, TX, USA, March 26-28, 2004
Three days of Dealing
Sorry for being extremely late again. This one is pretty long and not much nonsense. I will get sillier as circumstances permit. If you just want silliness, skip to the end.
Relevant fact about the Houston Velodrome; it is the only track that I know of that is always wet in some areas. Supposedly it was built below sea level so now water seeps through the cracks and on to the surface.
Day one of three starts out with the women's 500 meter time trial. The seeding is completely messed up and illogical. I have no idea how this order was determined. Becky Conzelman going first and Sarah Uhl going last. Becky was second in the first WCQ and she was second at Nationals last year in this event so why is she going first? Sarah hasn't done a 500 meter TT in a very long time. Sure, she is an excellent biker but she shouldn't be seeded as Inter-Galactic Champion. I tell Becky not to worry about it and just race so she can get out of the track earlier. This was my big mistake because there was a lot of suspicious behavior by the officials right after Becky finished her ride. It was the first timed event of the competition and my bets are that there was a mess up. It took almost 10 minutes for the officials to "produce" a time for Becky. After hand times were collected and a lot of huddle talking happened, the announcer called out the time of 37.1. The only problem with this time was that a lot of very credible people had Becky at 36.8 and 36.9. The difference in these times is significant because if you go under 37.1, you get a free trip to Manchester for the next World Cup. Now, I admit I can't prove that they made an error but I can tell you what I saw. This is a very grey matter at best. For the record, all other times for the weekend were announced within 20 seconds after there conclusion.
Other events for the day were the women's Sprints & Points Race and the men's Pursuit, Keirin, Kilo & Scratch Race.
Only four girls signed up for the sprints. There was a no show for the TJ Hookers. They stayed up in Frisco to train instead.
Ashley Kimmit won the women's Points race in dramatic fashion. She attacked midway and took a solo lap like a sheath in the night.
The men's Pursuit seeding was almost as hokey as the women's 500 was. Big Bad Bobba Lou is the reigning US Pursuit Champion so one would think they might put him in the last heat. Anyhow, Kenny G (Williams) had an excellent qualifying ride to post the best 4 K time of the competition with a 4:50. However, Mike "T-Bird" "Toolbag" "Turtle" "Big Wind" "Big Win" "Hollywood" "Big Bag of Tools" Tillman, fresh from his sabbatical beat Kenny in the Pursuit Final.
The Blade Smokers were not allowed to race any other events other than the Team Sprint at this competition, except Christian for the Kilo.
Ah, Christian's Kilo. Mr. "1:06 wherever he goes" had to pay interest for doing a 1:04 in Mexico World Cup. He rocked out here with a 1:09. Let me see, if I add 1:04 to 1:09 and divide by two, I get 1:06.5. Well there we go, right back on track. Nice to see "Mr. 1:06 wherever he goes" is alive and well.
Johnny Quest (Anton Quist) won the Kilo with a 1:08. He is one of the most powerful people on the planet. I'm not just talking about bike racers, I'm talking about everyone. It is an attest mate to the strength of Tiemeyer Bikes that they can handle his unbridled rage.
Oh Boy, the men's Scratch race is up. Long story short, this was a total vomit bag. The best way for me to cover this event is to skip all the crap about riders shooting the apron and rough riding that was ignored by the officials and go straight to the major problem. Basically the BTN (Big T-town Nabob) and I cancelled each other out. He was watching me and I was watching him. This was fine by me. I told all my compatriots before the event to race up the road because I wasn't chasing. The World Championship Scratch start position for the US is already wrapped up by Colby so I was just doing the event as an opener. If the race came down to a big bunch sprint, I would be ready for it but I had no ambition to be in a break. A break of eight went up the road and I was happy to see her go because five of the eight were riders that I get along with well. It was a good opportunity for them. The field was now a group of ten riders.
With about 6 laps remaining this group split. It split for devious reasons. Riders were dropping back to the break to help teammates and friends. This isn't legal. Riders out of contention are supposed to be pulled. I was not a part of this shady clan. I was in the five man group that stayed off. The BTN during the sprint had pinned Bobby on the apron. Jason Snow (lapped rider) made it his mission to chase down riders like Mike Friedman and Joey Dantoni when they attacked. My bets would have been on Joey D to win the event if he wasn't chased down by a lapped rider. Colby was gapped off the back of the break by a lapped rider prior to the sprint also. Needless to say, it was total chaos and BS. The officials should have neutralized the race and pulled the lapped riders as soon as this crap developed but they didn't and we will never know who would have really won this event under fair conditions. Sky-High Walker Star crossed line first and got a free trip to Manchester to watch the Scratch Race. For those of you who missed it, Walker's hematocrit was a little too high for him to safely race at the Manchester World Cup. Lucky Star has a 15 day vacation now. I need a vacation.
Day II events to report are the women's Pursuit and the men's Sprints. There were other events on for the day but no real action to report.
In the women's Pursuit it was nice to see the Fellowship's hard work paying off. She ended up winning the Pursuit over Erin Mirabella (DLV) by 3 seconds. The conditions were horrid but Becky has improved immensely. She has taken off 10 seconds off her 3 K time in one month. She was right on schedule to have a great World Championships but unfortunately because no one did the time standard, USAC has decided to choose DLV for their discretionary pick for the Manchester World Cup. This selection was brought to arbitration but the decision stood.
The men's Sprints were pretty cool. The Blade Smokers were still holding out but Bobba Lou (Bobby Lea, aka BLT) picked up some slack. I wanted to do the Sprints again but scheduling was tight again and rain was in the forecast. Fancy Pants Pearce is faster than he was in Florida. He did a blazing 12.6 this time. This means he is now faster than my Mom but still slower than Roe-Sham-Bow (Wan-Kong-Poe) & Mr. Peepers. After all was said and done the final was Bobba Lou vs. Kevin Blitz. The BLT really was no match for the Blitz so I suggested that he did a track stand and didn't respond to any Blitz advances. I pulled this move on Fancy Pants during a pursuit final one year. I warned him to keep his head up and not to ram me from behind. The pursuit started, I did a track stand and Colby caught me in 17 seconds. That has to be a record. BLT tried my move half-heartedly but couldn't quite pull it off. Blitz wins, Blitz wins, Blitz wins.
The Points Race rained out so that meant they we were going to have to do the Points Race and Madison on the same day in the same morning session. Lots of fun.
Other note to add from this day: Dr. B's kids wrote up some cheering posters for there favorite riders. They also had posters with USAC regulations written on them for the officials. Since the officials blew calls from the day before, they thought this might help them out. It was a nice gesture but it wasn't appreciated and mistakes were still made on day III.
Day III was the women's Scratch Race and the men's Points Race, Team Sprint & Madison.
The men's 30 K Points Race was first. All of the Madison riders were doing the Points Race to so people were a little apprehensive to throw down. I sensed this so I decided to go with all the first moves. I won the first sprint and then after the second one the break went. There were three of us but we were caught by another four a few laps later. Two of those four were the BTN and Fancy Pants Pearce. This break now had a bunch of people who don't really care for each other so of coarse the break swung up to the rail. The Blade was admiring Colby's fancy pants and was taking a good look at them so when Joey D (Squirrelly D) and Ryan Olkers (REO Speed Wagon) attacked I covered them with my goo. Now it was over. We stayed off for almost the entire race and we split the points every sprint. It was the fair civil thing to do. We lapped the field with three sprints remaining and raced them all out. I won with the REO Speed Wagon coming in second and Squirrelly D in third.
The Team Sprint was for all the marbles at this event. The Team that won here was automatic for the next two World Cups. In qualifying, the Northstein, Hook Happy Lacky and Stephen Alfred did the fastest time with the Blade Smokers coming in second. The tides turned in the final with the Blade Smokers staying true to their name and taking it out by over a second. They are looking good and feeling pretty.
The women's Scratch Race was a cluster duck. Everything was going fine but then the official in charge of the lap cards decided to go straight from three to go to one to go. This is a fairly large mistake, especially in a selection race. This confusion contributed to a crash on the backstretch that claimed the Fellowship's entire bike and a couple broken bones on another rider. More excuses ensued by the officials for this mistake but after I civilly chewed them out for a bit and enlighten them on reality; they actually apologized to some of the riders this time. I think they finally are starting to understand how much they are negatively affecting people's lives with these mistakes.
The last event was the 40 K Individual Madison Time Trial. After a 30 K Points Race an hour before, this is what a normal Madison becomes. Nothing much to report here other than the results. Colby and I won with Curtis Tollhouse Cookies and Kenny G in second and REO Speed Wagon and BLT in third. It is really hard to say if it was a fair race for third because the field detonated and the officials kind of lost track of who should have been allowed to work with who.
The heat has been on and there have been meetings so I think things will improve. I am ready for retaliation though. I'm sure I'll be called stricter than ever but I don't really care. As long as officiating improves, it's been worth it. Bike Racers first, Spectators second and so on and so on.
Now back to normal me.
So the racing is over and we have a get together at Dr. Bing's house. A lot of people are there and everything is fine and dandy. The food was great and the birds are all doing their psychedelic freak out. After hours pass, people begin to depart. A few people were boozing it up a bit and one was my roomy for the week, Mike Free-Ham. I went to bed fairly early (before Mike) because I had to get to the airport before rush hour in the morning. I had brought my two favorite cats, Abner and Puff into the room before I passed out. Cats serve as protection in the night; they're kind of like a night helmet. Anyhow, my alarm goes off and I get up. Mike and I have a private bathroom connected to our bedroom so when I get up I head straight for it. On my way there, I step in something very scary; something mushy and stinky. I turn on the light and I look and my deepest fears come true; I stepped in POO!!! There is a big dump in the middle of the floor. It is full sized. I am shocked and baffled. This is a human poo, way too big to be kitty poop. I yell at Mike, "What the hell did you do?" He awaked and said "what are you talking about?" I said, "Dude, you shit the floor! You have to clean this up." He rolled over and said "Shut up" and dismissed what I said to him without looking at the carpet. I then walked into the bathroom to wash the crap from my foot and to take a shower. I was totally freaked out. I was thinking: How much did Mike have to drink last night: I can't believe he did that: What is wrong with him. After spending about ten minutes in the shower completely wigged out, I dried off and went to check out the feces again. I looked at it long and hard and I finally came to the amazing conclusion that it was the biggest kitty dump of all times. I did give Puff a little milk before bed and that was probably the wrong call. I cleaned up the evidence and was relieved that Mike wasn't a "Phantom Pooper". On the way to the airport he was very disappointed in me that I even thought that he was capable of such a thing. I was just happy not to be freaked out anymore.
This weekend was definitely the "Good, Bad and the Stinky" and won't be forgotten.
I want to thank Kathy V, Kelly B and Dr. B for all the memories.
Manchester is in progress, I have to get up to Fort Lewis College and register for my final classes of my college career. Rock On.
Jame Out