Recently on Cyclingnews.com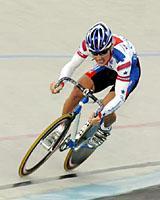 Photo ©: Anthony Bartoli
Carney's last stand: The Jame Carney diary 2004
Welcome to the Jame Carney diary for 2004. One of the US' longest-serving domestic pro riders, Carney is a track endurance specialist and coach of several other American track specialists. He has ridden for the Shaklee and Prime Alliance teams but this year is captain of the Northwestern Mortgage Cycling Team. And the only member. Follow Jame's lively accounts of his adventures as he tries to make it to the World Championships, exclusively on Cyclingnews.com.
www.jamecarney.com
Host Housing with Kitty Madness
So my next adventure was to Houston Texas for the US World Cup Qualifier #2. This trip was one of the best and one of the worst trips I have ever done. I truly believe the damage that was done by the officials at this event will really hurt US track cycling in the very near future. Many people now may be so turned off that refuse to waste their time and money to make the travel to future events. Anyhow, I promised good and bad so let us start from the beginning.
I fly in from Dirty Durango one week before the WCQ starts with my little cold still lingering. Mike Friedman and Becky Tonsil-Hockey-Man pick me up at the Houston "Intercontinental" airport. You may be able to call me on this one but I have never seen any other airport in the World call itself "Intercontinental" before. I have always just seen "International" but leave it up to Texans to go upper level. Mike and Becky start to warn me about my host housing. The Bing house has one doctor, one sheep, two goats, three dogs, five kids, eleven cats, twenty chickens and fifty exotic dancing birds. I know I am omitting some things but they are minor like the two hermitcarbs. The only thing I hear in the warning is "eleven cats" because that is what I am all about. I call them mini-panthers or house beavers. I was thinking about buying the website, monsterkitty.com at one time. I have had a super rough time with regard to my immediate kitty family lately. One of my cats, "W" had to be put down before I left for Tasmania this year because his kidneys were shutting down. He was down to half his normal body weight. My parent's cat,"Doo-Gee" came down with the kitty leukemia last month and had to also be put to sleep. And my outdoor cat that we shared with our neighbors, "Muddy" got mowed down by a car right before the Messico World Cup. I was ready for kitty madness at the Bing house, I needed it.
The House of Bing rules and I am envious. Kelly, mother Bing, showed me around and introduced me to all fifty birds. Important tip; breeding exotic dancing birds are usually not all that friendly so if you aren't careful, you will get bit. They have the longest hall in the world in their house. The first thing I think of is; holy crap, if I were still a kid, I would use this for championship house bowling. All the cats are awesome. Mike and I test drove each of them to check their quality. Puff the Magic Kitty tested the best with her son, Abbner coming in second. Abbner is a combat kitty that will rule the house in the very near future. I contemplated doing a kitty kidnap with Puff to sneak her back to Durango with me but she is well loved where she is already so I decided against it.
I am pretty damn sure that I want to have kids again. All of the Bing kids are great. Five for five on the Camaro scale. Poo-tee is the youngest and he still has gift. The gift is unlimited energy and unguided everlasting determination. Most kids lose this after they turn ten or so. They all become conformist somewhere around that age and lose that super power. Somehow, I have been able to retain some of my gift over the past couple decades. I have no idea how I have been able to do this but I have many witnesses that will tell you that my natural everyday energy level and my unwillingness to give up is unparalleled and freakishly childish. I'm pretty sure that a psychologist or psychiatrist would say that I have a strange form of a focusable ADHD. Anyhow, if that is what it is, I like it and I'll take the disease as long as it will have me. Child number two is Muriel and she knows the secret sign from Ace of Base. We developed a special hand shake that no one else on the World knows. The third Musketeer is Natalie and she has the same passion for kitty madness that I do so I know that Puff is in great hands. Ethan-hawk was my bodyguard for the week and he did a great job. If he is a good little boy, his dad may buy my other track frame for him, so hopefully he can abstain from evil deeds for both our sakes. Last but not least is E-Lie-Zaa (the stalker of Bobby Lea); she is the proud new owner of my fake Pinarello that I have been racing for the past year. That bike has been a true crime fighter over that past year and I am very happy to turn her over to a young vigilante in training.
Most of you know I have never been World Champ on the bike but most of you don't that I am the current reigning World Champion Sleep Adaptor. There is nothing I can't get used to in one day. When I lay down to go to sleep every night, I am out within a couple seconds. This is an absolute true statement. I have an off switch. If I lay in bed for more than one minute before falling asleep, I start freaking out and asking myself, "what the hell is going on?" I usually then fall asleep within the next minute. It is a pretty cool super power because I can lie down at an exact time like 11:00 PM and set my alarm for 7:00 AM and I know I will exactly get 8 hours of sleep. The Bing house tested me strong the first morning. I woke up at 6:42 AM to screaming birds - and I mean screaming. I first thought that this must be a joke because it was so loud. The window was about two feet from my head and it sounded like there were pterodactyls giving birth to live chickens on the other side of it. As previously stated, I adapt and those birdies never really bothered me again. They tried hard but to no avail. I win.
Butch was the man and he let me use his motorcycle for pacing all week before the WCQ started. Thank you very much, Butch. Everyone appreciates it. I really didn't do much pacing myself but I did almost make Mike poop his pants once by having him take me up to 50mph (82kph). I was mostly just taking care of my riders and others that I deem to be respectful racers. Hey, I'm not some kind of super LBJ freak but I believe in karma. If you are being disrespectful/inconsiderate to others, I am not going to help you out and I might choose to dump some Carney Karma on you head if you are being a real jerk. Do not have a negative affect on other peoples lives! Play fair, have respect and be responsible. That might be my Ancient Chinese Secret #1 and it really isn't that hard to live by. I mention all of this because you will see in my next diary that irreversible harm has been done at this World Cup Qualifier. If I don't speak out, I fear that the incompetence and errors will continue because nothing will be done, again. I do have some solutions for these problems on the burners and they are constructive ones believe it or not.
Anyhow, everything was going too smoothly prior to the WCQ#2. I should have known better. There are reasons why there are clichés like "the calm before the storm". These truisms and proverbs will nail you every time if you are not ready for them and/or don't see them coming. Drama coming to a diary near you very soon…
Till then,
Jame