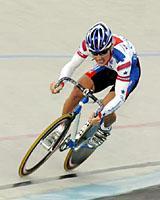 Photo ©: Anthony Bartoli
Carney's last stand: The Jame Carney diary 2004
Welcome to the Jame Carney diary for 2004. One of the US' longest-serving domestic pro riders, Carney is a track endurance specialist and coach of several other American track specialists. He has ridden for the Shaklee and Prime Alliance teams but this year is captain of the Northwestern Mortgage Cycling Team. And the only member. Follow Jame's lively accounts of his adventures as he tries to make it to the World Championships, exclusively on Cyclingnews.com.
www.jamecarney.com
Mexico SNAFUs: 88, 19th, pollution and getting there the long way
Apologies for the tardiness.
I am sorry that I didn't finish a World Cup diary. My life was turned upside down after the event. My bikes weren't finished; I got sick and was fairly disappointed in the outcome of the races I rode.
Long story short, there was a mess up and the wrong gear was put on my bike for the points race. I ended up racing the event in an 88. If you had asked me before the event if I could finish a World Cup Points Race at high altitude on a bumpy track with a huge field, in an 88 gear, I would have said absolutely no way. I finished but got smoked (19th out of 36) but I did make the two critical splits in the race. Unfortunately, I was worthless in those moves. Many people were shocked that I wasn't furious after the event when I discovered I was in the wrong gear. It was an accident and many things contributed to the mistake so blowing up would have accomplished nothing.
That is an interesting statement from me because you will see in my next diary; I did blow up on people in Houston at the World Cup Qualifier. I did it in a mature, objective way but I did not pull any punches. I called it exactly as it was. There was solid cause for this and it was completely justified. If I did not "Damn the Man" then these Officials would continue to screw over riders in future events. Some of them have repeatedly shown that they feel no remorse for their incompetence and for how they have negatively affected people's lives. I don't want to give away too much about this topic in this diary so I will stop here. This will serve as a teaser so you know what will be coming. No one is safe from "Carney's Crime Busters". If you screw up, I'm calling it. If I screw up, I will gladly take responsibility of my actions and take my medicine.
Anyhow, I should have checked my gear before the event. If the points race heats weren't canceled I would have noticed the mistake then. If they allowed us five minutes warm-up on the track before the race, like they usually do, I would have noticed then. If all USAC wheels were treated as community wheels instead of separate Sprint and Endurance wheels, then the wheel that was preset for me would not have been used as a spare for the woman's points race (that is were my cog got changed but not changed back). I'm not going to do the super freak when all of these things contributed to the mistake. If it happens again, I'll have to break out the DDT. Ancient Chinese Secret #24; Crap happens and sometimes it doesn't taste good but you have to eat it and give a smile.
Other relevant tidbits
The US decided to give up their pseudo home court advantage and to travel as much as the Europeans to make it fair. Hopefully they will do the same for us when we travel to Manchester. I could have driven to Aguascalientes faster than my planes got me there. It took me 18 hours of flying to get to Messico. First I flew east (1 hour) then I flew west (3 hours) then I flew south (4 hours) and then I flew north (1 hour). With all the layovers and transfers it ended up being 18 hours for me. If I just drove 15 hours south I would have been there straight up. I can't complain too much about this though because Joey D and the Blade Smokers (our Team Sprint Team) had even worse travel plans than me. They flew across the US from the east to the west just to hang out with us in LA. Whoever designed our trip must have wanted us to get a ton of frequent flyer miles.
Christian Stahl was pissed at me for the '1:06 where ever he goes' statement I made about him in one of my earlier diaries. He broke that mold and rocked out a 1:04.2. Now he constantly gives me the bird. I get mucho revenge later so "don't cry for me Argentina" just yet.
"Licked-a-Moose" (Tanz) was back up to warp speed for the sprints. The day before the competitions started, I saw her do a super flash 200. I prophesized that she would be on top for the next day's festivities and she was. Many of the other World Cup girls are pseudo copying her hair color (chocolate raspberry surprise) and that ain't cool. There are many other unused colors out there to choose from like violet puke swirl so be original.
Captain Lactose (Colby) won the scratch race with an attack from the back to capture the booty. After Colby's group lapped the field, the hungry Hungarian attacked. After he was caught the field swung up to the top of the track. Colby came right past Franco "Marvelous" Marvulli and Hendy at the rail, blew them a kiss, yelled "Tailpipe" and he was gone. It was a smooth move that only a true pirate could make.
Joe-Joe Starbucks Josiah Ng was relegated to last in the keirin final for a submarine move (pass on the apron). Marty Nothstein was pretty upset that Josiah stole this move from the 2000 US Nationals and ahow this move affected the outcome of the race.
On day one, the chickies do their entire sprint tournament. Guess how many kilometers the TJ Hookers (Jenny and Tanya) did that day when everything is added up (warm-up, races and cool-downs)? They did 135 kilometers each! That is crazy. It was a little too much for Licked-a-Moose so she had a tough day two but Jenny absorbed the training well like a Bounty paper towel and got second in the "Lady's Night" keirin final.
We already hit on my gear issue for the men's points race but the only other relevant fact that is interesting to point out is a comment that Franco "the almighty chick magnet" Marvulli made to me after the event. At one time in the race I bridged across from the field to a breakaway. It was a pretty big gap that took me two laps to close. I had to go about as fast as I could go to get across because both groups were moving quickly. After the race, Franco said "I can't believe you got across to that. You were going so fast." I told him, "Dude, it was all an optical illusion. I was in an 88." He was relieved, returned to his chesty self and called me a clown.
Sarah Ulmer scares the crap out of me. How can a chick that hot be so fast? I don't ever want to do a pursuit against her. I think it is okay if you are a dude and you lose to an Ogre type female but it's not right to lose to a girl that you want to make out with. People, I am kidding. I am a happily married man and my wife can't beat me on the bike.
The last day of competition was fairly entertaining. The conditions were horrendous. Because any country and their mother can show up to a World Cup, we had to have Madison heats again. There has been some talk of having some sort of system that requires countries to qualify for World Cups and I really hope that happens. To do all these heats and finals in three days can be very rough, especially when there are rain delays.
The French team sprint squad decided to ignore the adverse conditions and to go as fast as they would normally go on an indoor track like Moscow. Our Blade Smokers (US Squad) finished fourth which is their best finish in years. I am happy and sad about that because their previous best finish at a World Cup (sixth) had me a part of the Team (I was the starter). I was proud of that but hey, they rocked out and I am ecstatic about them going upper level.
The Madison was an accordion. It was a durable one that just never quite snapped. Doing a 40km 20-team Madison on a bumpy 333 at high altitude with pollution, high winds and heat is something everyone should try at least once. I have been lucky enough to have had this nightmare more than a few times. It tests every aspect of your being; a true character builder. Our ninth place finish was barely acceptable to me. This was the first World Cup Madison I have done in two years. Remember I went to school full time last year. The US failed to qualify a Madison team for World's last year and we didn't score any points with our Team in Moscow, so our back is against the wall to accumulate points. I am confident that Colby and I can score. LBJ is on our side and bad luck has to vanish one of these days soon. It can't be a never ending entity.
Travel home was just like the travel there: epic. We show up to the lobby of the hotel ready to go at 5 AM and the bus isn't there. No surprise, we are in Mexico. One bus shows up but all of our group won't fit so half our group is getting the flickeroo. The UCI officials have room for one more person in their van and I win the Row-Sham-Bow and snag it. Actually, Sean Thompson hooked me up with it and I truly appreciate it. This is how I did get sick after the event though. After we got under way to the airport, I noticed that all of these Commissars were hacking up a storm. I tried my best to fight off their disease but to no avail. It didn't last long. I only had it for four days. Anyhow, everyone did end up making it but it did take me 20 hours to get home from Mexico.
Sorry again for being so late with this and being so short. I know I forgot to mention a ton of other cool action that happened, sorry again. It won't happen again. I'm working on the WCQ#2 right now and this has high entertainment value. It was Viva con Leche.
Peace Out
Jame