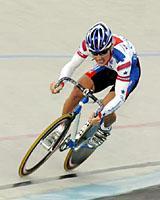 Photo ©: Anthony Bartoli
Carney's last stand: The Jame Carney diary 2004
Welcome to the Jame Carney diary for 2004. One of the US' longest-serving domestic pro riders, Carney is a track endurance specialist and coach of several other American track specialists. He has ridden for the Shaklee and Prime Alliance teams but this year is captain of the Northwestern Mortgage Cycling Team. And the only member. Follow Jame's lively accounts of his adventures as he tries to make it to the World Championships, exclusively on Cyclingnews.com.
www.jamecarney.com
Last chance for a fantasy
World Cup Qualifier Day 3, Ft Lauderdale, Florida, February 28, 2004
Some quick hits:
(1) There are a ton of Blue Haired Old Ladies in Southern Florida. They are often referred to as "the Assassins" because that is their profession. Cyclists are their favorite targets.
(2) LBJ stands for Little Baby Jesus or Lyndon Baines Johnson (36th President of the United States). It is your choice.
(3) When a car honks at you in Southern Florida, you should handle it differently than you would in the rest of the US. The influence of South/Central America in Southern Florida has made everyone honk happy. They do not necessarily want to fight you or show you their gun.
(4) Red for a solid 2 seconds is still Green in Florida with regard to traffic lights. Do not try to sneak across the Road early, you will get nailed. If they installed those Aussie Traffic Light Cameras down here, the cops wouldn't know what to do with all the fine money.
(5) Marjon Marik (now a Walrod) has requested that my diary be titled "Jame's Diarrhea" since she is a big fan of my garbage.
Enough of the babble...
Day III is only a morning session but it is still unbelievably cold. The events today are the men's Team Sprint & Madison and the women's Scratch & Team Sprint. I have been receiving a bunch of crap all week about not riding the Keirin, Sprints and now the Team Sprint but everyone seems to forget that I am a grandpa so my energy level is low. I need to start drinking "Ensure" (it's a popular drink for senior citizens in the US to inhale, it's fortified). The reality of the situation is that I am too bizzy to do extra events. Because we haven't had a National Track Endurance Coach for three years now, I have taken on the responsibility of training some of our talent. Truth be told, the dude that was the Coach before was pretty lame anyhow. I enjoy coaching my nerds but it does chew up some of my manna. If I am to be a Crime Fighter and to battle lubed up Evil, I must only focus on a few events.
The men's Team Sprints aren't even worth chatting about. EEEEWWWW, I am going to hear a lot about that statement but I stand by it. The conditions were so bad that the Teams went slower than some of the individual kilos did that were held two days before. It is true; Christian Stahl would have beaten his entire Team Sprint Team all by himself. Two days ago, Stahl went 1:06 and today his Team did a 1:07. That tells you how bad the conditions were. On the women's Team Sprint side, the "TJ Hooker" Team wins with no sweat. "TJ Hooker" was a Cop Show back in the 80s that stared William Shatner (aka Captain James T. Kirk). Now it stands for the "Tanya and Jenny" Team Sprint Team.
The women's Scratch was had some extra starters (some of the Sprint chicks) but they all got shelled pretty early so it was down to a 7 rider field again fast. The almighty Quinn rode as well as I have ever seen her ride again and won handedly. The fellowship rode like an IROC Z28 Camaro. This is not a good thing if you know what IROC really stands for. I would put it in this diary but I am sure that I would spark hate mail from Italy. For everyone's information, I am 25% Sicilian so I get a pass on this one.
The mad mad Madison had some entertainment value to it. Eight solid Teams lined up for the day's battle. It was a pleasant surprise. Because incentive to show up to these events has been extremely low for the past three years, sometimes we have shown up and only had 4 Teams start. A couple of those times, 2 of the Teams shouldn't have even counted. Imagine having a selection race for a World Cup where in reality you are doing a 2 Team 40 K Madison. I highly recommend that you try one, it's a blast.
Anyhow, I tell Colby before the race to not worry about which one of us is in for the first few Sprints because I want to take laps. Because of the conditions, I ride 54x16. Colby thinks I'm in 55x16 but I want him to think that so he stays in his 48x14. He needs to flex more and get huge.
The race starts and everything is smooth. It is as incident free as it gets in America, a very pleasant surprise again. The first sprint comes up and Colby is going to be in for it. I chuck him in with about 500 meters to go and I tell him just to sit the wheel. As soon as I swing up the track, the sprint is on. I'm shocked; these guys are going all out for it like it's for a brand new car or something. Before the race I told "fancy pants" that we would probably go for the lap after the second sprint but opportunity is knocking and I have to make these guys pay for sprinting like maniacs. As soon as Colby crosses the line (third for points), I'm in and I'm gone. We have a half a lap before my turn is even over. I toss the Cheeze-Whiz Kid in and tell him "one big turn here and we're Mexicans." He lights it up and seals the deal.
There is still a ton of racing left so I let Colby know that we are going to hang off the back of the pack and eat up points before we lap for insurance. You never know when crazy bad luck can strike. We are sitting about 60 meters off the back of the pack. The next sprint comes up and we obviously take the points but the sprint for second is very heated. David "Wise-Well" beats the "Blade" for second place points. Marty congratulates him with some flamboyant choice words, right in front of everyone at the start finish line. The fans love that stuff (I'm being very sarcastic). The officials appropriately give the "Blade" a warning.
Anyhow, we lap but I'm worried that fists might start flying so I tell Colby to be careful and to sit off the wheel a little. After spending a few laps in the field, we go again but this time we take the Freed-Ham/Cha-Chi Team and the Blade/Tolson Team with us. On our way to lapping, the field detonates. We catch each Team one by one. It was very confusing. There was only one Team still off (that is what I thought) so I attack again and we're after them. It's the Bobba Lou (Bobby Lea)/Ryan Oelkers Team. I didn't realize that they were a Team that we had already lapped a second time. I thought they were the last Team standing and that we were bringing them back to equal laps with Gui's and Marty's Teams but this wasn't the case and the officials weren't happy with them working with us. They were right, I was wrong. SEE EVERYONE; I CAN ADMITT WHEN I AM WRONG! It happens.
Anyway, it ended up to be worth it because the last sprint of the race was action packed. Bobba Lou came from way way back, I think he was somewhere in Southern Georgia, to take the sprint in dramatic fashion. It was very flash. A very good show of speed by the young smuggler. The places ended up being CC #1 (Colby/Carney), Blade & Tolson #2 and the New Kids on the Block #3 (Gui/Friedman).
Post-game wrap-up
I don't know if I mentioned this before but I only made $160 in prize money for this weekend of racing. Entries cost me $70 so that means that I cleared $90. Good thing my hotel room was only costing me 50 bucks a night (two-way split). Too bad I was there for a week. In translation this means that every rider lost money this weekend. I am down major dough when you add everything up. I am very lucky to have the sponsors that I do. I don't know how US track racing survives under these circumstances. Hopefully, I will be able to do something for the sport after I retire.
I feel so bad about how much money that I have spent over this race weekend that I break out a little maneuver from my past. "How much will you give me if I....?" On Sunday, I go out to lunch with Gui and the Friedman Trio and I take a dare. Gui and Mike offer me 30 bucks to chug a whole bottle of Habanero Hot Pepper Sauce. They have no idea who they are dealing with. Pledging a fraternity back in the 80's was a lot scarier than it is today (I'm a TKE). You are supposed to eat Hot Sauce; it's not a big deal. The entire bottle is gone in 13 seconds. I was aiming for the Rodeo 8 second barrier but it was some thick stuff. The only price that I will end up paying for this sauce slam is the "burning ring of fire" in the morning. The ring of fire and I have hung out many times before so I'm not scared. You just have to be strong like a swan and embrace the fire. Remember, the things we fear the most have already happened to us. So if it didn't kill you before, it probably won't kill you now. That is another Ancient Chinese Secret, #128.
In other news, apparently I'm not "cool enough" to be sponsored by Oakley anymore so I just did an undisclosed trade with Duvendeck for all my old Oakley glasses. I wouldn't have cared about this issue at all if I wasn't sponsored by them in the past but I was (5th in the Olympics with their product) so I will acquire other eyewear.
There are no "Upper Tankings" to report from the weekend. When I got home from this trip, I was afraid that my cat might have "Upper Tanked" me though. He didn't. It was a false alarm.
On a serious note, I would like to dedicate all my performances from this last weekend to Samantha Hellyer.
OK, back to the bike. I'm not writing anymore until after Messico.
Viva, JC