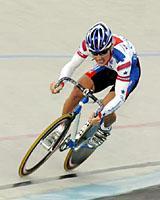 Photo ©: Anthony Bartoli
Carney's last stand: The Jame Carney diary 2004
Welcome to the Jame Carney diary for 2004. One of the US' longest-serving domestic pro riders, Carney is a track endurance specialist and coach of several other American track specialists. He has ridden for the Shaklee and Prime Alliance teams but this year is captain of the Northwestern Mortgage Cycling Team. And the only member. Follow Jame's lively accounts of his adventures as he tries to make it to the World Championships, exclusively on Cyclingnews.com.
www.jamecarney.com
"Are we in Florida or in Canada?" And "The mockery of the sport"
World Cup Qualifier Day 2, Ft Lauderdale, Florida, February 27, 2004
So last night's events were pretty painful because it was about five degrees Celsius (40°F) and virtually no one brought winter clothes with them. Florida is always nice and warm. This is where all of the little kiddies go for spring break.
Speaking of Florida facts, here is a little statistic for you. Did you know that Florida has more shark attacks each year than all of Australia does each year? It has more attacks than South Africa too. This is a true fact. You can chicky-check if you want. If this intrigues you, check the stats on the Bull Shark. He is the main reason why there are so many attacks in Florida.
We all woke to the surprise today that it was overcast and a little rainy. It never warmed up either so we knew that the night session would absolutely suck. I always have people giving me a bunch of crap about how much stuff I travel with, but sometimes it pays off and this time it did. I had a ton of clothes with me so I was able to layer my self like a corndog. Because my team clothes aren't done yet, I raced in a plain baby blue jersey. There are only two people on the planet with this jersey, John Walrod and myself. We won them at the Tamaqua-knees National Madison Championships (Tamaqua, PA is about 35 miles North of T-town).
The morning's events were the men's sprints and the women's pursuit. After a delayed start because of the rain, the riders went for it in gale force crosswinds. For timed events, there is nothing worse than a crosswind on the velo. It means a never-ending fight.
The men's 200 TT is won by Adam Duvendeck with an 11.0. Some people are pretty surprised, but I'm not - because I know that Adam is one of the most talented riders that we have. A lot of people don't know this but it is true. To reach the next level, all he needs to do is to hire a personal assistant to kick his butt about every 12 hours. With that kind of motivation, he'd be very dangerous.
Erin "DLV" Mirabella is already pre-qualified for the next World Cup for the women's pursuit so the women here aren't racing for much other than pride. I warn "the fellowship" that the times are going to be absolutely horrid in this crosswind so to be prepared for a shocker. I was right and the top two times are 4:07 (Sarah Uhl) and 4:08 (the fellowship). This equates to another second for Becky because she isn't feeling well so I tell her not to race the final hard and to save it for the next day's scratch race. It was pretty lame that she had to line up and pretend to ride but that is the rule. If you want to collect the second place prizemoney you have to ride - if you don't, it's a forfeit.
The night session was bitterly cold as expected. Half the riders raced with their leg warmers on. The events on tap were the men's sprints, team pursuit and points race and the women's keirin.
In a couple of upsets, Christian Stahl and Lackey (Andy Lakatosh) break on through in the semi-finals and beat "G-Money" Massie and "Kick My Butt Out of Bed" Duvendeck, respectfully. They battle on like Xena in the final with Christian prevailing. It wouldn't be a sprint tournament without Lackey getting a least a warning so he gets one in their second ride.
Tanya "LAM" bounced back strong from getting second in the sprints and won the women's keirin. She held off a very strong finish from Jenny Reed. No warnings or craziness to report, it was a straight up clean ride.
The supposed "Mockery of the Sport" was the team pursuit. There were a few people out there that weren't entertained by the effort (show) put forth by the solo team pursuit squad that competed. My suggestion to those folk is to relax and to take a look at the big picture. The time standards that are being enforced by USAC to automatically qualify for World Cups are extremely hard for anyone on the planet to make and there is also almost no prizemoney to be made at these events.
The riders in this TP squad were: Bobby Lou (Lea), Fancy Pants Pearce, Cha-chi Nelessen and Mike Free-Ham (Friedman). Their plan of attack was to do the TP "Iron Man" style (no aero bars), go slow because they weren't racing anyone and to race each other to the line at the very end. I added a little mix to there plan. I suggested that at around the half-way mark they should all swing up to the top of the track together and all yell "three". For all of you not familiar with track etiquette, when you are in a TP and you blow and can't get back on, you yell "three" so the rest of the riders know what is going on (you have to finish with three guys in TP). I thought this would be funny because often times when someone yells "three" there is another guy on the team that is also struggling to hold on and he is usually very bummed to hear that word yelled. I think most people enjoyed the joke and for those who didn't, sorry. If you can't do something for money or for purpose than it has to be fun so that was their mission. This is one of my top philosophies.
Ancient Chinese Secret #434 - A person who isn't working on at least one of the three primary prongs is wasting time and thus wasting his or her life force. The three primary prongs are: (1) working towards a goal, (2) making a lot of money and (3) having as much fun as possible. As long as a person is doing at least one of these three things then they are "keepin' it real" and are a value to their own existence. Number three has been my flavor for the last three and a half decades with a healthy sized serving of number two.
26 men started the points race. The new points race rules are on "the list" (my lame list). For a 40 kilometer points race, it is OK to give people 20 points for when they take a lap on the field but when it is under 40K, the amount of points should come down accordingly. Suggestion to the UCI: for every 10 kilometers in distance give five points for a lap (20K = 10 points for a lap, 30K = 15 points for a lap, etc.). This way you can still be competitive if you miss the move.
To be honest with you, it wasn't that exciting of a race. I wish it was so I could toot my own horn but it was just a chasing festival. A break went early with five guys, "Damn" Larsen, Pearce, Curtis "2 Gunns a Blazing", Joey D and a Mystery Rider of the Night - maybe Friedman. A chase group of Kenny "G" Williams, Tyler Far-Rar-Rar and I got off before they lapped. We needed to get off or it would have been curtains for all of us. We eventually re-caught all of the original break. Only eight people finished the race (18 dropouts). I took the top spot followed by Colby "the cheese-whiz kid" Pearce (even though Colby is named after a cheese, he doesn't eat cheese because he is lacto intolerant) and Tyler Far-Rar-Rar. It was a good hard race with no spills or heated anger. I think it was too cold for that.
That is it for day 2. Stay tuned for more action soon. Day 3 and post game wrap-up to come. Rock on.