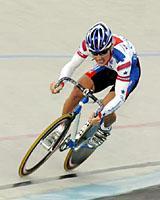 Photo ©: Anthony Bartoli
Carney's last stand: The Jame Carney diary 2004
Welcome to the Jame Carney diary for 2004. One of the US' longest-serving domestic pro riders, Carney is a track endurance specialist and coach of several other American track specialists. He has ridden for the Shaklee and Prime Alliance teams but this year is captain of the Northwestern Mortgage Cycling Team. And the only member. Follow Jame's lively accounts of his adventures as he tries to make it to the World Championships, exclusively on Cyclingnews.com.
www.jamecarney.com
The moment of truth
World Cup Qualifier - Ft Lauderdale, Florida, part one, February 26, 2004
Welcome to Carneville. I'm sure that for some of you, this might not be your flavor and you might not ever come back to this page but I am confident that there is a secret society out there that wants to hear my noise. Thank you, cyclingnews.com for giving me mainstream access. I promise not to sell out like Pearl Jam and Incubus. To put it bluntly, I simply refuse to completely grow up until I quit biking full time (I'm 35 but don't tell anyone). I have plenty of my life left to be old and crusty so I chose to be a little chaotic now while I can. It keeps things fresh and minty. Never underestimate the value of eccentricity.
One of the few things that I'm worried about is if my professors at Fort Lewis College find this page. I am pretty far behind with my studies right now so it's kind of hard to say that I'm too "bizzy" to catch up when I have time to blab like this. I will be graduating from FLC this fall. It only took me 17 years to get this Exercise Science Degree; fast on the bike, slow in the head. For all you college students out there, I'm that crazy old dude in the front row that won't shut up.
I coach a few cyclists out there so once in a while I will refer to them. The most prominent riders that are currently riding under my guidance are: Sarah Hammer, Becky Conzelman, Gui Nelessen and Marcus Black. There will be some "code" and nicknames used in these diaries (not very much) to shield the innocent and to protect my behind. It's like a puzzle, if you figure things out, you'll be entertained and surprised. It's kind of like the prize in the cereal box. You can live without it but it is an extra bonus if you can find it.
My credentials aren't super flash but they're all mine. Nothing has been or ever will be drug induced. I truly enjoy beating up on known and/or suspect doping offenders. It has to really get their goat that I destroy them once in a while. My supplement secrets are CANDY, COFFEE and CAKE. These key ingredients allow me to unleash the fury from time to time. Hell knows no fury like a woman scorned... or a Carney on Candy.
What else? I live in Durango Colorado. I'm 5ft 8in and I'm 150lb. I like biking in the dark and long layovers at the airports. I raced for Shaklee in the 90's and Prime Alliance in the new millennium but I am now the captain of the Northwestern Mortgage Cycling Team (I'm the solo member). All the advertisements on this page are my sponsors so please invest all of your disposable income with them. They are making my Olympic Medal Quest possible.
On with the show.
Prelude
'Twas 2 months after Christmas, all the US Trackys were in the House,
I had a 3 day old headache, from my own personal drought (dehydration).
So I show up to Ft Lauderdale 5 days before the competition starts and what do I do: I give myself minor heat stoke on the first day. I had just missed out on the Moscow World Cup because of a MAJOR MOLAR REMOVAL and now my existence was being threatened again by my own personal stupidity. There were a bunch of people sick in Florida and I was in fear of catching that infestation so I put my self in "lockdown" for two days in the hotel room. I drank like a fish, ate raw garlic and finished off a bottle of chewable vitamin C. It was the remedy and I dodged the bullet. For those two days, I was the master of the set (TV). It was a barrage of Comedy Central and Cable News Channels.
I almost forgot. Becky Conzelman, better known as "the fellowship" picked me up at the airport when I arrived and drove me to my hotel. I chose this hotel because Colby Pearce, better known as "fancy pants" needed to have a refrigerator in our room and needed a nice continental brecky to wake to each morning. I had no idea that there was a Strip Club a stone's throw away from the place. Needless to say, "the fellowship" sternly told me to stay away from this joint or I would dearly pay for my actions (she has my wife's phone number, "Hi Deb..."). None of us ever went in. The hotel was in the ghetto so danger was all about anyhow.
Another funky thing that happened prior to racing was that Gui Nelessen's (better known as "Cha-chi") car tranny blew up on his drive down from New Jersey. He made it to Florida okay but he needed to get a new transmission. We took it to this place that was extremely sketchy. There were so many cars just sitting out in front of this place that I told Gui that I thought this was a place that you donated your dead car to when it was freshly killed. He was told that they could fix it in a day or two. A week and a day or two later and he is still stuck there with a broken car.
There is more pre-action to report but let's move on.
Day one: the moment of truth
This is the first real track event for the year in the US so nobody knows how anyone else is riding. Most people don't even know how they are riding themselves. We start out with the women's 500 and sprint and the men's kilo and pursuit.
Women's 500 goes pretty much as expected. Tanya "Licked-a-Moose" wins with an impressive 36.2 and the fellowship (Conzelman, remember) gets second with a 37.0. Becky is pretty psyched because she beat her time from last year by 0.2 of a second and she is not training for the 500 this year. She is concentrating on track endurance for this year because it seems like the best opportunity to earn an Olympic start position.
The men's kilo was about the only thing that was really surprising of the morning session. Adam Duvendeck and Christian Stahl rocked the velo with a 1:07.1 and a 1:06.8, respectively. It was a crap windy day. Stahl went 0.2 seconds slower than he did in Moscow 2 weeks before. Ft Lauderdale is about 7 seconds slower per kilometer than Moscow so with that kind of effort, Stahl might have broken the minute barrier in Moscow. I am kidding. Ft Lauderdale is not a fast track though. I think Christian's problem/gift is that he can do a 1:06 on any track in the World at any time and under any conditions. We need to sign him up to do the World's on a really slow flat track, like the one in Exeter, Tasmania. It would be a guaranteed win.
The men's pursuit was a bit average. Again, conditions weren't right for fast times but pursuiting is never really exciting to watch unless it's at the Worlds where the winners go faster than some of the team pursuit teams. Colby "fancy pants" Pearce did it 'iron man' style (with no aero bars) so that gives you the explanation of his very slow time (5:08). Joey D was the eventual winner of the event. He was the only dude to go faster that night in the below-freezing weather (4:51).
Women's sprints went as the 200 TT went. Jenny Reed won with "Licked-a-Moose" close behind in second. The 200 times were impressive, 11.7 and 11.8, respectively. They both would have qualified for the men's tournament with those times.
The night session featured the women's points race, the men's keirin and the men's scratch race.
The women lined up with 7 starters, not large by any standard. Becky Quinn dominated the race from the start. She won the first three sprints and then switched to defense mode and that was all she wrote. "The fellowship" was the bridesmaid once again. Becky is the queen of #2s.
Marty Northstein, was crowned keirin champ at the end of the night. I flirted with the idea of riding the keirin but my self-induced drought from earlier in the week made me more cautious not to over-extend myself. It was the right move. Kevin "Blitz" made a hard late run on the "Blade" but it was just a little too late.
My first event
The men's scratch had 36 starters, completely insane. I think they were pulling people off the street to add more riders to this field. I was okay with it because I knew that the more riders we had in the event, the faster the race would be. That is always the case. People are trying to race out of the back of the field because it's too dangerous back there (in the US) and that drives the pace.
The race was on from the start. David "Wise-Well" pumped from his Tasmanian adventures couldn't contain himself and attacked almost from the gun. Eric Gerolstein and I got jealous so we went up off the front to join him. We all got caught and then there were some other attacks and they were caught and so on and so on. It was a vicious cycle for over half the race. Finally, a break got a gap. I waited for the perfect moment to bridge across solo. I made it over with a surprise attack from over the back. It was the right combo to stick. The riders were Dan Larson, Joey D, Eric "Geri-Curl", Curtis "Tollhouse Cookies" and me. The pack never gave us much room. We were driving it but they were driving it too. The only problem was that their group was over twice our size (people dropped out at the very end).
It all came back together with 3 laps to go. I was pretty gassed. I really didn't want to get caught to end up sprinting with people that were a lot fresher than me. Anyhow, as soon as we were caught "fancy pants" Pearce attacks but Kenny "G" Williams is after him like stink on poo. The pace is up and we're all back together with 1 to go. The "Blade" (also known as the "BTN" by some) hits me from behind in the first turn with all his fury. He pulls out about 4 bike lengths out of me. I respond with about 5,000 watts of penned up Chaotic Good Karma and return the favor with a drive by passing of my own to take the event.
I seriously have to thank Graeme Brown for my win in this event. He pushed me to my old spirited level over Christmas. That sounds kind of weird but I'll explain. I took 2003 super easy. I was in school full full time. I haven't done that little of miles in a season since I was a junior. If I wanted to win some events this year in Tazzy, I had to step it up to my previous year's form or it wasn't going to happen. The "G Block" (Graeme) helped me find my inner child again by kicking my ass at Latrobe and Launceston Carnivals. Sometimes you need a hardcore beating to wake up.
Other Note: I was psyched to win the event but I felt bad that my breakaway partners weren't compensated for their hard effort to stay away. They gave it their all and because of them we did the time standard to automatically qualify for the next World Cup. In the US, if we don't go fast enough in our events, we have to pay to go to World Cups. I was very lucky to be able to recover to sprint and win. Tazzy gets you fit. There is nothing harder than handicaps.
That is it for the day one wrap-up. Day two and three are to come very soon. I gotta train.
Till next time,
Jame