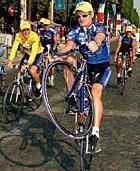 Floyd in action
Photo: © AFP
Hangin' In There: The Floyd Landis Journal
During the 2002 Tour de France, Cyclingnews welcomed Floyd Landis as a reporter. The talented, gutsy, 28 year old former mountain biker had ridden his way to a start in the Tour as a key part of Lance Armstrong's USPS squad, and Landis went on to distinguish himself as an important member of the now legendary "Blue Train" at Le Tour. Floyd also endeared himself to Cyclingnews readers for his unique take on an American rookie's life in the Tour De France peloton.
2004 has Floyd return with his exclusive journal "Hangin' In There."
Back In The Saddle Again
January 13, 2004
Hey Cyclingnews Readers!
Happy New Year to all of you. You haven't heard from me in a while because I've been laying low at home in California since the World Championships. I've been putting in plenty of miles to get ready for 2004. My friend and teammate Dave Zabriskie was here for a while and he's looking good for this season.
You know something, it seems strange to think about it, but exactly one year ago today, I spent my Saturday evening in the emergency room at the Inland Valley Medical Centre, hoping that eventually what seemed to me to be an emergency would be treated as such after what seemed like an ordinary crash. I have spent no time at all re-living that ride, that day, or for that matter the weeks following the incident, but now it seems like a good time to think back.
Today is such a contrast to the same day exactly one year ago. The only similarity seems to be that I am sitting in a chair with wheels, but my it's my office chair; nothing like the wheel chair I sat in last year at the hospital, wondering if or when I would be the same as before.
Today's dinner was some sun dried tomato pasta eaten in my own house with my family, whereas last year's dinner was a Snickers bar and some morphine in the Emergency Room. And while after last year's ride, it was a month before I could stand and take a shower, this time afer my ride, just I stood there in the shower and smiled at the thought that I would just step out and walk (without crutches) over to the closet, just to have another look at those same crutches.
But most importantly, tonight I will go to sleep with the same goals and plans with which I woke up this morning, completely unlike last year when I went to sleep with the help of anaesthesia and pain killers. (Also, most likely I will still wake up tomorrow with the same number of screws in my body as I have right now).
Over the last year I saw time slow down to a crawl and then within a few months go to a previously unrecorded speed, and while I have not forgotten how difficult things were when I couldn't walk without crutches, I am thankful for those two months that I spent with my wife Amber and daughter Ryan. Unfortunately, as soon as I could walk (even a little before), all of my time and energy went into getting back the fitness that I had the year before. The next thing I knew, it was October and Ryan was seven and I was already thinking about 2004 and what my goals should be.
As bad as it was, some good did come from it and last year's experience has left me more determined than ever to be the best I can be when I leave for Europe in February. In the time between my last diary and today, I have been unsuccessful at slowing down time again, so I continue to juggle my team expectations and my family in the hope that some day I will be able to slow it down without breaking my hip or anything else. My racing season ended on October 12th at the World Championships, following which I flew directly to Las Vegas where I tried to help some sponsors while beginning several weeks of no exercise whatsoever (but knowing that if I wanted to I could ride or walk or whatever).
Then I spent much November working on my house, which still needed a lot of work, since we moved in only two days before I left for Spain in April. Amber and I had some fun picking paint colours and furniture and everything else that goes along and before I knew it was almost Thanksgiving. From November 22-25 I was in Austin, Texas with a few teammates, filming a commercial for the United States Postal Service, then I returned home for Thanksgiving.
On the Monday after Thanksgiving, I began three days of jury duty. The bad thing about jury duty is the sitting around, but even worse is the 12 dollar-a-day pay, which is enough to cause any intelligent human to do just about anything to avoid having a jury decide their fate. No, seriously, I wasn't picked for the jury, so I spent the rest of the time waiting around for what the secretary described as "anything else they might need you for" Huh???
The following day after jury duty, I flew back to Austin for the rest of a training camp of which I had missed half for jury duty, and just like that, November was over and it was December 8th. Then there were three weeks of relative chaos, mostly blameable on Christmas, and 2003 then was over and now here we are, one year older and a bit wiser but without enough remaining time to get to "wise".
The obvious thing now is to get focused and set some goals since the first USPS-Berry Floor training camp of 2004 starts in one week, but on the other hand 2004 is already more successful having made it to January 12th without breaking a hip! It is all a big success story from here, so I will talk to you all after the training camp ends on February first, but for now I am going to walk upstairs and try out those crutches again just as a reminder of how quickly things can change.
Until next time
Floyd