An interview with Tyler Farrar
Moving up: A little bit of a shock
You can talk about Lance Armstrong's switch from being a Classics rider to a Tour maestro, or Laurent Jalabert's transition from being a sprinter to a King of the mountains, but one of the hardest changes for any rider is the move from being a top junior to racing in the senior ranks. At just nineteen years old Jelly Belly's Tyler Farrar is in his first year as a pro after winning multiple national championships as a junior. He tells Ray Easterling how the change is going.
Tyler Farrar (left) is congratulated by a US National squad team-mate after winning Four Bridges of Elgin
Photo: © Mark Zalewski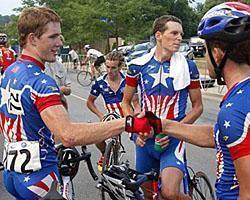 Date of birth: June 2, 1984
Place of birth: Wenatchee, Washington, USA
Residence: Seattle, Washington, USA
Height: 6 feet
Weight: 165 pounds
Family: Cindy (mother), Ed (father) and Fletcher (brother)
Nicknames: Ty
Year turned pro: 2003
Other: currently taking online classes through the University of Washington in sports science and physical therapy
Selected Palmares
2003

1st, Four Bridges of Elgin
9th, Tour of Flanders U23
1st, Madison, San Diego World Cup qualifier (with Michael Creed)
2002
1st overall & stage 4, Tour L'Abitibi, Canada
1st overall, Three Days of Axel, Holland
US Junior National Champion in Individual Pursuit, Team Pursuit, & Olympic Sprint
2001 & before
Multiple US national junior championships.
Cyclingnews: When did you begin cycling and what you like about the sport?
Tyler Farrar: Let's see. I started racing six years ago, or this will be my sixth season and I love the competition. I love the training and the preparation and just dialing everything in and focusing for the competition and then going there and actually competing. All those aspects of it.
CN: How long have you been riding for Jelly Belly/Carlsbad Clothing?
TF: This is my first season with Jelly Belly.
CN: How did that relationship come about?
TF: I knew Danny Van Haute [Jelly Belly team manager]. He is the junior national team coach. So I knew Danny because I was a junior and I rode for him the last two years on the national team. We had a good working relationship built already and when I turned 19 this year he offered me a spot.
CN: What sort of things would you say you've learned this season while racing for Jelly Belly?
TF: It's kind of stepping up to the next level from juniors racing. It's an eye-opener on how racing really works and the ins and outs of professional racing: the tactics and the strategies and what not. Just how crazy a field sprint can be, guys going everywhere. It can be pretty exciting and pretty rough sometimes in certain races so it was a little bit of an eye-opener to see what that's like and to see just how well organized some teams can be and the team tactics.
CN: The first half of the season is over. How do you feel you've done thus far? What are the highlights and do you see any areas of improvement this year?
Racing the Madison at San Diego
Photo: © Mitchell Clinton

TF: I'm really happy with the way the first few months of my season's gone. I did a good bit of racing on the track this year and so for sure two of the highlights were I went to two of the World Cups. I went to the Mexico World Cup and the South Africa World Cup on the track. That was really great. Then I raced a while in Europe with the espoir national team as well and that was a lot of fun over there, too. I won two races and several good top-ten places.
CN: You were ninth in the U-23 World Cup at the Tour of Flanders?
TF: Yeah, that was one of my big objectives for the spring so I was really happy with that being a first year espoir.
CN: When you're riding it, did you have any thoughts in your mind about riding the event in a few years from now at the top level?
TF: Oh, yeah. That's a dream, I think. That's possibly my all-time favorite race to watch the pros. I watch the videos of it every year and that's a dream to race the pro race on that. So, it's pretty exciting to be racing over the same climbs and to think that there's the potential to be there doing it for real in a couple more years.
CN: What are your major goals for the remainder of the season?
TF: For the rest of the year? Let's see: the espoir national championships are next week in Texas, so that's a big priority for me [note: Farrar finished fourteenth in the time trial]. The two biggest races I'm doing with Jelly Belly will be New York City Cycling Championships and the San Francisco Grand Prix ... two big goals. Then I have another trip to Europe in there, too.
Time trialing at the 2002 world's
Photo: © Jeff Tse

CN: Are you excited about that [New York and San Francisco]?
TF: Oh, yeah. For sure. [laughs] That's really exciting to have the opportunity to be doing those races.
CN: Have you actually gotten a chance to ride with the Jelly Belly team in a race situation so far this season?
TF: A little bit. I did Pomona and then I did a couple races where I've been in the Jelly Belly kit but not with the rest of the team. So, really, my first real race with the team is going to be this week at espoir nationals, because I've been in Europe so much this spring.
CN: Now, not all the Jelly Belly guys are racing in that, right?
TF: No, no. We have three guys on the team who are espoirs. Myself, Austin King and Corey Steinbrecher.
CN: Any thoughts about riding alongside the Postal boys when you're out in San Francisco?
TF: Oh, yeah. You know, since that race started it's always been something that I've followed closely and read about in VeloNews and on Cyclingnews and just gone "Oh wow. You know, that race is so cool and that would be so cool to be there one day." and now I get the chance to do it. I'm really excited to have the opportunity to potentially race beside Lance Armstrong or George Hincapie. It's kind of nuts.
CN: Moving from the junior national team last year to Jelly Belly and riding in the U-23, has it been a big change for you?
TF: I think I've handled the transition well but it is a little bit of a shock. I mean, the junior races are restricted in distance so the longest race you do all season is 130 kilometers and you make the jump to espoir and then race in pro races with Jelly Belly and all of the sudden you're racing up to 200-kilometer races. So, it is definitely a different kind of endurance thing and then the racing can be so much more intense at this level. It was a little bit of a shock at first to make the jump.
CN: Isn't the gearing different for juniors versus U-23?
TF: With juniors there's a restriction [on gearing]. It works out to be like a 52 chainring and a 14 cog in the back usually. It's just for development really, to teach juniors to spin more and be more supple and to protect their joints as they're growing. Then when you hit espoirs, it's just unlimited. You can ride any gear. It's kind of nice to be able to put the big gear on sometimes, but it's surprising how fast the junior racers can be even with the gear restriction.
CN: You race the track disciplines, you race pursuit, you race on the road. What would you say is your strongest suit?
TF: The road racing. I'm kind of a sprinter on the road, sprinter and time trailing, and so…my favorite thing to do is events that cater to that. But I do enjoy racing the track as well. This is the first year I started doing mass start track races. Before I'd only done pursuiting and so I've raced the Madison quite a bit this year and I've had a lot of fun with that, too.
CN: How different was it lining up for the first time for a mass start?
TF: It was a little intimidating at first. My first Madison was pretty crazy. My first one was the qualifier for the World Cup in Mexico and my second Madison ever was the World Cup in Mexico. That was really intimidating to be lining up with twenty Madison teams on the track from all over the world and some of the best guys and I'd only ridden one Madison before in my life.
CN: What were the thoughts going through your head right then?
TF: Just don't crash. Just trying to think of all the little rules that go along with Madison racing to stay safe.
CN: What do you like to do when you're off the bike?
TF: In the winter and fall, I go hiking and mountaineering and skiing as well.
CN: So I take it that you like to be outdoors quite a bit?
TF: Yeah. I really, really enjoy the outdoors.
CN: How would you say that your family has factored into your cycling career so far?
TF: I've had great support from my family all along. They've been 100 percent behind me. My parents love the racing and coming to the races and every aspect of it they support me 100 percent. That really helps when you're coming up through the ranks. Especially when you're a junior and you need someone to take you to the races. You can't handle going by yourself and so to have a family that is behind you is crucial.
CN: Lastly, the big question, the thing I think everybody wants to know: How does being a redhead affect your cycling performance? Does it give you the mojo?
TF: [Laughs] Maybe so. There's definitely a small percentage of us out there. I don't mind; I kind of like being a little different.