An interview with Paolo Bettini, December 22, 2003
My Favourite Year
Bambino Veronica and Paolo Bettini
Photo: © Sirotti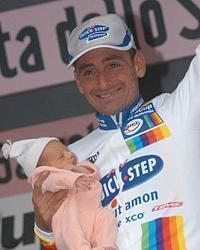 Paolo Bettini is a small man with a big heart. His power and smarts as a cyclist are well-known, but his place in the hall of fame of great Italian riders was solidified in 2003 with his three World Cup wins and position as the #1 ranked rider on the UCI elite classification. Cyclingnews' European Editor Tim Maloney sat down with Il Grillo for a brief and illuminating interview before the Christmas holidays.
Cyclingnews: You've just finished your first Quick.Step-Davitamon training camp in Tuscany, near you home in Cecina. How was your team-mate Johan Museeuw?
Paolo Bettini: Johan was motivated, as he always is, very determined to prove himself. He really wants to ride well in his final season and perhaps for that reason, Museeuw is even more motivated than usual. Museeuw wants to leave the sport with a big success and he's got Tour of Flanders and Paris-Roubaix as his main objectives. He's really motivated!
CN: You had your first encounter with a few new team-mates, Juan Miguel Mercado (ex-iBanesto.com) and Jose Antonio Pecharroman (ex-Paternina-Costa de Almeria) from Spain. How did you find them?
PB: I already met Mercado during the Tour de France; he's a good young rider. He's shown already that he's a top rider and he's very, very strong. I don't know Pecharroman as well; I just met him in the training camp when we were doing team photos. But we did do some riding together and I could see he's a good rider. Physically, he looks good on his bike and although we haven't done a lot of training together, I think he showed during the season that he's a good rider. Plus he's young and has a lot of time to develop.
"Our team rode very well and I was there to play my cards and I lost. That's the way it went."
- A pragmatic Paolo Bettini on his performance at the 2003 World Road Championships
CN: One could say that 2004 was your best season ever... a second consecutive win in the World Cup with an unprecedented three race wins, as well as the birth of your daughter. Despite the disappointment at the World Championships, how do you view your 2003 season?
Disappointment at Hamilton
Photo: © Sirotti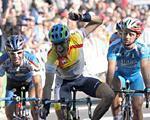 PB: Even after the World Championships, I was still feeling relaxed... because we left Italy really relaxed. I knew when I left that I had a great season behind me. No one had ever won three World Cup races in one season, and I had also won the Italian Championships. So I was really relaxed going into the World's, also because my daughter Veronica had been born before left.
It was a very unique time for me and of course, at the end I was sorry to have gotten only fourth [at the World's], but as soon as I got back to the hotel and took my shower, I had already forgotten any disappointment, because I understood that sure, I had a good chance, but in the races, you can win or lose. I was in the right place at the right time in Hamilton, but I made an error in judgement [with Astarloa]. That's the way a race can go... so you have to face these challenges. But when I think of how the season went and the birth of my daughter Veronica, and it was still a great day in Hamilton for Italy. Our team rode very well and I was there to play my cards and I lost. That's the way it went.
CN: Among your 2004 season objectives, such as the World Cup, the Classics as well as the Athens Olympics, But I hear from your team-mate Davide Bramati that the Italian championships and the maglia tricolore is also very important to you?
Phewww! One smelly saddle
Photo: © Cyclingnews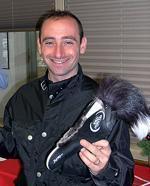 PB: This year, our Quick.Step-Davitamon team succeeded in winning the Italian championships, but it wasn't easy! It was a special satisfaction for us, because to wear the Italian tricolore jersey is really well-known in Italy and a special symbol of our nation. We had four riders because we're in a [Belgian team] and we were able to beat the big teams with a full squad like Fassa Bortolo, Saeco, Lampre... all the rest with 12, 13, even 14 riders.
We knew we were in shape; Luca [Paolini] and I knew we were strong, but with the odds against us like that, we knew it would be very hard to control the race. But we managed to win in 2003, which was very special for us and so we'll come back in 2004 to defend my title. Plus the Italian championships are in Santa Croce sull'Arno, only 60 kilometres from my house in Livorno, so I would love to win again in front of all my fans!
CN: You are clearly the best rider in cycling for one-day races, Paolo. How about the best stage race rider, Lance Armstrong. Have you gotten to know him in the races? What do you think of Lance?
PB: I usually see Armstrong at the Tour, or just before, so perhaps it's hard to get to know him better because his season is only focused on the Tour. But he's right [to do that] since he keeps winning [the Tour], so no-one can say he's wrong with his approach. But in the peloton, [Lance] is just one of the guys. He doesn't try to isolate himself; he's approachable and you can talk to him.
CN: Paolo, have you seen the parcours of the 2004 Tour de France? How does it look to you?
Enjoyed the Centenary Tour
Photo: © Olympia Photo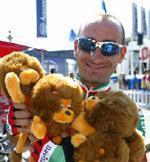 PB: Oh, I saw one thing I like about the Tour. It starts in Belgium and the first few stages are in Wallonia. That's an area I like a lot (Bettini is a double winner of Liège-Bastogne-Liège -Ed), so I'm sure Quick.Step-Davitamon will try to do very well in the first few stages at the beginning of the Tour.
When you are talking about the overall win, I think next year's Tour will be very interesting. Ullrich will surely be looking to beat Armstrong; then there's Heras who left Armstrong and his team looking to win his own Tour de France, and Beloki, who despite his bad luck this year, will be back and very competitive in July. Then there's always someone who is in the middle of things to make it harder, so I think that Armstrong will need to prepare very, very well to win his sixth consecutive Tour de France. He can win it, but at the start, he'll have a lot of adversaries.
After our interview, Il Grillo jumped in his silver Porsche Carrera S4 and headed back to his home in La California for a happy holiday at home with his wife and two month-old daughter Veronica. Look out for Paolo Bettini's diary on Cyclingnews again, starting in January 2004.
See also: California Dreamin': The Paolo Bettini Diary 2003
Other Talking Cycling Interviews