Recently on Cyclingnews.com
An interview with Laurent Dufaux
Motivated once more
By Chris Henry
Thirteen years and ready for more
Photo: © Chris Henry/Cyclingnews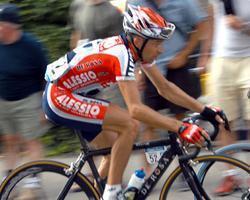 Switzerland's Laurent Dufaux will begin yet another chapter in his professional career next year when he rejoins his longtime friend Richard Virenque on the Quick.Step-Davitamon team. Dufaux penned a deal with team manager Patrick Lefevere in early August, 2003, following a return to good form in the first half of the 2003 season.
Dufaux will enter his 14th season in 2004, and when he sat down with Cyclingnews before last weekend's Championship of Zurich, he declared himself very motivated for a new beginning with Lefevere's superteam.
Ready for a new chapter
"It's really thanks to Richard, who really insisted that I be at his side for next year," he said, explaining how the Quick.Step deal for 2004 came to pass. "Already at the end of last year, after the 2002 Tour, he had tried to have a conversation with the Quick.Step management so that I could join, though nothing was finalised."
Laurent Dufaux
Born: May 20, 1969
Nationality: Swiss
UCI ranking: 26
Turned pro: 1991
Teams: Helvetia (1991-92), ONCE (1993-94), Festina (1995-98), Saeco (1999-2001), Alessio (2002-03)
Career highlights
2003 - Alessio
Stage win, Tour de Romandie
2002 - Alessio
Trofeo Melinda
2001 - Saeco
Stage win, Giro del Trentino
2000 - Saeco
Stage win, Tour de Romandie
Stage win, A Travers Lausanne
Championship of Zurich (World Cup)
1999 - Saeco
Polynormande
1998 - Festina
Tour de Romandie (overall, 3 stages)
Midi Libre (overall, 1 stage)
1997 - Festina
Stage win, Midi Libre
A Travers Lausanne (overall, 2 stages)
1996 - Festina
Stage win, Tour de France
Stage win, Vuelta a España
1995 - Festina
Route du Sud
Vuelta a Burgos (overall, 2 stages)
1994 - ONCE
Dauphiné Libéré
Stage win, Tour de l'Oise
1993 - ONCE
Dauphiné Libéré (overall, 1 stage)
1992 - Helvetia
GP Pino Cerami
1991 - Helvetia
Route du Sud
Coppa Placci
Laurent has ridden the past two seasons with the Italian Alessio team, but can now look forward to rejoining Virenque, his former teammate from the now infamous Festina team. "This year after the good Tour that I rode, and after [Richard's] good Tour de France, it was clear the sponsors wanted to keep him for next year," Dufaux explained. "He asked again if I could join him [at Quick.Step], and the sponsors gave their OK, so it was just a matter of finding an agreement with Patrick Lefevere. At the beginning of August we reached a final agreement.
"It's a great opportunity, and I'm very happy to ride for a team as big as Quick.Step, particularly with Richard but also with Aurélien Clerc, and riders like [Paolo] Bettini," said Dufaux. "They've evened out the team a bit, between the one day races and the stage races around Richard. They signed Juan Miguel Mercado and a few other Spanish riders. I think it's a good thing to have a good mix of riders in the team."
A time to rebuild
When asked about his relationship with his old teammates from Festina, Dufaux spoke proudly of the strong ties the riders had at the time, and still have today. "With Festina, there was always a bond between us that was very strong, and I think we kept that after all the problems we had," he said. The problems, of course, stemmed from the 1998 drug scandal that exploded during the Tour de France. But what remains more important to Dufaux in his mind are the personal relationships from that time, a relationship which has been echoed over the years by riders such as Didier Rous, Laurent Brochard, and Christophe Moreau.
"We were really close, and really strong, and we had a lot of great results thanks to this bond. It's always great to find ourselves together now, even if we're on different teams, because we're still friends," he said. "For me it's good to keep friendships with riders like Laurent Brochard, Didier Rous, and of course Richard, a rider with whom I have a great rapport."
More recently than the dark days of Festina, Dufaux found himself on the edge of his career, having trouble securing employment and considering retirement as a result. "We're in a difficult period, with less money and fewer sponsors, and I'm at an age where it's increasingly difficult to get a contract," he said frankly, referring to his near-retirement.
"After a difficult season in 2001 I had trouble finding a team for the next season. Finally I was lucky to have been given an opportunity at Alessio to relaunch my career. Last year, after an honorable season, I wasn't able to sign a contract until the end of November, so I started asking myself a lot of questions..."
"I'm 34 years old, and I know that for the general classification, to really count, you need to be in the top ten... or really in the top five. Nobody remembers after three weeks who finished 12th."
Alessio came through and offered Dufaux a ride for 2003, but the late-season offer was a sign that 2003 would be a critical junction. "I knew for this year the Tour would be the key to continuing my career," Dufaux said. "I knew I had the best opportunities to sign with a team after the Tour. Or, on the other hand, if the situation were the same as in 2002, I would announce that I would end my career at the end of the season.
"Thankfully it worked out, and after a good season, particularly with the Tour de Romandie and the Tour de France, where I was quite visible, I had the opportunity to sign with a great team, and I'm very motivated to start my 14th year as a pro."
On the attack
Photo: © Jeff Tse
Dufaux was indeed visible in this year's Tour de France. Often on the attack - and often with Virenque - he missed out on a stage win, but not for lack of trying. In the process, Dufaux finished second behind Virenque in the mountains classification. On the attack all day in the Pyrénées, Dufaux had his most notable Tour performance this year on Stage 14 from Saint-Girons to Loudenvielle, when he finished second behind Gilberto Simoni and just ahead of... Virenque again.
Dufaux has evolved as a rider, and is no longer looking at the general classification in the big tours. "I'm 34 years old, and I know that for the general classification, to really count, you need to be in the top ten... or really in the top five," he explained. "I've been fourth twice and ninth one time, but I think it's more important now to have a big stage or at least try to win a stage. The public will remember something like that a lot more than if you follow wheels the whole Tour and finish 8th, 10th, or 12th. Nobody remembers after three weeks who finished 12th.
"For me that does nothing," he insisted. "I think it's more important to ride in search of a stage win like I did, and I'm happy with the race that I rode. This year I prepared well with a smart program. I showed a lot of character in riding aggressively and going on the offensive, and not being afraid to attack early. In the end it was a very good Tour and I was very satisfied."
The good and the bad
Like many professionals, Dufaux is hard-pressed to come up with the best moment of his career. The 1996 Tour de France, where he finished fourth and won the stage to Pamplona, Spain ahead of yellow jersey Bjarne Riis remains a great memory, he said, but also his win in the Tour de Romandie, an important stage race in his home region of Switzerland. "Naturally, the Championship of Zurich," he added on the eve of the 2003 edition, "which was the first World Cup win in my palmarès."
Not surprisingly, he points to the Festina scandal as his worst experience. "There were a lot of difficult moments to live through," he said, "but thankfully I found the strength to continue and try to ride at the highest level. My friends that stuck by me helped me through, along with my wife and my family who were behind me. That was very important to have them with me. I was also very lucky to have found a big team like Saeco that had confidence in me after the Festina affair, and I owe them a lot."
Relaxed, ready, and hungry
Dufaux is an amiable fellow, sharing laughs in French and Italian with teammates and friends from rival teams sharing a hotel on the outskirts of Zurich. If there were any stress for the semi-local on the eve of the Zurich World Cup race, it wasn't evident.
So where do his interests lie outside of the world of cycling? "I like to take advantage of life," he said with a big smile. "I like spending time in the mountains, to escape a bit and get away from the stresses of my career, which is important for me. I like to eat, I like food and wine, and I enjoy going out to nice restaurants. Of course I like to cook, but I like eating more!"
Speaking of eating, it was Alessio's turn for dinner in the hotel, and Dufaux was clearly getting hungry. As Alessio teammate Andrea Noé beckoned Dufaux to dinner, the interview came to an end. The following day Dufaux did not have the performance he had hoped for in Zurich, but after a what has already been a successful 2003, he is no doubt ready for the next chapter of his long career, back to one of the top teams and back with his closest friend in the peloton.