An interview with Chris Horner
Success, Saturn and San Francisco
By Ray Easterling
Saturn have sung a tune no-one could follow in 2003
Photo: © Jonathan Devich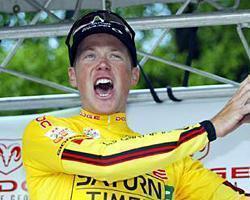 With so many wins this year, it almost appears as if Chris Horner can win a bike race with his eyes shut. The latter just happens to be one of his tools of the trade - the couch - so Ray Easterling catches Horner couchside to discuss his success, Saturn and San Francisco and s... his hobbies.
Cyclingnews: How has the season been thus far?
Chris Horner: It's been great. No complaints.
CN: Anything that sticks out to you as a highlight?
CH: Well, Redlands, Solano and the Merced race were good highlights, and the stages that I just won at Fitchburg - those were kind of unexpected so they were nice, too.
CN: Do you like racing out in California?
CH: Oh, yeah. Always.
CN: How has the move to Saturn been for you?
CH: Pretty smooth, actually. The riders have been really good and the staff has been fantastic… I thought it would be a little bit more difficult because everything with Prime Alliance was just such a good setup, a good bunch of guys and working with Roy [Knickman, Prime Alliance general manager] and Kirk Willet [Prime Alliance road manager] was a good experience, so I thought it would be kind of rough changing teams. I didn't know if you could find anything as good as that setup but with Saturn, they've got a really good setup here and the riders are fantastic and the staff has been working out just great.
CN: Chris, can you explain how the team change came about?
CH: Well, basically it just boiled down to [Saturn Team General Manager Tom] Schuler said he was interested in signing me and so we talked a little bit. They just made a good offer, an offer that was just too hard to turn down, really.
CN: Regarding Saturn, why is it such a strong team?
Take your pick...
Photo: © Rob Karman

CH: Yeah. Nathan O'Neill, Tom Danielson, myself, [Trent] Klasna, [laughs] Eric Wohlberg, Phil Zajicek, Tim Johnson, Will Frischkorn, I mean that's the dominant team right there. Mark McCormack, too. I mean, we don't have any weak spots on the team at all.
CN: Talking about Fitchburg, you saw Henk Vogels go down, right?
CH: Yeah, I did. I was like three guys behind him. We were just catching on to the back. He was in a small little break that just formed before the descent and we were just catching it again on the bottom of the descent and he just overlapped the wheels. The bad thing is he didn't hit the guardrail. He went under the guardrail and hit the metal poles that hold it up and he went in headfirst. It was absolutely the worst crash that I've ever witnessed from one guy just going down. I thought 100 percent - I've never seen a bike crash in my career yet where I thought anyone was going to die from it - he was dead. I didn't even think there was a chance that he'd make it through. When I heard he was okay, boy, I was just completely relieved.
CN: When you're in a situation like that, as a rider witnessing it, what's your gut reaction?
CH: First of all, you just want to get off the bike. As soon as we passed by him - 'cause we're doing 55 miles an hour - it's like, "Stop racing, let's get off the bikes, find out what happened and then we can worry about bike racing after that." We got down to the bottom of the hill and both the Saturn team and the Navigator guys were all like "Okay, let's stop racing." So, we stop racing. What happened is that the cars behind us, the directors, said "Just roll a little bit further because we've got the women's race, too, and they're all coming down the hill at the same speed you guys were."
So, we rolled a little bit further and then finally we got the word that he hadn't died - which is what everyone was worried about when they saw the crash - but that he was at least up and they were taking him in the ambulance and stuff and that's when everyone was like, "Okay, let's go ahead and start racing again." It's part of life - part of cycling anyways - that there're going to be some big crashes. I mean, you can't stop the race for every time there's a big crash but when you see a crash like Henk's, it's justifiable to wait and see what happened and see that the guy's okay.
Nobody wants to race when someone just died on the course. You just want to get off your bike and go home. This year especially, there's been some incidents, like at Paris-Nice and then there was something that happened at Tuscon Classic, I believe it was, where another rider died there, and so you look at that. I believe that's kind of what happened at Sea Otter. The rider [Andrei Kivilev] at Paris-Nice died and then we had I think it was a Category 2 or 3 rider [Garret Lemire] that was at the Tuscon Classic that died when he went head-on with that car there, too.
So, when we arrived at Sea Otter, nobody wanted to race that course 'cause we've already seen guys dying, you know? Guys don't mind racing courses that are a little dangerous, but that one seemed to be quite a bit more and we don't want to see someone else die. Then you see Henk go down and you know it's just time to get off the bike and make sure everybody is okay. There are just some things that are more important than bike racing at that moment.
CN: When you see something like that crash, is it the sort of thing that sticks with you the next time you're on the bike?
Who wants to win today?
Photo: © Rob Karman

CH: Oh, absolutely. I mean, every lap we went down that hill it was all of a sudden everyone's just going a little bit slower down that hill than they were the lap before and no one is taking the same kind of risk that you would normally take on a descent, which is just go as fast as you can. After seeing Henk, everyone was like, "Whoa, let's just be a little more mellow here and not have another accident like that happen."
CN: Getting back to the issue of Saturn being such a strong team, do you think that Saturn's dominance is a good thing or a bad thing for the domestic scene?
CH: I think it's always a good thing. I mean it's impressive. People have got to realize how difficult it is. Not only are we winning now but we're winning when nobody wants us to win. We have to do everything right in order for the team to win. It's not just given to us and everybody knows that we have strong team. At Tour of Georgia… when the Navigators had the leader's jersey, we had to ride [defensively] on that day because everyone knows that the next day in the mountains we're most likely going to stand the best chance of taking the jersey back and so we've got to ride on days when realistically we shouldn't even have to but you've got to if you want to win the overall race. It's an impressive thing to watch a team win races when everyone out there is gunning for them.
CN: What are your major goals for the remainder of the season and next year as well?
CH: I've reached most of my goals of the season. Now, I'd just like to have a really good San Francisco [Grand Prix] race. I'd like to go there and find the kind of form that I had earlier in the year and see if I can win the race. I know if I can get back on top-notch form I can win it. Last year I was in the group, off the group, in the group, off the group because I was just recovering from a broken collarbone. I only had three weeks of training after breaking my collarbone and even then when I was riding in San Francisco the collarbone was quite sore. So, I'd like to make it there healthy, 100 percent, and see if I can put a good show in for San Francisco.
Other than that, I've met the other goals that I wanted to do. I wanted a strong Philly; I had a good Philly and helped Mark win the jersey. The team was just so good that day and I don't believe we had anyone at Philly that was riding with exceptional form. I mean, I know my form wasn't exceptional and I didn't see anyone else on the team other than Mark that had really exceptional form, but the team stayed together. They raced smart, they did all the tactics right and Mark got the jersey out of it. So, I was real happy with that result. Of course, the early part of the season, I can't ask for a better part of the season than what I had.
CN: What do you like about the sport?
Streets ahead at Georgia
Photo: © Jonathan Devich

CH: Well, the most part that I like about the sport is I just like going out and training. I absolutely love racing, too, but you have to love training - I believe, anyways, I know some guys will disagree with me - in order to be a good bike racer. That's what I fell in love with when I started racing was just going out and doing long training rides either by myself or with some guys and stopping at the coffee shop and enjoying the day and then getting back after five, six hours knowing that you've had a good ride and you can enjoy the rest of your day now. The racing just adds to that, on top of it. When you're on really good form and you feel like no one can touch you in the race it's such a good feeling to be going that fast and hard but not actually be feeling it.
CN: What does your training consist of?
CH: It's pretty simple. I can prepare for specific races to a degree, but in general when I want my form to be really good, you just have to put aside all the other duties at your home. You know, you can't be out washing your car and mowing the lawn and cleaning the deck and all that kind of stuff. You got to be training hard every day, coming back and the best tool for recovery is the couch. You just put yourself on the couch and start recovering for the next day so you can turn around and do it again. Most of my training just consists of doing five, six hour days consecutively until I feel like I'm getting tired, back it off a little bit and then as soon as I feel good again, I bring it back on.
CN: Five or six hour days on the bike or on the couch?
CH: On the bike. Hopefully, I'm doing a lot more than that on the couch! [laughs]
CN: How has your family factored into your cycling career?
Chris Horner
Date of birth: October 23, 1971
Place of birth: Okinawa, Japan
Residence: Bend, Oregon
Family: Aarica (5), Kali (3), Garrett (18 months)
Race weight: 150 lbs
Turned pro: 1995
CH: It adds another stress level in terms of it kind of takes away a little bit from the cycling because now it's turned cycling a little more into a job because now you have to make a paycheck because everyone's depending on you so that they have a roof over their head. So, having a family does take away a little bit from the actual joy of bike racing and stuff but it helps your form in a way because it motivates you 'cause you know you have to perform good because everyone is relying on you. It turns it a little more into a job than what I would like it to be but it also, I think, helps me get good results, too.
CN: What do you like to do when you're off the bike?
CH: There's a lot of little hobbies that I like to do. I like to ride the motorcycle and stuff like that but that wasn't working out so good with the broken foot last year so it's probably better to avoid that. But just hanging out with the family and doing stuff around the house because there's just always so much, so much stuff that the house needs when you neglect it for months at a time.
CN: Lastly, the big question that I think everyone wants to know: How has shaving the goatee affected your aerodynamics?
CH: [Laughs] An enormous amount. You can't believe how much wind the goatee actually catches. When it started getting long you could turn your head and it just felt like it was pulling your chin.