An interview with Anthony Geslin, November 23, 2003
Ready for the next level
By Stéphanie Langlais, translated by Chris Henry
Ready for another Tour
Photo: © Stéphanie Langlais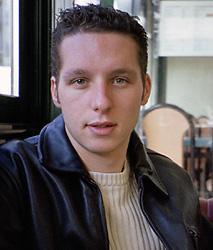 Brioches La Boulangère's Anthony Geslin is part of the new generation of French professionals - young, hard-working, and eager to fulfil his dreams as a pro cyclist one step at a time. For Geslin, his second year as a pro was a year of ups and downs: solid race results, a commendable performance in his first Tour de France, and the shock of friend and teammate Fabrice Salanson's death on the eve of the Tour of Germany.
After some time off the bike at the end of the season, Geslin sat down with Stéphanie Langlais to talk about how things are going so far, the magic that is the Tour de France, and where his career can go from here.
Cyclingnews: Anthony, what brought you to cycling?
Anthony Geslin: Without doubt it was my family that gave me a taste for cycling. My father did cyclo-touring rides and my uncle raced. When I was around 10 or 12 years old I went to watch him race. I enjoyed it, and I got my license with the club in Damigny, next to Alençon [where he lives-Ed]. I stayed there four years before moving to Rouen, where I was with Team Péan until 1999. I started to win some big races, including the French national junior time trial championships in 1997 and 1998.
At that point I realized that I was going to devote my life to cycling, since many previous winners of that event had gone on to successful careers. Everything followed after that: I joined the junior national team and the Vendée U team before turning pro in 2002 with Bonjour. I made the decision to stop my studies after high school with a diploma in sports education.
CN: You still like to learn, particularly in philosophy. Do you miss it?
AG: It's true that I enjoy reading, particularly in philosophy, and I don't really have the time. I am still able to open up a book sometimes. I like to reflect on life; that helps me take a step back from my profession, to think about other things. This isn't really common within cycling, where automobiles or handy work are more common diversions! Sometimes I talk about philosophy with the team manager or doctor, but it's not easy and there aren't many opportunities.
Anthony Geslin
Born: June 9, 1980
Nationality: French
UCI ranking: 156
Turned pro: 2002
Teams: Bonjour (2001-2002), Brioches La Boulangère (2003)
Career highlights
2003 - Brioches La Boulangère
1st - Essor Basque
Mountains classification - Hessen Rundfahrt
2nd - GP Ouest France-Plouay
2nd - GP Rudy Dhaenens
10th overall - Four Days of Dunkerque
2002 - Bonjour
2nd - Stage 2, Tour de l'Avenir
3rd - Stage 2, Tour du Limousin
3rd - Stage 4, Tour de la Region Wallonne
7th overall - Tour de Picardie
2001 - Bonjour
1st - GP de Loiron
1998 - French junior time trial champion
1997 - French junior time trial champion
But... I don't spend all my free time reading books! I also like to get out in nature and forget the public and the noise. I like to decompress. For example, I like to pick mushrooms during my time off. Otherwise, like everyone else, I go to the movies. I like fantasy films or thrillers, like Seven. I also listen to a lot of music, and my tastes are sometimes eclectic, switching from classical music to rock and rap.
CN: Does cycling's history interest you?
AG: I have to admit that knowing what happened in the 1972 Tour de France doesn't really interest me. I'm more interested in the present. On the other hand, I do have one idol: Laurent Jalabert. He's somebody that I admire, for the career he had and for his simplicity. I had the chance to meet him at the world championships in Zolder last year. [Geslin was an alternate for the French national team in the road race] He's very accessible and very nice. Plus, deciding to retire while still at the top... that's class.
CN: In the end, what is cycling to you? What does it do for you?
AG: First of all it's a passion that's inspired me since I was very young. For me the sport is about solitary effort, at the same time anchored in a group context. I came to understand the importance of the team and of working for a leader little by little. In the beginning I thought about the individual side before everything else.
Cycling is also about camaraderie and being together after the races. I like the sincerity that exists within the sport. On the other hand, what I can't stand is hypocrisy: those who put their own interests ahead of the team's. But in most cases the riders who behave like that quickly gain a reputation and it doesn't go unnoticed in the eyes of their directeurs sportifs.
CN: And the media and sponsorship exposure of the sport, is that something you appreciate?
AG: Yes, I like that, even if I'm a bit more wary now. I responded to a lot of solicitations at the Tour de France. At the beginning I was really happy, but then the Alps came and it became much harder to meet all the obligations. That taught me a lesson which I won't have to learn twice. At the same time, my two breakaways helped me get noticed by a lot of people, and that's great.
CN: There are also downsides to your profession, like following very strict rules and diet in your life. How do you deal with that?
Life long passion
Photo: © Brioches La Boulangère

AG: Essentially, realizing this dream comes through a very strict lifestyle. I eat, I sleep, I do everything with cycling in mind and I think about it 100 per cent of the time. You can only accept that by being very strong mentally, since you don't have the right to let it all go.
A season is long; this year, for example, I accumulated 100 days of racing. To accept all these lifestyle changes can be difficult, but for me it's become natural. You have to accept it because if it remains a constraint, that leads to trouble. I also tell myself that a career doesn't last a lifetime. Ten to twelve years and that's it. Besides, it's my job, so I have to accept the rules.
CN: To the point of extreme suffering that you can feel during a race...
AG: Of course. I often say to myself, "You'll get through it!" There are some very difficult moments when I really hurt. But you have to go through that and accept it. You get used to suffering and you learn how, particularly in the mountains.
CN: How did you react to the death of your teammate Fabrice Salanson?
AG: I was very hurt, like the whole team. We all reacted the same way. For me he was a friend, a great guy, and a nice, humble rider who was well respected. I was at my girlfriend's house when I heard the news. I couldn't believe it. I was blown away. Nothing could have prepared us for what would happen. Not long before, we were roommates at the Vuelta a Castilla y Leon.
The first month was really hard for everybody. Tomorrow [this interview was conducted November 14] I'm going to participate in a ride in his memory with the whole team. It's all still there... I still think about it.
CN: Does that worry you?
AG: Of course, because that could happen to anybody. Now I have a tendency to keep everything in perspective. People who search for a yes or a no... that bugs me. But I not only feel afraid since he died, I'm sad too. I can't accept the suspicions of doping that came out even before the results of the autopsy were revealed. It was later confirmed that he died of natural causes, but the allegations discredit riders like me and the teams that try to be clean.
For example, it's hard to justify (being clean) when we do three weeks of racing non-stop. People have their own ideas. But bodies adapt, and we're on our bikes all year long. There's the explanation! It's not fair to discredit everybody. There are, and there always will be cheaters. But since the Festina affair, things have changed. It's a new era and I'm not part of that same generation.
"Overall I haven't taken the time to really analyse the [2004 Tour de France] route, but I'm sure of one thing: everything is going to change for me and the team next year."
CN: You've been a pro for two years now. How would you reflect on the start of your career?
AG: My first season was pretty tough. The number of races and kilometres I rode throughout the year had nothing to do with what I'd experienced up until that point. But since I didn't do the Tour de France, I had a good end of season. My selection for the [2002] world championships was a very nice surprise; that meant that people had noticed me.
I had a good start to 2003, particularly with some places in the Coupe de France races. And of course there was the Tour de France. I developed a lot physically and I got a lot of exposure, a bit thanks to the event, so my place in the team was assured. I think I moved to another level this year.
CN: What did you learn by participating in the Tour de France?
AG: First of all, to manage a three week race and the different types of stages: mountains and time trials. For example, the day before the team time trial I was out front, alone, for 70km. I wouldn't do that again, because the next day I wasn't riding well and couldn't help my teammates much. Rest days can also be real traps. We're at the top of our form, so even a short break can completely block us. I rode a little bit and made sure I didn't eat too much, since my body wasn't accustomed to it.
CN: Your roommate Franck Rénier also helped you get through the race.
AG: Yes. I get along very well with him; we asked to be in the same room. He gave me advice, helped me understand how to handle the media, the mountain stages, etc. Each night we talked a fair amount and joked around. It's easier to feel good in conditions like that. Damien Nazon also helped me in the mountains, telling me that once I found myself in the gruppetto not to panic, just to stay on the wheels. It worked out well, and I never really had a day where I felt totally empty.
I didn't experience my worst moments as a cyclist during the Tour, even if the race was just as hard as I imagined. After the tenth day, the mental fatigue started to set in and never really let go until Paris. I missed my friends and family, and I found the second half of the Tour very difficult. Three or four days from the finish I couldn't wait to get home. But during those moments, when I didn't feel like getting back on the bike, certain things kept me going: the crowds at the start and above all the parcours motivated me to dive back in and keep going. Honestly I didn't think the Tour would be so big...
"My only goal is to do a good job and improve every year. There's no reason why that shouldn't happen, and the rest will follow."
CN: You surprised yourself? You seem to show a strong temperament even though you had no experience at the Tour.
So close, yet so far...
Photo: © Cyclingnews

AG: I started with the idea that I wanted to show myself, even though my first goal was to help the team. But I didn't think it would come so quickly. I had a good first Tour.
I came close with [Stuart] O'Grady... [The two were in a break for 195km on Stage 6 before being caught 500 metres from the finish] We had a 90 per cent chance of staying away to the finish, but that's how it goes. My best memory, along with that break, was the finish on the Champs-Elysées and that incredible sight of the empty road, the peloton, the Arc de Triomphe at the end, the crowds all around and a big blue sky!
CN: What do you think of the route of the 2004 Tour?
AG: It spends a lot of time in the west, which makes me happy since that's my region! Overall I haven't taken the time to really analyse the route, but I'm sure of one thing: everything is going to change for me and the team next year...
CN: You're referring to the arrival of Joseba Beloki.
AG: Yes! I still have a hard time believing it, I'm blown away. Yesterday I was called to a meeting in Nantes with the whole team but I didn't know ahead of time what the reason was. I just knew it had to do with "some good news". When I got there, I learned that Beloki was joining the team for two years. Even better, they said he was coming into the room! It was hard to believe. Now we've moved from the stature of a good team to one that can challenge for victory in the Tour de France.
CN: What will that change?
Beloki joins La Boulangère
Photo ©: Cyclingnews
AG: At the Tour, the pressure will be very different. I definitely won't be able to take as many (breakaway) chances as I did this year. They'll have to take a back seat to working for Beloki. For me, the arrival of a rider from such a big team [ONCE-Eroski] is a good thing. I hope to learn a lot about the sport. He'll bring his vision of riding, training ideas, and even ideas on equipment.
CN: This news was basically unexpected.
AG: Basically. I thought it was strange, and it still seems a bit unreal. We're shifting gears all of the sudden, it's hard to believe. I guess the transfer comes out of a common goal for the team and the sponsor, who ought to be happy! Our sponsor was happy with our performances and has dramatically added the resources necessary to reinforce the team. With Beloki we'll have more chances to participate in the World Cup classics, and individually, to move up a level.
CN: Do you think, based on the quality of races in France, that young French riders have the means to compete internationally?
AG: That's a difficult question to answer... But in any case, at La Boulangère, we have four young riders in the top 20 of the UCI rankings for our age group. We'll be even better placed next year, so I'm not worried.
CN: Will your preparation for 2004 be similar to other years?
AG: Yes, I don't plan on changing my training. For the moment I've been running two or three times a week along with some weight lifting. I'll start back on the bike before a team training camp at the end of November. My training will pick up in December, but still nothing too hard. The season was long and I need to recover and not hit my peak too early in the year. My goal is to get results in the races that suit my style, like the Four Days of Dunkerque, and of course to ride the Tour de France again. It would be tough to let it go by now that I've tasted it, and it'll be even more exciting since we'll have Beloki!
CN: What are your ambitions for the rest of your career?
AG: I'm not going to go ahead and announce that I'd like to win a big race within three years. It's stupid and I don't like to project myself too far into the future. My only goal is to do a good job and improve every year. There's no reason why that shouldn't happen, and the rest will follow. I'm an all-around rider, and that's my strength - I like tough courses and short climbs. Plus, doing the Tour de France gave me a lot of confidence in myself and helped me progress. That's good for next year!