A quick chat with Anna Millward
Life after racing and Millward bikes
Anna Millward has spent the last couple of years attempting to recover from a leg injury that has left her unable to produce maximum pedalling power. Now back in Australia and effectively - if not 'officially' - retired from racing, she tells John Stevenson what she's been up to.
Anna Millward
Photo: © Gerard Knapp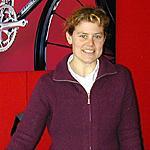 Former world number one Anna Millward says she hasn't formally retired from cycling, but after two years of struggling to deal with a nagging injury problem, it seems unlikely she'll be back racing bikes any time soon.
Cyclingnews bumped into Anna at the recent Bicycling Australia trade show, where she was hanging out on the booth of Melbourne frame builder Alchemy, showing off the women's frames she's recently helped the company develop. In a subsequent email chat we found out what she's up to in life and in sport.
First, though, that leg. Will it ever be right? "Well I am an eternal optimist," Anna told Cyclingnews, "which is why I held on through two years of steady deterioration of my leg's ability to pedal. But I have seen no improvement despite seeing many specialists and undergoing surgery. I cannot bring myself to say that I will never be able to race again but things aren't looking good!"
While things may not be looking good on the cycling front, Anna has returned to her career as a lawyer with the Deacons law firm: "They have been great to accept me back after a 5 year hiatus," she said. And since she can't compete with her legs, she's taken to the water.
"I have also taken up kayaking as an outlet for my competitive side," she said. "The challenge of remaining upright in a racing kayak has kept me occupied that's for sure."
Then there's the Millward bikes, the first 'product' of a relationship with Alchemy that goes back a few years. Anna takes up the story: "Alchemy are a long-time supporter of mine - I first raced on an Alchemy in 1997. Alchemy custom-made the bike for me and I felt they really got things right for me as a person of smaller stature. They continued to support me even when I signed my contract with Saturn - once making a bike for me which they knew I could only ride for about six weeks before my contract formally began. They also sponsored the VIS during this period.
"Alchemy approached me towards the end of last year to see if I would be interested in helping them develop racing bikes specifically for women. Since I was in limbo with my injury and had some time on my hands it was an awesome opportunity for me. Alchemy already had experience in designing bikes for smaller people and that was a big focus of mine just because of my personal experience in struggling to get bikes to fit me properly. However, we wanted to make bikes for women of all sizes so we developed a range of sizes and quality of bikes."
"In general, a woman will have a shorter torso and shorter arms than a man of the same height. That is why many women feel that bikes are too long for them - the handlebars really are too far away even if a male of the same height feels fine. Add to this the fact that women tend to be shorter than men and the result is that women really need some bikes that are a lot shorter in the top tube. So we designed the 'Millward' bikes to be shorter in the top tube than the 'standard' dimensions. For women my size and smaller we kept the top tube as short as we could without creating significant overlap between the pedal and the front wheel. To help keep the handlebars within reach we have sourced headstems from 50mm upwards so even the most petite should find a bike to fit them.
"The bikes also come with women's saddles and the smaller sizes come with 38cm handlebars to suit the smaller shoulders of women. All the bikes will come with Shimano's short reach levers and of course, most importantly, the colours will be a little brighter than your average 'men's' racer.
"All in all, I hope we have succeeded in creating bikes which will be really comfortable for women, which will lead to better handling and performances by female cyclists."