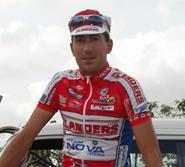 Photo: © Anthony Tan
Moving on up: The Trent Wilson Journal 2003
Welcome to the Trent Wilson Journal for 2003. The young iTeamNova rider was one of the six who made the cut when the Australian Div III team merged with RDM-Flanders to form Flanders-iTeamNova, and move into Division II.
Young pro Trent Wilson is in his second year with the iTeamNova squad, which this year has merged with RDM-Flanders to form the Division II Flanders-iTeamNova outfit.
Primarily a climber, Trent acknowledges that strength and power are two areas he has to work on in 2003, and his main role in the team will be to support the team's leaders as Flanders-iTeamNova continues to work toward the original iTeamNova goal of Division 1 status and a Tour berth in 2006.
Latest entry: Chewing the fat before my big Christmas bash (December 17)
2003 entries
2001 Interview - Trent talks about his first pro race, as a stagaire for fakta at the end of 2001