Recently on Cyclingnews.com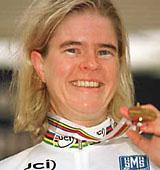 Susanne Ljungskog
Photo: © Sirotti
The Susanne Ljungskog Diary
2002 was very much Susanne Ljunskog's year as the powerful Swedish rider landed the world championship just a few weeks after her second place overall and final stage win in the Grand Boucle. In 2003, she is riding for Team Aliverti-Catalunya-Kookai, and hopes to improve on that Grand Boucle runner-up placing.
Back home for a spell
April 14, 2003
Hi all,
Here I am in my little flat back in Sweden. It feels really nice to come home for a while after a month in Italy. It has been a good month though, we have settled down nicely and we have developed a good relation with the team, but Sweden will always be home to me. I have a very Swedish nature. I appreciate the Swedish style, which differs a bit from the Italian. When I come to Sweden, I find a certain peace of mind, and I can go out training without a lot of cars and noise around me. That is what I appreciate most about Sweden, the silence.
Not saying there's anything wrong with Italy though, I find it to be a wonderful country with beautiful roads to ride for a cyclist, and the country also offers me the mountains I need for the coming Tour de France. The longest hill I can find here in Sweden can be completed in seven minutes. In comparison, they don't stand up. :
Next race for me will be Amstel Gold race, followed by Fleche Wallone. I look forward to both, and especially the Fleche Wallone, because I have dreamed of winning that race for a long time. The race has a very steep finish, and I would just love the feeling of cutting across the line there. The last World Cup race was in Spain, just outside Burgos, and the race was very unpopular with the majority of the girls. We rode on a 15 kilometre lap, where some parts had very new tarmac and lots of gravel on them. On top of that, the course was located in the middle of nowhere, where no one came to watch. I don't complain easily, but this made me a bit upset to say the least. In order to make people aware of our sport, this was not a good idea.
Anyway, Miriam Melchers showed her good form in the race, and broke away with eight kilometres left, and stayed ahead all the way. Personally I felt like a sack of potatoes, and I also performed a big crash which made a bike change inevitable. Not a day I will look back at joyfully!
Klas and I will be in Sweden for two weeks now. These weeks will mostly be spent on the road, but I will also do a few other things, one is an appearance in national TV to accept a medal awarded to me for the best sporting achievement of 2002.
Ciao a presto!
Susanne