Recently on Cyclingnews.com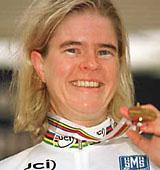 Susanne Ljungskog
Photo: © Sirotti
The Susanne Ljungskog Diary
2002 was very much Susanne Ljunskog's year as the powerful Swedish rider landed the world championship just a few weeks after her second place overall and final stage win in the Grand Boucle. In 2003, she is riding for Team Aliverti-Catalunya-Kookai, and hopes to improve on that Grand Boucle runner-up placing.
Snow training, and the first season win
March 20, 2003
Hi friends!
Snow in Mallorca
Photo ©: Klas Johansson

It has been a while since my last entry, and lots of things have happened since then. Let's start with my three week camp at Mallorca. This was my tenth training camp at Mallorca and I've never seen such bad weather as we had this time. I mean, you go to the southern latitudes to find better weather than home, right?
Anyway, I'm optimistic, so I thought the nice weather was just around the corner. Man, was I wrong! The rain turned to snow as the temperature dropped to zero. In the Bunyola mountain there was 20 centimetres of snow and for a minute I thought I was back home where I'm used to snow laying on the ground, and where I always feel like the Michelin man every time I jump on to my MTB. But what can you do?
I wanted to keep training of course, so Klas and I had to change our plans a little. He drove our rental car behind me all the time, so that I could be helped with warm and dry clothes whenever I got too soaked. Despite the conditions, I am very pleased with my training camp. I only missed out on a few hours on the bike, and I doubt that will affect my escapades on the bike in the future. Right now, we are in Italy, where we have our base. The team has had its presentation, and I've had a chance to meet all the girls in the team. I instantly felt that we all will be able to do great things this season. I know some of the girls from before, because I've ridden in the team before, as a guest. They are all very positive girls, and they are willing to give a lot of themselves. I like that style!
The presentation was grand, with a lot of people and press, which I also appreciate. Our sport needs a lot of attention, so when we get the chance to put ourselves on display, we have to take it. When it comes to the language, it is quite easy for me to make myself understood on English, but I am working on my Italian. Right now however, I do quite fine on a nice blend of both. I bet it sounds funny, but who cares?
I recently rode a race outside Pisa, my third start this season. The course suited me fine. It was partly hilly, and the finish was uphill as well. I had the intention to use the race to push my lactate threshold a bit further, and to get another race in my legs before Primavera Rosa this Saturday.
The race was really hard, mainly because of the hills, but the wind played a big role as well. The peloton was shattered into pieces. Acca-Due put on a great effort for last year's winner Nicole Cooke. All the girls in the team worked so hard to give her a nice ride to the finish. It is pleasant to see team work like that. /
Mmm...cake
Photo ©: Klas Johansson

When we approached the finish, the bunch had been narrowed down to just 15 riders. Coming up to the finishing ascent there was a tricky slope, so it was crucial to have a good position entering the last hill. I was in fifth wheel when the sprint started, I'm sure it was still around 400 metres to go, so there was going to be a lot of acid! I remember thinking stick to the left, because the ascent was slightly turning to the left just ahead of the line, and I managed to pass the five riders in front.
This win was perfect with La Primavera Rosa coming up this weekend, and the race was a good work out too, just what I needed after a long thirty hour training week. It was a true team victory, and I would like to point special gratitude towards Baukje Doedee, who was outstanding.
Ciao a presto!
Susanne
P.S. A big thanks to all readers of Cyclingnews who voted me best female cyclist in 2002!
Photography
Images by Klas Johansson