Recently on Cyclingnews.com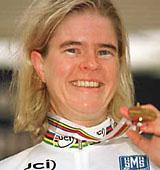 Susanne Ljungskog
Photo: © Sirotti
The Susanne Ljungskog Diary
2002 was very much Susanne Ljunskog's year as the powerful Swedish rider landed the world championship just a few weeks after her second place overall and final stage win in the Grand Boucle. In 2003, she is riding for Team Aliverti-Catalunya-Kookai, and hopes to improve on that Grand Boucle runner-up placing.
Looking back at the World's - and forward to 2003
February 4, 2003
Hej!
Last year was a really exciting year for me. Before the season I had set up two goals. I wanted to finish top three at the Tour de France, and I wanted to win the World Championships. I did both! I will not write much about what has been here, but I would like to mention a few things about the Worlds.
2003 season preparation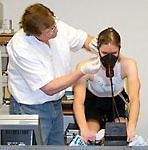 When I crossed the line as the World Champion in Zolder, I felt shocked. The race had really been going my way, and I had all the strength and luck you need to win. I do feel for Melchers and Stahurskaia who crashed with two kilometres to go. They are both very complete riders whom I have the greatest respect for, and they were both possible winners of the race. However, as it turned out, it was little me who won, and I'm very proud of it.
After the Worlds I took a four week time out, with some easy training only. It has been a very nice time, and I've finally had the time (and strength) to do things I cant do during the season, ex. just laying around in front of the TV, zapping away a whole day, eating loads of unhealthy food. But then it is back to business again, with a lot of build up training before the new season. My training has progressed according to the plans, and I feel ready for new challenges. Before the season starts, Klas (my boyfriend and coach) and I will go to Mallorca for a three week training camp. I'm looking forward to that, because I really feel like getting back on a road bike again after numerous sessions on a mountain bike or long hours of running in the woods.
This season, I'll race with a new team. It's Team Aliverti-Catalunya-Kookai, based in Italy.
I have been invited to ride for them on several occasions in the past two years, so I have got to know them. With me, I will be bringing my right hand, Klas, who plays an important role in my life. He brings that little extra thing that I need to reach the very top. He possesses a very good sense of tactics, and he puts helping me above everything else. I'm so very grateful for that. I will write more about how we work together in coming entries.
Team Aliverti will follow a good program this year, with the Grand Boucle (women's Tour de France) as their main target. We will also participate in most World Cup races, and a number of stage races like Emakumeem Bira, Giro del Trentino, Tour de l'Aude, Thüringen Rundfahrt and Giro della Toscana.
In my next entry I will write a little about how I have fought my way to the top, and about my goals for his season.
Ciao a presto!
Susanne