The Scott Sunderland Diary 2003
World's 2003: Jobs for the boys
October 13, 2003
Mission accomplished
Photo: © CN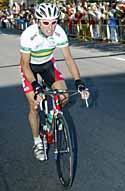 Well I didn't come out of the World's with a big prize, but I was still happy with the way I rode considering. I contributed to the team and I think we had a very worthwhile team, and Allan Davis's 12th place was a nice result. We had a few young riders and it was good experience for them and something for the future.
To be honest I didn't have the ideal lead up. After I got sick with the dodgy fish at Franco-Belge, I was only able to do one day of training (100 km) before I flew out to Hamilton. Since I got here I've done about 300 km, but for a 260 km road race it's not really enough. Not being able to get those long rides in makes the difference as in the other years I get three big rides in before the World's. So with four laps to go, the legs just went empty like that. Up until then I was quite comfortable, as the rest wasn't so bad. I think for a 200km race I would have been OK.
But I knew that would happen. I also knew I could do a good job for the boys. Move the boys up, stay as long as possible with them, try to go with a few breaks. You didn't have to do a hell of a lot anyway as the Italians took control. The way the wind was on that last hill before the finish quietened things down a bit. It was a block headwind and that makes a big difference sitting in the pack on that sort of a climb.
They more or less had to wait until the last lap as the peloton was so big. Van Petegem was strong at the end while Bettini wasn't on a good day. Van Petegem didn't want to do to much after, but maybe he burned all his power on the climb. It was him who made the break.
We had Allan Davis and Mick Rogers, who was an outside chance considering that he concentrated quite a bit on the TT. We also had Matt Hayman and Matt White, who just had an off day today. Whitey never got going, he said. He went out the lap after me after chasing for half a lap and making no headway.
Scott Davis went out with five to go, me with four to go, and Whitey with three to go. We had Ben Day in the beginning to look after everyone and get bottles. Neil Stephens asked him to do what he could and he did a good job, I think he rode a good 170 km.
If we had an extra five riders it would have been a different story. But it's hard to find enough depth at this time of year. Apart from the Italians and the Spanish of course. Even the Germans didn't have such a strong team.
Early jitters
It started off as a shitty day with a little bit of rain and wind. The first crash was because the roads were just like ice, and on the second lap there were more crashes. I was able to zig-zag my way through the second one but it put the wind up everybody. We were very cautious for the next five laps and it wasn't until the sixth lap that we started to speed up. But it was really hard to go on with it once you were out there. Not many people were keen on going early because of the wind - we had a headwind on each climb and that just kills you.
The first descent was pretty fast, and I got 93-94 km/h on my speedo. The second one was 80-85 km/h which was still fast considering there were a few corners. The potholes weren't too bad but the second descent was not resurfaced and that was really bad. A few guys were nailing those manholes because we were riding so close together. Even the finish straight itself was bad.
The rest of the organisation was really smooth. The whole setup was good with a big screen etc. It's been a nice day (we were lucky with the weather), the food's been okay, the hotel's been good and even the beer's not too bad. And that's coming from a guy who lives in Belgium! That said, I'll still be glad to get home.
I've got the whole day on Monday before my flight goes so I'll probably do a few touristy things. Canada is definitely a place I'd like to come back and see. It's a huge place and the little bit I have seen is very nice. I'd like to come back with my wife, cruise around and take in some more of the countryside.
Thank you
While I've been over here I've met a lot of supporters who know me through my diary on Cyclingnews. I'd like to say a big "thank you" for all the support on Sunday. Some of you got autographs, others just a hello, but I hope you all enjoyed the World's. There was a good crowd on both hills and there were people around practically the whole circuit. A world championship deserves a crowd like that.
Catch you later,
Scott