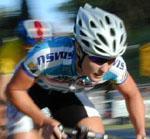 Photo: © James Victor
Going pro: The Rochelle Gilmore Journal 2003
Rochelle Gilmore - super sprinter and silver medallist in the Scratch Race at the 2002 World Track Championships - is a woman full of ambition. Despite being courted by the number one women's team in the US, Gilmore opted to sign with Lithuanian squad Ausra Gruodis-Safi; her goal being to move her World Cup ranking from 5 to 1 in the space of a year. Follow Rochelle as she attempts to rise to the top of the cycling tree in 2003.
World Track Championships, Stuttgart
July 30-August 3, 2003
Counting the seconds
Photo © Rochelle Gilmore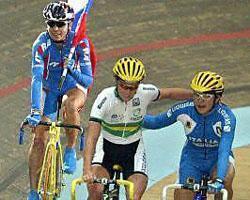 My race report is a little late so most of you would have seen or heard that I am still second best in the World, Errrrrr…
This year I went into the World Championship scratch race in top form and health. I was confident, but also a little scared, as any position worse than second would have been a disappointment after finishing second last year.
Second is becoming my life story, starting with a second placing in the Under-8 year's division of the BMX World Championships when I was 7 years old! Since then I have finished second in the Junior World Championships and I do not know how many World Cups (road and track) and twice now at the Track World Championships! Believe me I am ready to break the second place barrier - what better place than the Track Worlds next year in front of a home crowd!
I knew as well as every one else in Stuttgart that Olga Slyusareva would be the one to beat, she had already won the Points race and rode a 3.31 in the 3km pursuit, she was also in the form of her life. During the race, there were a few attacks but nothing too threatening. With about five laps to go I started looking for Olga's wheel thinking the only way to beat her would be to hope she lead out early and to come off her wheel in the home straight. I drifted to the back of the pack looking for her, I soon realised she wanted to stay behind me at this stage, it was a dangerous place for me to be with someone as strong as Sara Ulmer (NZ) starting to wind up her 96 inch gear on the front.
So I had to forget what Olga was doing and move up to the front. With about 3 laps to go I thought my race was over, I was stuck right in the middle of the bunch with nowhere to go. I was just about to back right out and go the long way around the pack when I saw a gap open up in front, I literally squeezed through the gap to put myself right on Sarah Ulmer's hip in second position with two laps to go. There was a rider holding her wheel like glue so I could not slip in behind her to get out of the wind.
When the Dutch girl moved around the out side of me I did not react as I thought it was too early to start my sprint on the longer track. It was a big mistake because she did not move past Sarah and I found myself really boxed in. Olga flew around the outside to take the win while I was still battling to get out; I squeezed out just at the last minute to take second from the Dutch girl Adrie Visser, followed by Sarah Ulmer of New Zealand. I felt as though I never really got the opportunity to have a sprint.
On the day I was beaten by an awesome rider, and I just hope that when (or before) I am her age (34 or 35) I will have the strength and experience she has; I have no doubt that I have the speed to beat her as I have a few times in the past (including at last years Worlds). It just takes a bit of luck and a perfect run to beat such a rider at the World Champs!
I would like to thank the following sponsors for helping me achieve this result:
Speedy Wheels
Oakley
NSW Institute of Sport
Bankstown Sports Club
Polar Heart Rate Monitors
High5
Australian Sports Commission/AIS
More later,
Rochelle