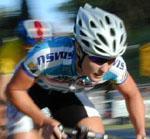 Photo: © James Victor
Going pro: The Rochelle Gilmore Journal 2003
Rochelle Gilmore - super sprinter and silver medallist in the Scratch Race at the 2002 World Track Championships - is a woman full of ambition. Despite being courted by the number one women's team in the US, Gilmore opted to sign with Lithuanian squad Ausra Gruodis-Safi; her goal being to move her World Cup ranking from 5 to 1 in the space of a year. Follow Rochelle as she attempts to rise to the top of the cycling tree in 2003.
16th Emakumeen Bira - 2.9.1, Spain, June 12-15, 2003
Stage 1 - June 12: Durango - Santimamiņe (Kortezubi), 70.3 km
Blue is beautiful
Good decision coach!
Photo © Rochelle Gilmore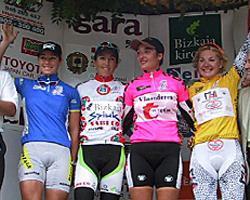 After speaking with Ian McKenzie (Australian Track Coach), we decided that I would skip the national track camp held in Switzerland this week to race this extremely hard, hilly tour in Spain!
We agreed that I need some hard work on the road after losing some road fitness while racing on the track back in Oz. I have a feeling this tour will be great preparation for the Giro d'Italia and also the World Track Championships.
After two intermediate sprints on the road today (at 16.5km and 45km) I am now the leader of the sprint classification. Our team has decided that I will continue to chase the blue sprinters jersey for the entire tour.
Tomorrow there are two 5km GPM's (mountain sprints) before the first intermediate sprint at 40km, so we are not expecting to pick up points tomorrow, but the following days look more promising.
Olga Sloussareva (Velodames Colnago) from (Russia) is running second in the sprint competition, only 1 point behind me. She came second in the stage today and looks to be climbing strong, so our guess is that she will take the sprinter's jersey tomorrow and make us work hard to take it back during the following days - I am looking forward to the challenge!
More later,
Rochelle