Recently on Cyclingnews.com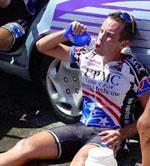 Photo: © Franklin Reyes
Papillon: The Joe Papp Diary 2003
Joe Papp, 28, is a UCI Elite rider with the UPMC cycling team. He was a double stage winner at the recent 2003 Vuelta a Cuba (UCI 2.5) and in 2002 won the GS Mengonin Grand Prix, the BMC NYC Cycling Classic for elite amateur men and a stage at Superweek, among other events. Joe's writing is good enough to make boring races intriguing and intriguing races captivating.
Tour of Somerville weekend
Somerville, New Jersey, USA, May 23-26, 2003
Never felt so good
Friday, May 23 - Getting ready for the "Kentucky Derby of Cycling"
Papp-arazzi
Photo © Joe Papp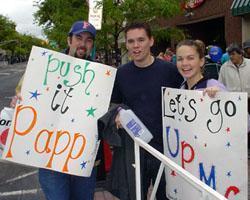 For US-based pro riders, "Philly Week" is one of the most important series of races on the calendar. Encompassing several one-day classics in Pennsylvania and New Jersey, and culminating with the USPRO Championships in Philadelphia, it's the stuff of domestic pro dreams.
However, for a select few in the paid ranks, and a gaggle of elite amateurs, there is another, more important group of races to contest on the east coast: those that make up New Jersey's Tour of Somerville weekend. First held in 1940, the Tour of Somerville has become known as "The Kentucky Derby of Cycling" and is "a race to be won among top national and international Olympians and professional cyclists," to quote the official race website. "Winning in Somerville bestows an amount of prestige that few races can boast; it is regarded as 'the race of races', a career maker, the crown jewel of American cycling events."
Hyperbole aside, Somerville is the last bit of Americana in an increasingly globalized sport of cycling. Alan McCormick, one half of the renowned Irish McCormick brotherly duo, said, "It's such a tradition. To win here is like winning big in Europe. It's a quick course, a unique race. And we all dream of winning it." Since 1993, when I first rode Somerville, and won it as a junior, I've dreamed of tasting victory in the elite race.
With the Kugler-Anderson Memorial, as the elite men's race is officially known, not until Monday, the UPMC team decided to take a pass on today's Manville Madness criterium. We raced Manville last year, and while I finished third, it was through luck and skill that I didn't crash on the extremely fast, extremely tight circuit through a residential section of town. Instead of pressing our luck, we trained easy this morning, and then did our best to stay out of the way of the hoard of juniors that has descended on our coach Mike Fraysse's training center in upstate New York. He's hosting a regional developmental camp for USA Cycling, and some very enthusiastic young men and women are here to make themselves known to our federation's coaches.
Race 2 of the Somerville quartet is tomorrow's Hills of Somerset County Road Race. On Sunday, #3 is the Tour of Bound Brook, and then Monday's Tour of Somerville is the fourth and final event.
Saturday, May 24 - Hills of Somerset County Road Race
Driving the break
Photo © Joe Papp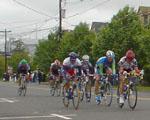 Up at the crack of dawn and then pile into the team van for a dress rehearsal of the trip to Jersey. We drove to Somerville this morning for the Hills of Somerset County road race, a 130km one-day race that starts on Main Street in Somerville in front of the US Bicycling Hall of Fame. Though we were hoping to take it easy today, some of the best riders in the USA were in attendance, guaranteeing an eventful day.
There was a light rain at the start, which continued intermittently throughout the day. Despite the less-than-favorable conditions, this was one of the best road courses I've ever ridden, and I thoroughly enjoyed myself. UPMC missed what would be the winning move, but we stuck to our plan and declined the opportunity to put all five of our team on the front to bring back the break. Instead, we launched occasional attacks until a small group that included Gerardo and Alvaro "Coto" Tardaguila went away after the first of the circuit's three tough hills.
With two riders in the chase, the desperation subsided and Mateo, Ward and I concentrated on covering moves in hopes of buying our guys a bit of time to close to the break. LeMond's Andy Crater made a huge solo effort from the peloton that I was sure would bridge him to the next group, but after 10km or so he was back in the field, looking the worse for wear. However, the Southerner's move was a catalyst that sparked the soggy bunch back to life and the distance to the chase was consumed in a matter of a few kilometers.
Thinking of Somerville, I was reluctant to spend much more energy, but racing being what it is, when I saw Mark Walters about to attack again with his teammate Siro Camponagara, I covered the move. And just like that, we were away, with Saunders and his teammate, an Argentine from Colavita-Bolla, a Jittery Joe's riding in the Knapp's jersey, a Canadian, a LeMond and several others in tow. The group was too big, however, and despite a savage one-two punch from the Navigator's duo, which split the group, the field just about reeled us in.
Throwing caution to the wind again, after quick nod to Walters, I attacked after a right-hand turn, just as the field was closing in. Mark, Siro and Saunders both covered my move, and just like that, we were away again, with the Jittery Joe and LeMond riders both joining thereafter.
Facing a four-minute deficit to the leaders with less than 20km to the line, there were no illusions of a heroic, come-from-behind victory for any of us. However, with so much horsepower finally turned full-throttle, we set off down the road in an epic chase. We very quickly caught several riders who'd been dropped from the break, and despite their best efforts, their attempts to share in the pace making only lessened our speed. Despite rather civil cajoling from Walters, and a few sharper words from the Italian Camponagara, the stragglers never found a rhythm and they marked themselves to be dropped.
Usually I'm not the one making moves that thin out a group, but I decided to attack in hopes of dropping the riders who couldn't handle the pace. To my surprise, it worked, and to my chagrin first Walters, then Saunders covered my move. Thus, I had the task of latching back onto them as they roared by on my right. I grabbed hold as we soared over a short roller, and by the top Siro, the Jittery Joe and the LeMond rider had also rejoined.
At that point, had it been a relatively flat final 6km to the line, I would have had no trouble staying with my companions and probably could have beaten all but Saunders in the sprint. Unfortunately, skipping the pre-race meeting to stay dry in the team van meant that I'd missed the course review and had absolutely, positively no idea about the savage little 1km climb that was waiting for us just up the road. We hit it fast, and then Saunders went faster as he caught Walters off guard. The Canadian rallied, however, and tried a short attack that Saunders quickly countered before he accelerated again. Wow.
Even in my anaerobic haze, I could appreciate the drumming that Erik was giving to Mark, though they cleared the summit together, with Siro and the Jittery Joe back on fighting terms with them by the start of the descent. I sprinted for all I was worth and bombed the descent "a morir," as my teammates say, but my death-defying pursuit was fruitless. When we hit the flats, the four were gone and I was left to fight off the nameless LeMond rider, who was several hundred meters back but had me firmly in his sights.
I lost maybe 45 seconds to my ex-companions, but I did hold-off my pursuer to finish a seemingly unremarkable 11th. However, given the climbing that featured on the course, and the relatively exclusive company in which I found myself in the closing miles, I was satisfied with my performance and content with my fitness. More importantly, the UPMC team rode extremely well and Alvaro, Gerardo and Mateo all finished in the money, too. Ward, who has a bit of a fever, still crossed in the top-30 and hopefully can rally for Monday.
We bagged the 10km pedal back to the starting area in favor of catching a ride over with Fraysse; I left in a hurry and didn't get any of the results. Sooooo…to the heroes who stayed away all day, I'm sorry that I don't have your names to pass 'round. The same goes for the Jittery Joe and the determined LeMond rider.
Sunday, May 25 - 28 today!
Today is my 28th birthday, and I get to have it my way. Slept in, then bought a copy of the NY Times which I read over a leisurely breakfast before heading out for a light pedal to spin the legs. While all of the juniors are racing the Bound Brook Criterium, we're skipping that one in hopes of arriving in Somerville ultra-fresh. I rode Bound Brook last year as well-it did nothing to help me for the next day's race, and was instead a bit of a downer, so it won't be missed.
Took it super-easy for the rest of the day, caught up on emails, chatted with friends and generally did my best not to obsess on tomorrow's race. In the evening I went out to see a movie, and returned to Sports Resort utterly relaxed and ready for bed.
Monday, May 26, 2003 - Tour of Somerville
Tension builds at the start
Photo © Joe Papp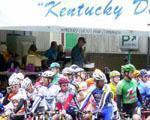 I woke today completely energized and was literally buzzing before I had even touched the espresso machine. Never, ever, have I been so psyched for a race! Not the national championships, not Superweek, not the Tour of Cuba, not the Mengoni GP - nothing! I could hardly contain myself, and told my teammates I would drive myself to the race rather than freak them out in the van. As a counter to my vagabond, poor biker lifestyle, I'd splurged on a new Alpine system for my car that includes XM satellite radio, to make those long drives more tolerable. Today I kicked it loud and clear for the two-hour drive to Somerville.
We arrived with several hours to spare before the start, and easily located our new teammate Alejandro Acton from Argentina. He rode both the Tours of Chile and Uruguay this year for his Uruguayan team, and is a good friend of Gerardo, Mateo and Coto. When he said he wanted to join our squad for the domestic season in the USA, we welcomed him with open arms and dreams of podium finishes dancing in our heads.
After checking-in with our ace director Mike Fraysse, we prepared the bikes, changed and began a steady warm-up. Or at least everybody but me warmed-up, as I spent most of the time talking to friends new and old and receiving their good luck wishes. I figured I wouldn't get dropped in the first five laps and could warm up then, but needed to collect as much good luck as I could before the start!
I must offer a huge public thanks to Joe Saling, "The Voice of the Tour of Somerville," for giving me the last call-up to the line before the start. Saling had the microphone way back when in 1993 when I won the junior race and my love affair with Somerville first began, and I was hoping to be able to repay his consideration with a return to the top step of the podium. A top-5 finish was the goal, but still, the win is what I really wanted, deep in my heart.
In keeping with tradition, the race distance was returned to its proper 50-mile length. The only blight that remains on this otherwise impeccable event is the continuation of a course change that was made to create a longer circuit for the 100km race that we'd ridden the past few years. I'll continue on my soapbox for one more moment: the Tour of Somerville is the oldest, continuously run one bicycle race in the United States. Its winners include Steve Bauer, Greg LeMond and Matt Eaton. Almost all of the best riders ever to come from the USA have taken to the start line on Main Street. It's tradition. It's Americana. Don't mess with a winning formula! Return the course to how it used to be! Ya.
Even with the difficult turn, the pace of today's race was fantastic. With strong contingents of riders fielded by Navigators, Ofoto, Prime Alliance, Colavita, Jittery Joe's, 7Up, and of course, UPMC, the attacking began almost from the gun and the field spent more time strung-out single file than in a bunch.
Our plan was simple - stay in the first quarter of the field, cover any move that had riders from at least two of the three most dangerous teams in it (those teams being Navigators, 7Up and Prime Alliance), don't waste energy sprinting for primes and deliver me to the front if it came down to a field sprint.
Floating on ze pedals
Photo © Joe Papp
Alvaro, Alejandro, Jerry, Mateo and Ward rode to perfection, and with Fraysse giving us info via the radio, we were never caught off guard. After only a few laps, I knew I was on for a special ride - I felt better on the bike than I ever have in my life and sat in the front with ease. It's been a long time in coming, but everything clicked: I floated through turns, accelerated effortlessly out of them, moved through the bunch like I had a special pass and was never, not for even one moment, in danger or out of contention.
As if that wasn't enough, I spotted (errr, heard) my brother David, his girlfriend and their two good friends loudly cheering the UPMC team from the inside of turn one. In true fanatic style, they hand-lettered several signs and assembled coin-filled noisemakers to make their presence known. I pity those spectators standing near my kin, and next year promises to be worse as David claims he'll bring an air horn…
Following our strategy, when a three-man break moved up the road with 20-some laps to go, we didn't react since the danger teams hadn't bit. However, just as I was advising the troops over the radio who was not in the move - namely Navigators and 7Up - Oleg Grichkine and Kevin Monahan jumped in tandem on the home straight and were gone.
"What the hell," I thought, as I dropped into my 11 and went off in pursuit. I was the closest UPMC rider to the front when they went, and waiting for a teammate to move up and then jump would have doomed us to stay in the field. So there I was, racing solo down Main Street with the leaders in my sights. With some encouragement from Saling, I caught the back of the break after turn one, got my breath and assessed. A quick check showed no pro from the smaller teams (Ofoto, Colavita, LeMond) and no Prime Alliance rider, but on the other hand Monahan was absolutely raging, Grichkine is the real Russian Concussion and Snow Valley's Scott Z. was game.
Despite Fraysse's best efforts to dissuade me from working, I couldn't pass on the chance to give it a go in an exclusive breakaway in my favorite race in front of my friends and family. Well, that's not entirely true. I did sit out a pull, telling Monahan that "he [Fraysse] is telling me not to work", to which the 7Up rider responded by giving me one of the most intimidating looks to which I've ever been subjected. Right, back into the rotation then…
Though there were a couple other riders in the break, it was the four of us doing most of the work. Still, we scratched out a 30-second lead that might have held, if not grown, had Fortuna's wheel spun our way. Instead of deferring to Prime Alliance, however, the other D3 pro teams that had missed the break took up the chase, and we never quite broke their grasp. Regardless, it was fun to no end, and a moment I will savor for years to come.
When the break was caught the boys pounced on the front and kept everything under control. The pace was still infernal, which was a surprise given the chase that had just been completed, but later in the race Victor Rapinski (Saturn) took advantage of a brief lull to launch himself up the road. Though his effort was impressive, and befitting the stellar season the young Belarusian is having, it was for naught and he was caught before he could worry the sprinters too much.
With four to go, Jittery Joe's massed at the front, and began what might have been the perfect lead-out for their fast Aussie Jeff Hopkins, had they waited for one more lap. Instead, with one to go they cracked, and the Navigators quickly assumed the role that all were anxious to see them in. Not quite done, however, Hopkins rallied his boys and willed them back into contention, while Alejandro and Coto did their best to shepherd me into the top-5 before the last turn.
It was truly an impressive sight as we rocketed towards the dreaded 180: Nothstein pulling for Davidenko; Hopkins and a swarm of orange still trying to take control; a lone Jonas Carney seemingly nonplussed to find himself without a wheel; and Rapinski on a daring trajectory heading for the inside of the turn in hopes of heading off the Joe's. Only a sharp hook from one of Hopkins' lieutenants kept the Saturn rider from getting into the turn ahead of the lead-out, but their gain was our loss, and Victor came bouncing back into the group to derail our little UPMC train.
We whipped 'round the turn and were spat onto Main Street for the final dash to the line. The peloton raced single-file along the right hand barrier for a few meters before the sprint began in earnest. Davidenko moved on the left, Carney went on the right, I followed the Russian and then disaster struck. Let's just say that Davidenko tangled with Nothstein, that it was completely inadvertent and but a clear example of the vicissitudes of bike racing.
As it was, the Olympic gold medalist brought down the former Russian pro champion in the center of the road, and the previously boxed Carney suddenly was gifted with a hole wide enough to accommodate an 18-wheeler. As I struggled to avoid plowing into Vassili's back, Carney took advantage of the Navigator's misfortune and squeaked in with his fifth win at Somerville, and by far his luckiest. Hopkins, who had victory in hand until he made the mistake of looking back for a glimpse of the melee, finished second. Sebastian Alexander (Colavita) followed the Aussie closely for third.
Yours got around Davidenko on the left and still hung on for fourth, acceptable given the circumstances but a bitter pill to swallow nonetheless. Rapinski powered through for fifth.
As is often the case at Somerville, Lady Luck was not to be slighted and the final results reflected her whims. Nonetheless, the racing was the best this author has seen in 10 years and Carney a worthy Champion, even if his methods were so efficient as to be clinical.
'til next time,
Joe Papp