Recently on Cyclingnews.com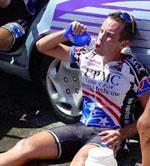 Photo: © Franklin Reyes
Papillon: The Joe Papp Diary 2003
Joe Papp, 28, is a UCI Elite rider with the UPMC cycling team. He was a double stage winner at the recent 2003 Vuelta a Cuba (UCI 2.5) and in 2002 won the GS Mengonin Grand Prix, the BMC NYC Cycling Classic for elite amateur men and a stage at Superweek, among other events. Joe's writing is good enough to make boring races intriguing and intriguing races captivating.
South Carolina Heritage Series
"Saturn crossed its signals again later, which, while a bummer for them, is heartening for the rest of us, since it proves they are human after all. "
After a week of laying low at Mike Fraysse's training center in New York after returning from Uruguay, I headed to the South Carolina Heritage Series to regain the criterium speed I've lost this spring. My trip began inauspiciously enough when the starter in my car broke in Virginia, but a bit of epoxy and a Neil Aldridge-style repair saw me back on the road, heading to Anderson for the first race.
The four-race series, which also visits the cities of Walterboro, Greenwood and Aiken, is supported by the South Carolina Heritage Corridor and the SC Dept. of Parks, Recreation and Tourism, and is promoted by Rich Hincapie of Hincapie Sports. Unfortunately, Rich's brother George from the USPS team will not participate because he is still recovering from the virus that wiped out his spring season.
The SC Heritage Corridor stretches over 200 miles from the Blue Ridge Mountains upstate, down the Savannah River to the historical city of Charleston. Each of the four regions and fourteen counties in the corridor illustrates a different aspect of the state's history, culture and natural landscapes. And yes, the Heritage Series offers an opportunity to promote this area to the rest of the country through the glamorous and exciting sport of cycling!
Race 1 - April 29: Anderson criterium, 50 miles
Alas, not having trained for most of the week, and racing here alone, I was a bit intimidated to see the likes of Chris Horner, Trent Klasna and Victor "the Belarusian Concussion" Rapinski from Saturn, Danny Pate of Prime Alliance and Robbie Ventura from the Postal Service, amongst others on the start line in Anderson. Tonight's race was contested on a fast downtown circuit that featured a gradual climb after turn one that extended to halfway down the backstretch, and a descent through turn four into the home straight.
As was to be expected, Saturn pushed the pace from the gun, first sending Trent Klasna up the road solo. While the field didn't react with desperation, as Klasna was only one man, the pace was very fast and stayed so throughout the race. After the Saturn rider was caught, a counterattack went with Rapinski, Pate and the evergreen Roberto Gaggioli (Monex). I thought the race would be decided amongst the three, but Chris Horner, who is simply amazing, had other ideas and crossed the 25-second gap on his own.
These four lapped the field, and after doing so, went clear again in a group of nine that stayed away for the rest of the race. Rapinski attacked the break and Pate followed, with the Belarusian taking the win, the Prime Alliance rider in second and Gaggioli third in front of Horner.
I had a very difficult time and abandoned with 10 laps to go. The course was such that there was literally nowhere to recover, and my lack of racing in the past few weeks (and lack of criterium speed after so many stage races) put paid to my chances. I wasn't the only one to check out early, but still - not the best way to start six days of crit. racing! Horner, however, was scary fast when he came through the field after taking the lap. Most of us were grimacing just to maintain the pace, and when he passed me it looked like he wasn't even breathing. Wow.
While I lick my wounds, I'll be staying with good friend Jamie Smith of Michigan, who has come out of retirement to announce the races. Send me an email if you remember the National Cycle League (NCL), where Jamie was the TV commentator along with former Euro-pro bad boy Alexi Grewal.
Race 2 - April 30: Walterboro criterium, 50 miles
We contested tonight's 80km criterium on a long circuit that passed through downtown Walterboro, home to the state's official South Carolina Artisans Center, which exhibits and sells the work of more than two hundred craftspeople and artists. The course was much to my liking, with a dogleg before the first turn and a wide-open backstretch that funneled down into two tight turns before the home straight. It was a layout made for a breakaway, and reminded me a bit of the classic Whitefish Bay race at Superweek
The race was on from the gun after Ofoto's Jackson Stewart attacked with Eric Wohlberg (Saturn), Oleg Grichkine and Mark Walters (Navigators), Jacob Erker (Schroeder Iron), Eddie Hilger (Fairway Suburu/Cyfac), and Frank Travieso (Aerospace Engineering). A group of three, including Kenny Labbe from USPS, was trying to close the gap, but I still asked Robbie Ventura if he wanted to take a stab at getting across. He wouldn't compromise the chances of his teammate, so Jason Waddell (Mathis Brothers), Ricardo Ortega (Aerospace Engineering) and I had a go. Alas, the Saturn train was quickly on us, and then they kept rolling to absorb Labbe and the other chasers.
Up the road, Grichkine and Wohlberg attacked the break after a prime, dropped the others, and eventually lapped the field. I had to content myself with attacking from a lap out through the dogleg to win a $100 savings bond, with which I can start my retirement fund. At the rate I'm spending money to stay in this sport, it's nice to know that in 10 years there will be at least a C-note waiting for me.
With five or six to go, Saturn began their lead-out in earnest for Wohlberg, while the Navigators tried to do the same for the Russian Grichkine. A resurgent Jittery Joe's also threw down and plunged into the mix in hopes of delivering their Aussie sprinter and all-around-nice-guy Jeff Hopkins to the line. Once the lead-outs started, however, the final laps devolved into a series of mini-races for the major squads to get to the second-to-last turn ahead of the others. With guys like Nothstein, Henk Vogels, Ivan Dominguez and Trent Klasna engineering their respective team's trains, it's tough - if not impossible - for independent riders (i.e., those athletes without five or six teammates) to credibly participate in the battle for the podium. Furthermore, there is a question of etiquette, as you'd hate to be the lone rider who chopped Grichkine off Vogels' wheel, took 6th in the finale and then got a taste of Aussie street justice in the process. Not that any of the domestic pros would want to fight after the race, but they simply wouldn't tolerate an amateur busting their leadout. It's a tricky situation, because as a lone rider you have every right to participate in the racing, and you probably have a compelling financial need to win some cash, and at the same time you would be advised not to insert yourself into the middle of the battle between two of the country's most powerful teams…
Thus, it shouldn't be a surprise that only three non-UCI D3 pros finished in the top-21 (21, because that's where I finished - one spot out of the money). And in the end, Oleg edged Wohlberg (who John Walrod used to call "Chicken Hawk." Is that really the Canadian's nickname?) for the win. One of the secondary effects of the wind-up for the sprint was that all of the remaining breakaways, even former Canadian champ Walters, were absorbed by the field, though the Navigators still put a second rider on the podium (Vogels in third).
Race 3 - May 1: Greenwood criterium, 50 miles
Tonight's Greenwood course, about 1km around, was painfully similar to the first circuit in Anderson, though we rode clockwise and in the rain. There was a short, very gradual downhill from turns one to two, an uphill for half of the backstretch, a short downhill into turn three, uphill to the last turn and flat to the line. With standing water on the course in several tricky spots following all-day rain, one might have expected a cautious start to the race. Hah.
Anyone not in the first quarter of the field was effectively eliminated from the race, as Saturn maintained a non-stop series of attacks that decimated the peloton and eventually pulled 14 riders clear, including cyclingnews.com diarist John Lieswyn (7UP-Maxxis) and the Cuban Missile Crisis Ivan Dominguez, one of the most feared sprinters in the United States.
Lieswyn's teammate Kevin Monahan made a valiant but ultimately futile effort to cross to the leaders, as did both Jason Waddell and I, and with all of the major teams represented in the escape, those riders left in the field weren't willing to let anyone else go. There was a comic moment when even Chris Horner couldn't get away, as his Saturn 'mate Eric Wohlberg inadvertently chased him down. Chris tried to tell Wohlberg to leave a gap when he attacked to go across, but Eric must have thought Chris said they would go together, and there you have it…
Saturn crossed its signals again later, which, while a bummer for them, is heartening for the rest of us, since it proves they are human after all. Rapinski, with Dominguez accompanying him in the break, should have covered every single move while also riding tempo so that the Cuban could have done his best Roadrunner impression and smoked the other escapees in the final. With six to go, however, former Euro-pro Erik Saunders (Ofoto-Lombardi Sports) attacked the break and caught Saturn sleeping, though the Navigators also failed to organize a credible chase. Though he held on by just a few seconds, Saunders scored an impressive win that must remind the big boys to keep an eye on the D3 upstarts.
After not being able to find dinner last night at 10pm, Jamie and I had staked out the Outback earlier this afternoon and headed there straight from the line to ensure that we weren't shut out of a meal again. I enjoy racing in the South, especially in well-organized events like these, since it gives me the opportunity to see another part of the country that I might not otherwise visit. Alas, I do wish there was less fast food on the menu and more independent dining options. A good cup of coffee is also hard to find, though the lads from Jittery Joe's could probably fund half of their season just by selling java to the peloton!
Race 4 - May 2: Aiken criterium, 50 miles
I started tonight's final event in Aiken with a heavy heart and almost didn't compete at all after receiving word from my brother that my mom suffered a heart attack last night and was undergoing surgery. God bless him, he waited to tell me because he knew I was racing and didn't want to freak me out, but he was a day off in his calendar. I would never have made it home to Pittsburgh in time to be of any use, so I got on with the race and decided I would do whatever I could to place, in hopes of being able to dedicate something to my ailing madre.
This course was my favorite, and it was the longest around of the four circuits. Rich Hincapie has to be given credit for putting on a first-class event, especially difficult to do with a first-year race, and it was nice to close out the South Carolina Heritage Series in front of a substantial crowd. The enthusiasm of the local townspeople helped lift my anima, and when a split occurred with 39 laps to go, I buried myself to get across. Apologies to Trent Klasna for offending in the process.
While the break seemed like a who's-who of US cycling, and included riders such as Robbie Ventura (USPS), Jacob Erker and Miguel Meza (Schroeder Iron), Chris Horner and Eric Wohlberg (Saturn), Henk Vogels and Vasilli Davidenko (Navigators), and Svein Tuft and Danny Pate (Prime Alliance), it was too big to last. Vogels knew this, and attacked before the final turn to split the group. With him went Meza, Pate, Wohlberg and Tim Larkin (Ofoto-Lombardi Sports). Jason Waddell (Mathis Brothers), normally known for his sprint, made an awesome chase to cross solo.
I was seriously frowning, since none of the pros left from the original group seemed to have the desire or motivation to chase, and it was unlikely that riders like myself could bring the Vogels group back without the support of some serious firepower. However, never say die, hope for the best, rah, rah, rah.
On the backstretch before the last turn, with the field roaring up from behind and about to swallow our group, I followed the effort of Adam Myerson (sportsbook.com) with a pull of my own and was surprised to be a few meters clear of the others. I was even more surprised when Chris Horner came up from behind shouting, "Go! Go! Go!" If anyone could bridge the gap, it was Horner, and Erker, Ricardo Ortega (Aerospace Engineering) and I held on tight. While Erker didn't skip any pulls, and Ortega contributed to the chase, it was thanks to Horner that the four of us were back in the race.
The four-lap pursuit painted a clear picture for me, however: I was not even remotely strong enough to make any big efforts against the top riders in the country, and my best hope for a high placing would be to conserve, conserve, conserve. While a pro like Horner realizes that it's almost inconsequential whether I pull with him or not, since he's going to drop me eventually, at least one of the other riders in our group was a bit too vocal for the reality of the situation. And in the end, Horner and Vogels both rode away from all of us, including the former U23 World Champion Pate.
While Meza chased hard, the race would be decided between the Saturn and Navigators riders, and the rest of us were left to fight for the scraps. Bearing in mind my previous caveat, I tried to stay out of the line of fire as Larkin, Wohlberg and Pate took turns attacking our group (sorry mom!). Wohlberg finally escaped with Erker, leaving Waddell, Pate, Ortega, Meza, Larkin and myself together. There was very little danger of our being caught by the field, which was splintering behind us, but there was a good chance that someone from our group would crash in the end if we were too uncompromising on the last lap. With rain falling and complete darkness having settled in, we were basically racing blindly through the final three turns - the trickiest of the race. I was surprised that the officials didn't end the race a few laps early, since it was unlikely that the outcome would have been dramatically affected, but they kept us going. Thus, I settled for tenth out of ten and no road rash for my long drive home.