Recently on Cyclingnews.com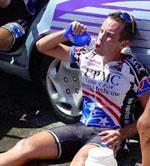 Photo: © Franklin Reyes
Papillon: The Joe Papp Diary 2003
Joe Papp, 28, is a UCI Elite rider with the UPMC cycling team. He was a double stage winner at the recent 2003 Vuelta a Cuba (UCI 2.5) and in 2002 won the GS Mengonin Grand Prix, the BMC NYC Cycling Classic for elite amateur men and a stage at Superweek, among other events. Joe's writing is good enough to make boring races intriguing and intriguing races captivating.
Vuelta Ciclista al Uruguay - 2.6 - Uruguay, April 11-20, 2003
Disappointment follows elation
Stage 1 - April 11: Montevideo - Maldonado, 165.5 km
Robbed?
Photo: © Joe Papp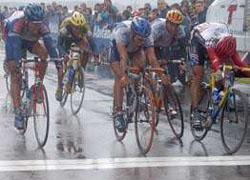 Well, first let me note that I've had to rewrite the rest of today's journal entry, because what I originally penned was too strong and not appropriate for posting to Cyclingnews.com. Basically, I am profoundly disappointed and feel as if the race officials and the Uruguayan Federation have robbed me of what should have been one of the best victories of my career, and certainly the most epic.
Despite having a reputation as being a hotheaded know-it-all, I'm really not as close-minded as my worst detractors would have you believe. Thus, when Harm Jansen told me in Chile that the biggest problem with my sprint is that I wait to long to start it, I listened and humbly asked for more feedback. He said that after riding against me so much last year and watching me sprint, that the best thing I could do to win more races would be to be the one to instigate the action in the final 200m, rather than waiting for someone else to jump before I make my move.
His advice was foremost in my mind today as the decimated lead group in which I found myself came into the final 300m of today's 166km stage, the first of the Vuelta a Uruguay. I had worked myself up into 4th before the last turn and decided that I would be the first to jump, as long as I didn't have to do it from some ridiculous distance like 500m to go!
Thus, as we came through the turn and with the banner plainly in sight, I made my move, only to have Johao Calvo (C.C. Fénix) swerve into my line and knock me into the grass in hopes of impeding my progress. Ok, not the result I was looking for, but I dug in and got myself underneath his left arm, back on the road and passed him with 100m to go. Thrashing for all I was worth, I drag-raced his teammate Héctor Morales to the line and with a well-timed bike throw, and won a close finish. Or so I thought.
While the sprint wasn't quite as close as Bauer v. Planckert in Paris-Roubaix circa 1989, it was tight, though I definitely pipped Morales on the line. Just look at the photo. Riders were congratulating me, but as I prepared to mount the podium, the Venezuelan commissar told me that I had finished 2nd! When my director and I asked to see the photo finish film, there wasn't any, though they offered to show us the playback of a video camera stationed 50m beyond the line.
Oh, and a bit of irony. On the podium they awarded me the winner's trophy, even though they had me on the second place step. Nice.
Stage 2 - April 12: Maldonado - Rocha, 150 km
Wakey wakey, it's race time
Photo: © Joe Papp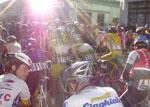 While I didn't really want to start today's stage after yesterday's heartbreak, I decided I would set-off with the black jersey (a color fitting my mood) of Lider de Regularidad, which denotes the leader of the competition for points awarded to the stage finishers (but not including intermediate sprint points, which are separate). Though technically Morales is leading the regularity, I get to wear the jersey because he can't hold both the gold (for GC leader) and black at the same time.
Just because I signed-in didn't mean I had designs on finishing the race, and last night I sat down with both the president and vice president of the Uruguayan Federation and let them know the position of not just me, but of many of the foreign riders with respect to food, accommodation, transfers, officiating, etc.
For example, we have to wake at 6:30AM to eat breakfast, but last night couldn't eat until 11:00pm because there is a 30km transfer between where we're staying (a summer camp, in a thatched-roof building without heat or hot water) and where we can eat (in the cafeteria above a bus station). Thus, after the first stage, we had to drive 30km from the finish line to our lodging, then 30km back to eat lunch; another 30km back to the campground and 30 more to eat dinner before finally returning after another 30km. The racing itself is hard enough without the organizational problems, and it makes continuing very difficult.
To make a point, I attacked on the first hill of the day leaving Punta del Este (the Monaco of Latin America) and Acton went with me.
After his disappointing finish yesterday, Alejandro also had something to prove and the two of us relayed each other along the coast before making a left and turning inland into a stretch of rolling hills. Once we gained a minute on the chasing field, we focused on maintaining the gap just to demonstrate that we could. Then, after almost 20km away, we sat up and let the field catch us. In the end, it might have been an exercise in futility, however, because after I abandoned later in the stage, the radio commentators took to skewering me as the "American Pretender" and blah, blah, blah, blah, blah, blah.
Whatever.
There is a reason that there are so few foreign teams here, though the Italians are far more philosophical about it than I am. I wish them the best of luck and hope that Simoni Biasci can win a stage, as he is much stronger now than when we were in Cuba.
Hey, did you know that Biasci raced in the USA for Mercantone during the heyday of the Thrift Drug Classic and the Kmart Tour of West Virginia? How 'bout the fact that he is not just the star rider but also the manager and sponsorship hunter for his team in Italy? Very, very cool! I like the Italians and they're nice guys. In fact, I gleaned some good info from them about how much kit to bring to a race like this. They each travel with a small suitcase and a tiny trolley, and they manage with about half of the crap that we have…
As for the race, Hernan Cline and his Alas-Rojas teammate Richard Masqeranas finished first and second, with Masqeranas taking the gold leader's jersey from Morales.
Stage 3 - April 13: Rocha - Treinta y Tres, 172 km
Went to the start to see off the riders this morning. Two of my teammates, Miguel Quitrales and Gerardo Castro also abandoned the race in a show of solidarity with me, and the three of us milled about the start area chatting with friends before we left for Jerry's house in Minas.

It was a bright, sunny morning, though very cold. Of course, one will have that on a fall day when the race starts at 8:30AM. Saw my former teammate Gregorio Bare of Uruguay, who is not racing right now after having some issues with the Federation. He was a triple B World Champion, and his absence from the Vuelta has been noted over and over by the press.

Also took some snaps of the riders and gave a few interviews with those commentators more favorably disposed to our position, but then the race was off.

In the finale, Carlos Silva beat Biasci on the line after a crash took out 20 riders near the finish. Milton Wynants was third and my teammate Mateo Sasso finished sixth.

I apologize for the brevity of this journal, but I'm off in a plane to America just as soon as I can fly. The tendonitis I suffered in my Achilles during Cuba has flared up again and I want to sort it before the Vuelta a Rio de Janeiro in Brazil, which starts on the 23rd. Thanks for reading, and I hope to have more for you next time.

Best,
Joe
Photos
Images by Joe Papp