Recently on Cyclingnews.com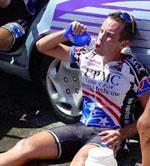 Photo: © Franklin Reyes
Papillon: The Joe Papp Diary 2003
Joe Papp, 28, is a UCI Elite rider with the UPMC cycling team. He was a double stage winner at the recent 2003 Vuelta a Cuba (UCI 2.5) and in 2002 won the GS Mengonin Grand Prix, the BMC NYC Cycling Classic for elite amateur men and a stage at Superweek, among other events. Joe's writing is good enough to make boring races intriguing and intriguing races captivating.
Vuelta Ciclista al Uruguay - 2.6 - Uruguay, April 11-20, 2003
Preparation: Easy on the meat, por favor!
Monday, April 7, 2003 - Laying low in Santiago
Laid low in Santiago today, or at least that is my cover story. Enjoyed not riding my bike, not thinking about biking and tried to enjoy a moment of rest and respite in general.
Look at me without my bike clothes on - I'm a normal human being.
Tuesday, April 8, 2003 - Destination Montevideo
A small-ish plug for the sponsor
Photo: © Joe Papp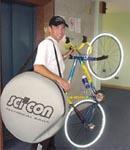 Finished packing, which was easy, especially the since the team is now using SciCon's top-of-the-line hard case. Without trying to make a blatant, sponsor plug, let me just say that this is the best case I've used yet. Just take off the wheels, one pedal and rotate the bars and off you go. Give credit to the Italians for their mastery of industrial design, for not only is the case functional, it looks cool, too. This is something that the Italian houseware firm Alessi would make if they were into cycling.
Headed to the airport and dropped off Gerardo and Miguel en route so that they could pick up our tickets, which had been couriered over from Uruguay. The E-ticket is not yet a big thing here in Latin America…
While I can't imagine it is an issue for teams like USPS or Navigators, the excess baggage charges that we get hit with are frightening. Even if the rider cuts out all non-essential items and travels with the bare minimum of kit, between six cyclists and support staff, the additional kilos add up quickly. Imagine then, the shock when they told us at the check-in counter that we were each permitted only 20kg of baggage! My bike case and bike with wheels weighs that much alone!
I've deferred all responsibility for organizing and funding this trip to Uruguay to the others, since it came at the last minute, and was interested to see what magic Jerry would work to persuade the ticketing agent to fly our 200kg of excess baggage for free. He was good, and told her that she might as well send the bikes to Montevideo whilst we enjoyed a coffee upstairs, since we had no money to cover the extra charge and thus had no hopes of traveling. She was simpatica and waived everything through.
Landed in Montevideo after a pleasant flight (marked by excellent coffee service!) and were met at the airport by Jerry's parents and a delegation from the Uruguayan Cycling Federation. Their presence meant we weren't even asked to pass through customs - just through a side door and off you go.
On the bus that we took into the city I noticed five extra SciCon cases to my one. Could it be? Yes, the same KRKA-Telekom Italia team that competed with us in Cuba is here for the Vuelta a Uruguay! Nice to see that there will be some familiar, friendly faces in the group, but talk about a small, small world. Could pre-season racing in Latin America be the next big thing for the European peloton? Oh wait, didn't Le Groupement try that without success one year, and Coast thereafter?
We're staying at the Best Western Palladium hotel, rated four stars and definitely worth at least three. This contradicts the mad warnings and horror stories told to me by Nathan Dahlberg while in Chile, though I will wait to see the kind of accommodation we have in the interior of the country.
Wednesday, April 9, 2003 - Two givens: Flat profiles and horrible, horrible wind
Hehe, not my wheel!
Photo: © Joe Papp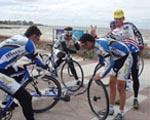 Miguel and I went for a training ride this morning with the Italians since Jerry, Mateo and Alvaro all are at their respective houses catching up with family and friends. I've got to get in touch with my own Uruguayan amigos who I last saw in January, but buying a calling card and navigating the somewhat complicated telephone system is involved… not much time remains, however, before we get crazy and start the Vuelta on Friday with a 160km jaunt.
I haven't seen the stage list yet, but rest assured that there will be two things that characterize the racing here: flat profiles and horrible, horrible wind. Since it's fall here in Uruguay, you can also throw in rain and cold temperatures. I was tempted to type, "and just when it's starting to get warm in New York," but someone emailed me a picture of snow falling in NYC from this weekend so…
The UPMC team goals are modest for this race, especially after Chile: finish all of our riders; win a stage; place in the top 10 on GC and top-5 on team GC. After that, anything else is a bonus. Monday's stage finishes in Minas, Jerry's hometown, so that is especially important and a prime target. Also, the stage that ends in Colonia features a trophy bigger than that for the winner of the GC, so we'll take a stab there. I can already see the faces of the Aerolineas Argentinas flight attendants as one of us walks onto the plane carrying such a monstrosity - "Sir, you'll have to check that… "
A vegetarian's nightmare
Photo: © Joe Papp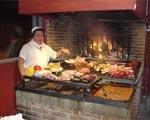 Went to dinner with the Italians at Las Leñas, a "traditional" restaurant near the hotel. It was hear that Uruguayan ex-patriot, left-wing political exile and former elite cyclist Carlos Laborde lunched almost every day. He lived just around the corner, but now resides in Miami where he is on the staff of the Brian Piccolo Velodrome. Carlos is one-of-a-kind and I consider myself lucky to know him and blessed to have traveled with him several times to Cuba. In 1996, he arranged for and then managed the US Postal Team's participation in several races in Uruguay, which, if I remember correctly, they dominated.
Meat eaters need definitely not apply for a night out in Uruguay, where they eat more beef per capita than Argentina. Luckily, I never went for vegetarianism, and worked on replacing some of the many calories that I left on the roads of Chile. I'm not sure why it is, but I almost completely lose my appetite during stage racing, only to have it roar back during periods of rest. When the waiter came 'round with a plate of ice cream, I could hardly say no and then proceeded to wash down my dinner with a double espresso. My coach Eddie Borysewicz would not be pleased, but after a plate of chorizo, what's a bit of café to sweeten the mix?
Thursday, April 10, 2003: Easy on the meat, por favor!
A boy's night out
Photo: © Joe Papp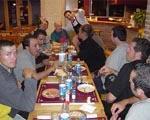 We've eaten lunch and dinner at the same place for the past two days, and had to ask the chef to turn down the meat content a bit in favor of at least a bit of carbohydrate! Today Jerry, Miguel and I showed up at the restaurant at the end of our training ride, and rather than being made to feel uncomfortable for having entered in cycling kit, we were welcomed and treated like the celebrities that cyclists are here in Uruguay.
Someone recently asked me why I spend so much time racing in Latin America, and while one reason is that the racing is super-hard, another is that as riders we are treated incredibly well and very much so appreciated by the public. Sure, the accommodation might not always be the best, put the spectators are usually quite knowledgeable about the sport, very enthusiastic in their support and appreciative of our efforts. There is great media coverage on the radio, TV and in print every day and cycling is actually respected, unlike in the mainstream of the United States. In fact, in Latin America, competitive cycling is the second most popular sport behind soccer. I'm looking forward to this tour for those reasons, though I'm a bit worried about whether I've recovered enough since Chile. Probably not, but let's see what happens.
Photos
Images courtesy Joe Papp