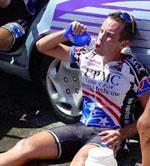 Photo: © Franklin Reyes
Papillon: The Joe Papp Diary 2003
Joe Papp, 28, is a UCI Elite rider with the UPMC cycling team. He was a double stage winner at the recent 2003 Vuelta a Cuba (UCI 2.5) and in 2002 won the GS Mengonin Grand Prix, the BMC NYC Cycling Classic for elite amateur men and a stage at Superweek, among other events. Joe's writing is good enough to make boring races intriguing and intriguing races captivating.
Vuelta de Chile - 2.5 - Chile, March 27-April 5, 2003
Santiago, April 6, 2003 - Vuelta a Chile wrap up
Intense recollections
Stage 10 - April 6: Circuito (Santiago), 71.4 km
Time for recollection
Photo: © Joe Papp
When one's day starts with recollections of the assassination of Israeli athletes at the 1972 Munich Olympics, things are bound to be intense. And so they were.
Our Director Técnico for the Vuelta a Chile has been Walter Tardaguila, father of my teammate Alvaro and a competitor in the aforementioned Olympic Games. I am not exactly sure how our conversation turned to such a bleak moment in history, but there it was in front of me: Walter retelling the story of how he had been basically next door to the Israeli delegation that was murdered in the Olympic Village.
He spoke about trying to escape but being denied exit by the terrorists and the utter depression of riding a bike race after such a horrible incident. While his tale did no wonders for my mood, it did put the difficulties we've experienced here squarely in perspective.
I did my best to reconcile with my personal demons by the start of this afternoon's stage, and while I wanted to win, I said that as long as I crossed the finish line without crashing I would be happy. Accidents, sickness and bad luck in general ruined our vuelta, but there is another race next week to contest, and so on and so on.
Por favor!
Photo: © Joe Papp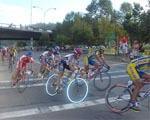 This sport can be so physically demanding and mentally draining that just finishing an international stage race is an accomplishment in itself (see my dismal track record of tours for confirmation...). While at times I feel like we didn't repay in full the support of our loyal sponsors, I know deep down that they won't abandon us after one less than perfect performance. Next week we're off to Uruguay for the Vuelta a Uruguay, a UCI 2.6 tour, and though I'm a confirmed gringo, the team will have the home field advantage thanks to Coto, Mateo and Gerardo's wealth of experience. Thanks, loyal sponsors, I promise we'll do better!
Since this afternoon's stage started late, I had time to ponder the vicissitudes of life before pedaling to the circuit with Peter Fairbanks, who is riding here for Colavita-Bolla. We crossed the main river in town and ambled up the highway on which the race is being contested, passing loads of unhappy motorists being detoured away from the site.
Peter's teammate Shawn Willard and I had a good laugh over this one: one of the best tours in Latin America (and the Western Hemisphere) finishes with a 70km "criterium" up and down a 2km stretch of autopista on the other side of a river from the country's most populous city, a veritable stone's throw from what could have been an incredible, spectator-laden circuit. Instead of a classic, Athens or Somerville-style criterium, we're going to do idiot loops with 180-degree turns on a highway… por favor!
Battling for position
Photo: © Joe Papp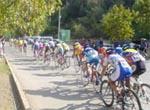 Bueno, the event was not devoid of spectators, as one might have feared, and the racing was incredibly fast. How it played out: the Russian Andrei Startasov (Lider) and a rider from Ekono attacked early and stayed away from the Publiguias-led field for half the race. This was impressive, as we were consistently riding 62kph on the downhill side of the highway and 51kph on the uphill side. A crash in the second turn (heading into the homestretch) briefly split the field but with 12km to go we were together with the yellow train of the race leader steaming along. The battle for position was intense, and the chopping, swerving, near-crashes and general asshole behavior was worse than many of the crits I've ridden in the USA. Uruguayan Milton Wynants (riding for la Polar) and I agreed to help each other in the sprint, and with 2km to go I was leading him up the backstretch alongside the Publiguias train. For once, I was super-aggressive before the sprint had even had thoughts of spoiling the leadout's advantage and freelancing the sprint with Milton.
A note: I am a field sprinter and always have been, and while I'm up for the bump and grind that characterizes the last 10km of most of these international races, I frown heavily upon the bullshit punching and grabbing and trying to crash other riders that I see more and more not just abroad, but also in the USA. I'm also not a moron, so when someone takes a swing at me, though my first instinct is to swing right back, the last thing that I want to do is bust-up the instigator and cause a crash in the process. Retaliation is usually saved for after we cross the line, and revenge a dish best served cold.
Alas, one little jersey grab
Photo: © Joe Papp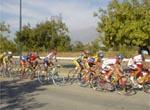 Thus, when the eventual stage winner, Richard Rodriguez (Publiguias), grabbed my jersey as we were entering the last kilometer and took a huge swing off at me, taking me right out of the race in the process, I wanted to kill him but focused instead on trying to help Wynants and myself. Alas, one little jersey grab can be enough to eliminate a rider from contention and I crossed the line an incredibly disappointing 14th on a day when I had super legs.
I took a look Rodriguez after we crossed the line but he wisely hid-out in his team car before climbing the podium to accept the winner's flowers. Lest you think that his move was clandestine, anyone watching the race on TV that night was treated to excellent footage that showed Rodriguez with about half of my UPMC-la Polar jersey balled up in his clenched fist. When I saw him in the Hotel CAR the next morning in the lobby as I was walking in from the street, he slithered into the elevator before I could exchange pleasantries with him. After this sighting, I stopped for a second and tried to put it back into perspective.
Yeah, he cheated, but whatever. I get to wake up tomorrow and keep racing my bike, next in Uruguay and after that who knows where, I get to share my experiences with you the reader and I don't have to worry about ducking for cover from mortars fired in the desert. If anything, I'll do more motor pacing when I get home so I don't have to worry so much about following wheels in the sprint!
Thoughts turn to motor pacing back home
Photo: © Joe Papp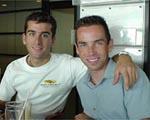 My teammates and I will have ridden three UCI stage races before May and are scouting for invitations to other one-day classics and tours in Europe and beyond. If you have any contacts and want to share, please feel free. Otherwise, thanks so much for reading and stay tuned for the next installment of "As the Wheel Turns…"
In summary, the Vuelta a Chile was very, very hard. Of the six UPMC-la Polar riders who started the event, I was the only one to finish. I placed 5th once during a stage and 7th two other times. My teammate Alvaro Tardaguila claimed an 8th. Our GC contender (and Vuelta a Cuba winner) Todd Herriott had to abandon due to fatigue, and we lost Colombian climbing ace Cesar Grajales to a crash on the first day. Mateo Sasso abandoned because of sickness, Gerardo Castro because of tendonitis and Alvaro Tardaguila because of injuries sustained in another crash.
Our next event is the Vuelta a Uruguay, which starts on Friday, April 11, 2003 and finishes in Montevideo on the 20th. The UPMC team there will include our core four: Castro, Sasso, Tardaguila and myself, along with Chileans Miguel Quitral and Jose Manuel Aravena. Tomorrow we chill in Santiago and on Tuesday we fly to Montevideo.
Finally, don't hesitate to send comments, words of support or even hate mail to me. As I orbit in a world of Spanish-speakers, it's nice to receive correspondence written in English!
Photos
Images courtesy Joe Papp