Recently on Cyclingnews.com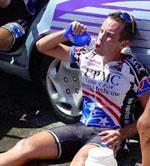 Photo: © Franklin Reyes
Papillon: The Joe Papp Diary 2003
Joe Papp, 28, is a UCI Elite rider with the UPMC cycling team. He was a double stage winner at the recent 2003 Vuelta a Cuba (UCI 2.5) and in 2002 won the GS Mengonin Grand Prix, the BMC NYC Cycling Classic for elite amateur men and a stage at Superweek, among other events. Joe's writing is good enough to make boring races intriguing and intriguing races captivating.
A yearning for Uruguay
Back to basics, Rocky-style
Saturday, December 6, 2003
Uruguay here we come
Photo ©: Joe Papp

Gerardo Castro (R)
Photo ©: Joe Papp

Joe Papp (R)
Photo ©: Joe Papp

Dinner, Uruguay-style
Photo ©: Joe Papp

Excuse me, sir...
Photo ©: Joe Papp

There's nothing like a weekend asado, the traditional Uruguayan barbecue, with some of your best friends in the whole wide world to set the most positive tone possible for an upcoming cycling season. And so it was tonight that I found myself in Montevideo, Uruguay at the house of my UPMC teammate Alvaro Tardaguila after an epic trip from New York.
With my 2003 season in tatters after breaking my knee in June before attempting a precipitous return at the Herald Sun Tour in October, I've come to Uruguay to regain my form, my sanity and to prepare for 2004. The time I spent here last year put me into the best shape of my life (see the results in my 2003 Tour of Cuba write-up), and I seriously believe that the combination of warm weather, low stress, good food and a supportive adoptive-family will allow me to return to my best. If not, sod it! But back to the basics…
After arriving a day-and-a-half late as a result of schedule changes and the bad snow storm that descended upon New York on Friday, I was met by my teammate Gerardo "Jerry" Castro and his father Cesar at Aeropuerto Carrasco in Montevideo. As if being delayed for hours in NYC and missing two flights in Buenos Aires wasn't enough drama, I caught hell from the customs inspectors for the suspicious "white powder" packed tightly in two plastic bags in one of my suitcases.
Well, my dad always said I was a bit short of common sense at times, and this was one of those moments. I'd innocently packed my Extran drink mix in large clear bags in order to lessen the amount of space it took up in my luggage, but to the wary men of aduanas, it looked suspiciously like I was re-importing one of South America's most infamous exports! Thankfully, the other 15kg of energy bars and carbo gels given to my by Mark Albert at Westwood Cycle in New Jersey on my way to the airport helped convince the authorities that I was not, in fact, reverse drug-trafficking in cocaine. Whew.
With much disbelief on my side, Cesar and Gerardo succeeded in cramming my two SciCon bike cases, two suitcases and one backpack into their Fiat Punto along with the three of us! Despite the travel, I was already feeling reinvigorated by the warm Uruguayan sun and again chided myself for spending winter after foolish winter trying to train in Pittsburgh!
We drove the short distance to Gerardo's aunt's house to shower and shave (Jerry and his dad had been waiting for me at the airport since 6am!), and then headed to Coto's for the asado, which would serve as both a celebratory dinner marking my return to Uruguay and a reunion between the riders and staff of one of Uruguay's most successful domestic teams, the 2001-02 Juventud de las Piedras squad. Imagine the classic American barbecue picnic on a Saturday afternoon, except make it ten times more social and the food ten times as tasty. We well and truly feasted tonight, enjoying incredible ribs, pulpon (beef steak), chorizo, salad, wine and beer. Besides Alvaro and his dad, Jerry, Cesar and me, our other UPMC teammate Mateo Sasso was there with cousin "Chico," in addition to a host of other friends and cycling fanatics. I didn't train at all for a week before leaving, one of my family members is super-sick, I haven't yet signed a contract for 2004 and I was still hung over from a night out in Manhattan with Todd Herriott, but the asado cured all. I really can't say enough about how great a feeling it is to share a feast with such good friends, but trust me, it is. To those who wonder why I spend so much time racing and training in Latin America, el Gato included, this is why.
Sunday, December 7, 2003
The plan is simple: spend the next seven weeks gradually working my body into racing shape, with a combination of epic rides in the hill country around Minas (where Jerry lives) and resistance training sessions in a local gym. We're doing it Rocky style, and it's a bare bones training camp since no one is sure what 2004 holds for the team. UPMC has still not decided whether it will renew its title sponsorship, and though I've had promising, but informal, talks with another US-based outfit, no chips have yet fallen into place. Regardless, we're training as if we'll be making our debut at the Vuelta a Cuba in February, and Ward Solar, our other American teammate, will be joining us after Christmas.
The world of elite cycling is one of the most ridiculously tenuous existences I could ever imagine, and it's becoming less and less viable from a financial perspective, but the passion for bikes I had as a little kid growing up in Seven Hills, Ohio still hasn't diminished. I know that's a common theme for many riders around the world right now, who compete because of their love of sport and only occasionally for a paycheck. All I can do is hope that I have the opportunity to continue racing in 2004, that I return to my best and that I can chronicle the ups and downs for you, my loyal reader! I'll give it my best, and welcome you along for the ride.