Recently on Cyclingnews.com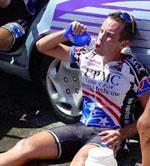 Photo: © Franklin Reyes
Papillon: The Joe Papp Diary 2003
Joe Papp, 28, is a UCI Elite rider with the UPMC cycling team. He was a double stage winner at the recent 2003 Vuelta a Cuba (UCI 2.5) and in 2002 won the GS Mengonin Grand Prix, the BMC NYC Cycling Classic for elite amateur men and a stage at Superweek, among other events. Joe's writing is good enough to make boring races intriguing and intriguing races captivating.
"Ready or not, here I come!"
Sunday, October 12
The Echuca-Moama (UPMC) team
Photo ©: Joe Papp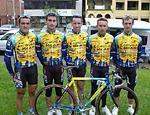 "Ready or not, here I come!" That was the thought running through my mind as my UPMC teammates and I drove to Newark International Airport this morning to start the first leg of our two-day trip to Australia for the Herald Sun Tour, an 11-day stage race ranked 2.3 on the UCI calendar. With me were Alejandro Acton from Argentina and Gerardo Castro, Mateo Sasso, Alvaro Tardaguila and Olympic silver medalist Milton Wynants from Uruguay. After the team's win in the Tour of Cuba this February, and a string of top-placings in other international and domestic events, we were graced with invitations to a variety of events. After racing UCI tours in Chile, Uruguay and Venezuela, this would be our first trip out of the Western Hemisphere.
The Herald Sun Tour, sponsored by Vic Roads in 2003, started 51 years ago with just 24 riders. This year, 85 cyclists from 16 countries will race 1200km throughout the state of Victoria. While I would normally be thrilled to be invited to compete in such a prestigious event, especially one that has a strong tradition of participation by US teams and riders, I'm still coming back from a devastating knee injury that saw me miss most of the 2003 season. Rather than take a pass, however, I've buckled down to train and rehab as much as possible, with the intention of getting to the start line in Melbourne with at least enough form to make it through the opening stages!
From Newark we boarded our Malaysian Airlines flight to Kuala Lumpur with a short stop in Dubai. First class wouldn't be as nice as our set-up: the plane was only partially full, so each of us had our own row of six seats in the middle aisle! I stayed awake long enough for breakfast and lunch, but then crashed for about five hours of relatively high-quality airplane sleep! When we finally arrived in Dubai, I was greeted by one of the most lavish airports I've ever seen. Talk about the riches of oil money! It seemed like I'd stepped into an indoor mall full of designer boutiques and Ferrari displays. Never one to complain, however, I took advantage of the situation, got a coffee and croissant, connected to the wi-fi network and checked email before exploring the rest of the 'port.
Monday, October 13
By the time we arrived in Malaysia, the combination of time spent in the air and the change in time zones had wiped-out all of us. We caught a shuttle to our hotel and checked-in for a welcome 12-hour layover. Nonetheless, Mateo and I headed out after showering for a look around the small neighborhood in which our hotel was situated. Unfortunately, we weren't in the center of KL, so the choice in venues was a bit limited. We settled for an outdoor café where we nursed cokes for about an hour before creeping back to crash for the night. Not the most exciting of evenings, but good for another stamp in the passport and a brief glimpse into a very different world.
When I first started cycling, I never would have thought that my bike would someday bring me through Malaysia en route to a race. In fact, I didn't think I would ever end-up racing outside of Pennsylvania. Nevertheless, with lots of hard work and a fair helping of luck, I plugged into the cycling network and started to make my way in the sport. While I'm not blessed with the pure athletic abilities of many of my colleagues-fellow competitors-in the peleton, I'm happy with what I have and grateful to be able to live this lifestyle. In fact, the number one reason I continue to ride full-time is for the fantastic travel opportunities afforded by the sport. The price is high, in the sense that to be a respectable enough rider to compete abroad, one must train and train and train (and not work a normal 9-5, well paying job) but it's a conscious decision we all make…
Our team's winning the Tour of Cuba in February (thank-you Todd!) opened even more doors, for it legitimized our UPMC squad in the eyes of many race organizers. Though we didn't have a large enough budget to afford to register with the UCI this season, we've had access to some incredible events and I hope our performance in Australia earns us a final invite to ride the Tour of the South China Sea in December. Third-world pro or not, I'm having fun and will race at least "one more year" before beginning the search for better-paying employment!
Wednesday, 15 October
We finally arrived in Melbourne last night after a short stop in Sydney, and are set-up in the Cosmopolitan Hotel in St. Kilda along with Americans Alex Candelario, Scott Moninger and Michael Sayers, some South Africans from the Barloworld team and riders from the Italian Amore & Vita squad, among others. With my body's internal clock wrecked after so much travel, I was wide-awake at 5am and sprinted out of the hotel in search of a triple espresso. And whose path should I cross en route to the only café that was open that early but fellow American Tim Johnson, who'd just come from the World Championships. He's riding with Canadians Eric Wohlberg and Dominique Perras, and Uruguayans (watch out, they're multiplying!) Jorge Libonatti and Hector Morales on the Active for Life team.
The first time I met Tim was when he gave me some constructive criticism on how I might improve my breakaway etiquette during the Univest GP, but since then we've developed-if not a friendship-then at least a respectful appreciation of one another's riding. Well, even at 5am he looked fit as a fiddle, and will be one of my pick's to finish in the top three overall, along with Jonas Ljunglad of Sweden and Luke Roberts (Australia).
Monday, 27 October
Evidence of homeopathic treatment
Photo ©: Joe Papp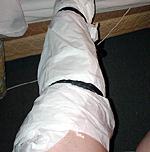 Well, the two-week gap in my diary exists for two reasons:
I was forced to abandon the Herald Sun Tour on Stage 3 after my knee started to bother me beyond what I'd expected and could tolerate.
The UPMC team, which rode under the colors of Echuca-Moama, had a less than stellar event, failing to win a single stage or place a rider into the top-10 on GC, and no one wants to read 10 days' worth of writing about five guys getting their heads kicked in each day.
Nonetheless, the wheel continues to turn and I'll be back. We leave on Wednesday to fly to Brisbane and the Tour of Queensland, where I'll be in the team car for what will hopefully be a more favorable race! In fact, after abandoning in Victoria, I took over the duties of team car driver and shared the directorship with Alvaro Tardaguila, who suffered a stomach bug before the start of the race and was replaced by Mateo Sasso, our intended-team director. Our best result on a stage was when Olympic silver-medalist Milton Wynants finished fifth after escaping the field in a five-man breakaway in the Port Fairy kermesse. Ouch. Props to Tim Johnson for opening a serious can of American-bred whoop-ass on the bunch of cycling maniacs who took to the line for the Tour.
Yeah, the boys definitely had a rough race, though they all finished the tour. The fact that such great riders as Stuart O'Grady and Dariuz Skoczylas rode for Echuca-Moama made our disappointing performance all the more humbling, but to his credit, team sponsor Frank Ryan of the Port of Echuca never once criticized us or took us to task for not living up to the tradition of the squad. Andy Bishop (USA) won the Sun Tour while riding for Echuca-Moama, and Frank told me that the New Englander still stays in contact with him and his son. I can understand why, since Frank assembled a great support crew, made sure that nothing was amiss and even secured the use of a Jayco camper so that we riders could stay under cover before and after the stages. More importantly, he and his wife Carol, our mechanic Gary, drivers Greg and Bruce and uber-therapist Dean are all great people who I will stay in contact with for the rest of my life! The Christmas card list is expanding.
Alejandro Acton (L) and Milton Wynants chillin'
Photo ©: Joe Papp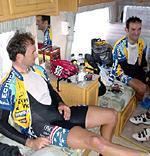 Some random notes from the Sun Tour:
Driving the team car is typified by hours of boredom and moments of sheer, knuckle-curling excitement.
Motorpacing is essential training for a race in which an 85-rider bunch will be compelled to rocket along in echelons at 60kph as a result of biting crosswinds.
Cycling is truly a small, small world. In Echuca, I met a family that hosts Irish rider Eugene Moriarity, whose father was a driver for my team during the 2001 Irish Milk Ras.
Victoria in spring is not a warm part of Australia.
Scott Moninger can still climb hills.
The Australian Road Championship road course is way hard, even for a one-day classic.
Tim Johnson is a stud.
Eric Wohlberg is a man of many quotable sayings.
Tuesday, October 28
The Herald Sun Tour was a test for me to gauge my recovery, one that I almost failed for not having been able to complete the event, but ultimately passed by getting back on the bike and racing in a UCI 2.3 tour only four months after almost losing my leg. I gained a new appreciation for (or fear of?) the job of an on-the-road team director, and will seriously have to consider whether it will be law school when the wheels are finally hung-up, or whether I'll pursue sponsorship for my own team to ensure more time behind the wheel in the caravan at high speed. Stay tuned for details.
Until then, it's time to enjoy the cafés of St. Kilda in Melbourne and plan my 2004 season and return to stage-winning form!
Photography
Images by Joe Papp