Recently on Cyclingnews.com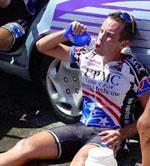 Photo: © Franklin Reyes
Papillon: The Joe Papp Diary 2003
Joe Papp, 28, is a UCI Elite rider with the UPMC cycling team. He was a double stage winner at the recent 2003 Vuelta a Cuba (UCI 2.5) and in 2002 won the GS Mengonin Grand Prix, the BMC NYC Cycling Classic for elite amateur men and a stage at Superweek, among other events. Joe's writing is good enough to make boring races intriguing and intriguing races captivating.
Back in the Saddle Again
August 17, 2003
Joe's left knee after three surgeries this June
Photo ©: Joe Papp & friends

Way back in June, when I was lying flat on my back in hospital for two weeks after a horrible crash put paid to my 2003 season, I didn't know if I'd ever get back to bike racing. I was seriously disappointed to say the least, though I always had it in my mind to write at least one more update for my cyclingnews.com diary.
Since the crash itself was mundane, and it happened two laps into a nondescript training race in New Jersey, there's no dramatic finish-line-sprint story to recount. I went down in a turn while leading off the front of the field and would have been relatively unhurt, had my left knee not slammed into the bladed spokes of my front wheel while I was falling. As it was, the spokes, acting like ginsu knives, cut into my patella and split open my knee like a ripe grapefruit. While lying prone on the road, waiting 40 minutes for the ambulance to arrive, I had horrible visions of the injuries suffered by Bartoli and Museeuw -both of whom actually broke their knees.
The physical pain that I experienced both immediately after the accident and during my time in the hospital, was profound and often 10 out of 10. I received two injections of morphine while being transported to the ER and they didn't even numb the sensations! Nonetheless, I was operated on that night by an orthopaedic surgeon, who did his best to clean out all of the road grit and debris that had entered the joint and to close the wound.
Unfortunately, the joint became infected (cue thoughts of Museeuw and gangrene) and there was a period in which I feared for my leg. Forget cycling, I just wanted to be able to walk again! The same surgeon reopened my knee to try to clean it again, but after the operation left the wound open so that it could be closed by a more experienced plastic surgeon. During all of this, I was constantly receiving injections of morphine and narcotics, which helped with the pain but wreaked havoc on the rest of my body and mind.
Back in action
Photo ©: Joe Papp & friends

As often happens with elite cyclists who travel constantly, save for my family and my teammates (with whom I live in New York), most of my friends are scattered around the world. In this case, with my family in Pittsburgh and me in a hospital in Hackensack, NJ, it was all but impossible for me to see anyone who didn't live within the New York metropolitan area. Even then, few in the local cycling community seemed to know what had happened, until cyclingnews.com posted some info in a daily news update. The loneliness, magnified by the uncertainty over my immediate and long-term future as an athlete, was almost worse than the physical damage. My heart went out to Henk Vogels, who suffered a similarly terrible crash shortly after mine and was stuck in Massachusetts for a time before his wife could finally come and collect him from Australia. It's no fun, and the importance of friends and family - something that is not always seen clearly in the myopic world of sport - was reinforced for me.
While in the hospital, I had a very quick, very sharp lesson in just what friendship means, and it has definitely changed me as a person. My best friends and my brother all came in person or otherwise contacted me within days to see what could be done. However, some individuals with whom I thought I had close relationships weren't to be seen or heard from. On the other hand, this disappointment was more than made up for by the response I received from several people who I had only just met this year, or knew only casually. Without publicly embarrassing anyone, I want to extend my heartfelt and profound thanks to the New Yorkers who took the bus out of the city to see me; the pair who brought magazines and organic peanut butter; the bearers of the Lion King and purple-haired girl; and an former co-worker who took the time to call and see what he could do. Though as my scheduled has returned somewhat to normal, and I've resumed training and being generally busy, I hope that should the need arise, I can be an equally good friend. I also learned that there is not very much in life that is truly worth agonizing about. If you have your friends and your family, your health, and something about which you're passionate, you can consider yourself lucky. Money is nice, fame is fun, a fast car would be a great distraction, but if life is suddenly ripped apart at the seams, it's only the basics that one needs to survive.
That said, I still want to return to elite cycling and live the self-focused life for at least one more season. My season was going too well to end on such a sour note, and I think that the perspective I've gained during the last months will help me to be a better rider, and a better person.
Cycling is still my passion, just as it is for many of you, and I'm not quite ready to leave competition behind. I've been fortunate to find something that motivates me to be the best I can, and though it has cost a lot in terms of deferred or lost opportunities outside of sport, the rewards have been tremendous. I'll never forget such sublime moments as swimming in the Caribbean Sea at night off the coast of Venezuela in '96 with my US teammates; helping Todd Herriott to win the Vuelta a Cuba this year; and racing a criterium points race on the streets of Monte Carlo, Monaco in 1994. Being a bond trader would have paid better, but I'm hoping that I can work my way out of financial purgatory later.
The only two goals I think I must achieve before retiring from cycling are to win the Tour of Somerville and to ride for a UCI pro team. I thought this year one would have led to another, but Jonas Carney and the vicissitudes of life stopped that. While a win in New Jersey requires a generous helping of luck in addition to heaps of planning and fitness, a pro contract for '04 seems slightly more possible! There are several great division three teams that I would be happy to ride for, but I hope that my coaches Mike Fraysse and Eddie B. can do like everyone else talks and find the financial backing to register our squad in the professional ranks. We certainly have the talent, with a former UCI World Champion on the roster, and a commitment from Milton Wynants, who just won two gold medals at the Pan Am Games. Even better is the fact that we're like brothers on the UPMC team. No matter how frustrating the financial situation might be, the fact that my teammates are like my family makes up for a lot. The vibe that exists in our squad hasn't gone unnoticed, and several current pros from the US and abroad have expressed interest in signing on…
It's almost always a question of money, however. We're off to the Tour of Venezuela in September (to the internet posters who call me the "Third World Pro," thanks - I like the nickname), and the Herald Sun Tour and Tour of Queensland in Australia in October (all sanctioned UCI races) but we've existed this entire season with a cash budget that is less than the value of our equipment! Title sponsor UPMC is a medical center based in Pittsburgh, Pennsylvania, where the world-renowned Dr. Freddie H. Fu is head of orthopaedic surgery. A true cycling fan, who was recently in Italy riding with the Colnago family, Dr. Fu has been a great patron of cycling in general, and our team in particular. In addition to fixing shoulders and knees in the OR, he's working tirelessly with us to secure additional sponsorship for 2004. Should we find the bank, riders interested in competing with the team next year would do well to send their credentials to team@mikefrayssesports.com!
Even if it's the same-old, same-old next year, I'll race again (though it will probably be my last year full-time). I've been back in the saddle training lightly for several weeks, and even rode two races! On Wednesday I raced in a local training criterium in my hometown of Pittsburgh, PA. It was frustrating to be on the rivet in a race that my British teammate Dan Staite and I dominated for five years in a row, winning almost every event we entered, but simply returning to competition was a milestone. Since I was already a lap down at the finish, I gave the leadout to Ray Russell, a colleague from my days in the robotics industry who is now a solid masters racer. Ray finished in the top three, a first for him, and he was beside himself after the race. It was my pleasure to help out, Ray!
The fallout from this accident sucks, but it has given me a new appreciation of the sport. While some might find it to be more thrilling to battle for UCI points alongside riders like Horner, Vogels, Monahan, et al, there's something to be said for returning to one's cycling roots - like going home to play sandlot baseball after a few tough seasons spent in the majors.
August 21, 2003
Joe Papp & John Eadie in 1997
Photo ©: Joe Papp & friends

I must have used more than my allotment of good luck during the first half of this year, because today a car hit me while I was returning from my second training ride of the day! I've been working out with Chris Hayden at North Jersey Pro Rehab on Monday, Wednesday and Friday, doing intense PT, and riding upwards of 20 hours per week on the road. I was starting to feel good again on the bike and was looking forward to the Tour of Venezuela-and now this!
This winter I fell into the terrible habit of training without a helmet. While in Uruguay, my teammates and I would go out for five hours and only see 10 cars, which lulls one into a false sense of security. Furthermore, the drivers in countries in which cycling is a popular sport (a la baseball here in the USA) have a greater awareness of riders on the road and more respect for them. It's still a stupid decision, because there are an infinite number of variables outside of one's control, but what can I say - we rode without helmets everyday, got great tans and were no worse for wear.
Such behavior doesn't translate well to the USA, where most motorists would sooner run down bike riders than wait 20 seconds to pass them safely, and where cycling is a fringe sport, despite Lance's heroics and the great diaries penned by John Lieswyn. One realizes it's even more foolish to leave the house without a helmet (and maybe full body armor?) after being plowed by an SUV while descending a hill at 60kph.
Traffic safety specialists and accident investigators say that most crashes happen within a mile or so of the home, and I was only 500m from my front door when the SUV turned left into me as I entered the intersection at the base of the Glen Spey Post Office Hill. The driver had slowed before he made his turn, seemingly contemplating whether he could cut in front of me in time, but when he went he basically attacked the intersection with the pedal to the metal. I had enough presence of mind to expect the unexpected from him, and was already braking and swerving when he hit me with the corner of his vehicle. I didn't fall immediately, but careened off the road, onto the shoulder past the intersection, heading directly towards a telephone poll.
My first thought was "this can't be happening," which was quickly replaced by, "shit, I'm going to hit the telephone pole at 30mph while not wearing a helmet and I'm going to die like Nicole Reinhart." Seriously.
I had known Nicole since our days as juniors racing in Pennsylvania, and I'll never forget the trip we took to the Pan American Championships in Venezuela in 1996 as part of the US team, along with Christian Vande Velde, Tommy Mulkey and Ryan McDermitt, among others. Christian was super-motivated after not having made the US Olympic team, and everyone rode at or well above the level that was expected of them. Nicole won the women's road race and took silver in the pursuit on the track, Christian caught Ivan Dominguez (who was still racing for Cuba) in the men's pursuit, and I finished eighth in the men's road race. Basically, we had an awesome team, everyone got along great, and Nicole was her usual smiling, happy, friendly self. Her death a few years later was a tragedy…
And it was foremost in my mind as I hurtled at the pole. I must not have used all my luck, however, since mid-air I was able to twist my body away from the immovable object and instead landed partially in the grass, and partially against the wall of a building that also stood on the corner. Granted, I smashed my helmetless head into the building, but again a bit of luck: I hit a ventilation grate that conveniently buckled and didn't crack my skull.
Cue ambulance and police, another trip to the hospital, a torn quadriceps, a minor concussion, lacerations and road rash but also the opportunity to rehab again and someday return to competition.
August 23, 2003
DJ J-Papp
Photo ©: Joe Papp & friends

On Monday I head to Pittsburgh for an eval. by Dr. Fu and his UPMC staff, so today I spent the afternoon at the pool, catching rays and doing a bit of DJ'ing at the Verge Sport corporate retreat that my coach Mike Fraysse is hosting here at the resort. Disclaimer: Verge is a UPMC team sponsor.
One thing that's to be said for so much time off of the bike is that it's great for catching up on all the things one misses from a normal, non-elite-cyclist life. Despite my injuries, I headed into New York City yesterday to meet-up with my great friend Todd Herriott, who now races for the Healthnet pro team. We had a killer breakfast at a diner in the East Village, enjoyed some coffee and basically caught up on what's been going down this summer. I hadn't seen Todd since before my first accident, and it was beyond time to get together. Like everyone else, he's trying to square away his contract for next year, and I hope he gets a good one, since he's one of the most underappreciated riders on the US circuit right now.
Anyway, back to the party… Verge is renting the resort for the weekend, and they brought all of their employees (and significant others) for two days of great food, pool parties, volleyball, Frisbee, and general relaxation after a long year and before the crazy show season starts. Those guys are super-cool, and because their factory is in Poland, several of the guests were Poles (no Polish jokes, please!). As a result, the barbecue had a decidedly East European flavor, with fantastic sausage, kielbasa and bratwurst to go along with more traditional forms of charred flesh. Everyone ate heartily, though at least the Verge guys could claim to have worked off the food during their morning ride, while I just absorbed the extra calories.
DJ'ing was a blast, and while I won't be buying a deck or turntables anytime soon, I do want to see Paul Van Dyk before his US tour is over. I think I just missed him in NY, but hopefully there is a date or two left on the calendar. You see, I figure on not rushing my recovery, but taking it calmly and with discipline, while still partaking in the forbidden fruits of the cyclist lifestyle. Once I return to training and racing full-time, that's it. I'm coming back with a vengeance, and will find the best form of my life. Watch out.
'til next time,
Joe Papp
Photography
Images by Joe Papp & friends
And some from the archives: