California Dreamin' - The Paolo Bettini Diary 2003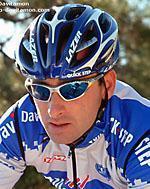 In action
Photo: © Quick-Step Davitamon
He's from California, down near the beach, but this guy's no surfer dude. Paolo Bettini is from La California, near Cecina on the Tuscan coast in Italy. Bettini is a compact, power packed explosive puncher of a rider who conquered the World Cup title last year for Mapei-Quick Step with his exciting, dynamic style. Bettini learned his trade as the right-hand man for Michele Bartoli, but emerged from his fellow Tuscan's shadow in 2000 with a great win in Liege-Bastogne-Liege. Bettini repeated at L-B-L last year and has now moved on from the glorious but now sadly defunct Mapei team to the new classics super-squad, Quick-Step - Davitamon. Cyclingnews is honored to welcome the likeable "fuoriclasse" Paolo Bettini as a diarist for 2003.
Bettini's Back !
June 17, 2003
Buongiorno a tutti!
Finally after a long period that wasn't very lucky for me, things seem like they are definitively working out well. Last week, I went to the doctor to get my last check-up from my shoulder injury and everything is now OK; now I am at 100% and can just focus on racing.
Sure, I did come back to race the Tour of Bavaria and Tour of Luxembourg; in those two races, I couldn't do much after being out of competition for almost two months! I tried to get in some breaks in the Tour of Bavaria but nothing worked out. In Luxembourg, I felt really tired, which is normal after a long period of "stop".
Now I'm back on the right track to start to be a protagonist in the races again. I just raced Gippingen where I was 2nd, now it is the Tour of Switzerland and the Italian Pro Championships. I want to go to the Tour De France with good form so I can do well on some of the stages that I am suited for… but enough about me. In my Cyclingnews diary today, I want to shine the spotlight on the recently great performances of my QUICK.STEP - Davitamon teammate Michael Rogers. Have you seen him? Our team's Aussie mascot is da bomb!
A few weeks ago, Mick rode really well to take the overall GC in the Tour of Belgium, and then he won the overall in the Tour of Germany, where he won the TT stage ahead of Jan "Kaiser" Ullrich! I am really happy for him; Mick is a great young talent who works very hard and well at cycling.
We rode together a lot at the beginning of the season; at the Tour of the Med in February, he was really important to defending my race lead during the team time trial. When Mick went to the front that day, he pulled so hard that I had to ask him a couple of time to go easier so he would not drop me! Mick is an excellent athlete and I am convinced that he can only continue to improve. Do not forget that Mick is only 23 and he won some big races already like the Tour Down Under not to mention Belgium & Germany. We never get to train together because Mick lives near Milano with his fiance Alessia; by this point, Mick has practically turned into an Italian!
Again a big shout out to Mick and congrats to the entire QUICK.STEP - Davitamon team for the great work in Belgium and Germany.
See you soon and thanks for reading!
Paolo Bettini