California Dreamin' - The Paolo Bettini Diary 2003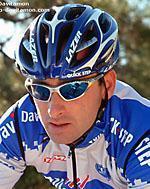 In action
Photo: © Quick-Step Davitamon
He's from California, down near the beach, but this guy's no surfer dude. Paolo Bettini is from La California, near Cecina on the Tuscan coast in Italy. Bettini is a compact, power packed explosive puncher of a rider who conquered the World Cup title last year for Mapei-Quick Step with his exciting, dynamic style. Bettini learned his trade as the right-hand man for Michele Bartoli, but emerged from his fellow Tuscan's shadow in 2000 with a great win in Liege-Bastogne-Liege. Bettini repeated at L-B-L last year and has now moved on from the glorious but now sadly defunct Mapei team to the new classics super-squad, Quick-Step - Davitamon. Cyclingnews is honored to welcome the likeable "fuoriclasse" Paolo Bettini as a diarist for 2003.
The Big Race and a Great Team - Milano-San Remo
March 27, 2003
Hello Cyclingnews readers!
Happy at MSR
Photo: © Sirotti

Speaking about Milano-San Remo last weekend, what a race! Even in my wildest dreams could I have imagined a finish like that! To win Milano-San Remo brought me such incredible emotions - not just for the prestige of winning the #1 Italian race, but also for all the things that happened last Saturday. It was an unforgettable day to be sure...
As it can often happen, success comes after a major defeat. And yeah, I'm talking about what happened to me at Tirreno Adriatico the week before Milano-San Remo. I lost this race in a lousy way: I crashed 600m before the finish of the stage of Torricella Sicura. What a disappointment! Me and Luca (Paolini) were 1st and 2nd in GC. We were sure that we could take it all the way to the end and win this race. Our Quick.Step-Davitamon team had done great work riding hard tempo in the front of the group all across the undulating terrain of central Italy. But in the end, we had a major hit from Mr. Bad Luck which took us out of the final charge for victory.
After Tirreno Adriatico, we were feeling pretty down, because all during the week of Tirreno, we were racing with some flu symptoms and not feeling great. Before the start of Tirreno Adriatico, I was in bed for four days with a temperature, but I thought I had gotten better. However, a week ago Sunday, my flu symptoms came back. Luckily, the stage that day, which finished on the Muro di Ortezzano, was cancelled because of snow. Otherwise I would have retired from T-A since I was sick.
Paolini and Bettini in TA
Photo: © Sirotti
I hope you understand that I was going for the win in T-A, sprinting for every time bonus while I was sick with the flu and to watch it all disappear like that, just from a stupid crash, really made me mad! And Luca (Paolini) my roommate was mad about what happened. But a strong team like ours has these kind of moments that test us and make us stronger than ever.
The night of the stage to Torricella Sicura after this crash, the atmosphere in the hotel wasn't too happy. Luca and I didn't feel much like talking at the dinner table and when the team staff arrived, there was pretty much only silence. Luckily, we have a guy like Davide Bramati in our team. 'Il Brama' started off making his usual jokes and then Johan (Museeuw) joined in with his famous jokes playing off Bramati.
Right away, the bad atmosphere cleared up and we started talking like a happy, light-hearted team. Slowly the hurt of what happened that day began to disappear. We stopped talking about the bad things at Tirreno and started talking about San Remo. Luca mentioned the Poggio and how the attacks might happen, Johan kept up his funny business and Bramati suggested some wagers on what might happen in Milano-San Remo. In the end, the bad vibes from my crash at Torricella Sicura ended with a team toast that washed it all away. That evening was when we started to build pour winning strategy for San Remo.
Our Quick.Step-Davitamon team is a really strong and united team and we showed that on Saturday. The team rode perfectly and did great work for over 200km. When you go to race with teammates so focused and together, everything else becomes easy. And then Paolini, his race was incredible! Think about it: after the break on the Cipressa and then the way the group came back together, I had decided to just stay on the back and watch the sprinters.
Paolini's attack
Photo: © Sirotti

But as we hit the Poggio, Luca came up alongside of me and made a sign to get on his wheel. All of a sudden, we were right at the point where we had talked about making an attack that morning at breakfast. Luca looked back at me, then made an incredible attack; he gave it 100%! It was a devastating move that blew the group apart and then once over the Poggio, Luca just dove down the descent with me on his wheel.
Where could you ever find a teammate like that? I don't see how I can repay this but I will find a way!
After the finish, I was incredibly happy, especially because, as you probably read on Cyclingnews, my wife Monica is expecting! So I immediately thought about them at home watching on TV. Who knows what our first child will think when they see the images of me winning this San Remo!
Ok well I have to say goodbye since I'm going to Belgium for some races this weekend. Saturday and Sunday, we have GP E3 Harelbeke and Brabantse Pijl. But I want to close this edition of my diary to thank my great Quick.Step-Davitamon team, and everyone who was along the route and who watched on TV and followed Milano San Remo on Cyclingnews.com live. Thanks for all your support and this win is yours too!
Ciao a tutti!
Paolo