Recently on Cyclingnews.com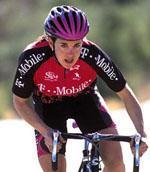 Photo: © Casey Gibson
Time for a change: The Kimberly Bruckner Journal 2003
Last year the 2001 US Road Champion Kimberly Bruckner left the number one ranked women's team in the US after two years with Saturn and joined the growing force that is Team T-Mobile. With her sights firmly set on the Worlds in Hamilton and the Olympic Games in Athens in 2004, Kimberly's diary is sure to provide compelling reading.
A close call with cancer
Tuesday, September 16
I never planned on having my season cut short. None of us ever do. I never would have guessed it'd be for the reason that it was. I was having what I felt was one of my most successful seasons ever. I had come off a great month in July in Europe with my T-Mobile girls racing the women's Giro d'Italia and then Thuringen Rundfahrt in Germany. With the help of my stealthy and sly teammates, I had even won the final stage of Thuringen, which for those of you who know me and my last experience in Thuringen, was nothing short of a miracle. After my last experience with that race, I didn't even know if I'd come out of there alive. I came home from that month on a total high. Our team was coming together and getting in synch, we were getting closer and closer to winning, and we were having a blast together.
After a week at home, I left for the Pan American games and was finally going to be reunited with my fiancÚ, Chris Baldwin. We had been racing separately for about six weeks and it seemed funny to me that we'd finally see each other again in the Dominican Republic of all places. I traveled down there with my closest teammate and friend, Kristin Armstrong. Between the three of us, we brought home gold, silver, and bronze medals and had a great time doing it despite the heat we were so unused to.
After Pan Ams, I had a break basically until the San Francisco T-Mobile International on September 14. During that time, I went to get this funny bump on my ankle checked out. You have to understand that I pretty much have the ugliest feet on the planet - and that was without the bump. About a year and a half ago, when this bump started to grow on my ankle, I was a bit distraught. It was really the last thing I needed to add to their lack of beauty. And of course, in the very back of my mind, I was thinking, "Well, it could be cancer so I should really get it looked at."
I saw two doctors at the Boulder Center for Sports Medicine and had an MRI before being referred to Dr. Ross Wilkins, a soft tissue tumor surgeon with the Colorado Limb Consultants. Even the name of his clinic was unnerving. It turned out that the bump was a soft tissue tumor within the nerves of my ankle, and Dr. Wilkins was the best guy in the area to take it out. I visited with him the Tuesday after I returned from the Pan Am games. I started going off on how it would best work into my schedule if he could remove it during the off-season, after Worlds, after my wedding, and after my honeymoon. All on my schedule of course. He looked at me for a moment, and then said, "No Kimberly. I had a cancellation for tomorrow. I'm taking it out tomorrow."
All right then. He assured me I'd be back on a trainer by Saturday, on the road after that, and should be fine for San Francisco. I called my director and let him know. Surgery was no big deal: outpatient, a few stitches, and out for a movie and dinner that night with my leg resting on the seat in front of me. Like clockwork, I was on the trainer Saturday for two and a half hours, on the road for four on Sunday, yada, yada, yada. But that next Tuesday, everything changed.
I remember distinctly Chris and I making breakfast in the morning, laughing, and making fun of each other like usual. The phone rang and I answered it, which is very unlike me because I usually screen all our calls. I'm bad that way. It was Dr. Wilkins and he sounded serious. In a very kind manner, he told me that my pathology report had come back from the lab and the biopsy showed that the tumor was cancerous. I felt sick to my stomach. I tried to listen as best I could without totally breaking down while he told me that I needed to come down to Denver immediately to see him, that I had a 1pm appointment with the plastic surgeon, and a 3pm appointment for a cat scan to make sure the cancer wasn't everywhere.
It was a very long day for Chris and me. The scariest part was waiting for the cat scan results to come back. Luckily, Dr. Wilkins called us on the way home from Denver as soon as he had results and said I was clean. As far as they could tell, the cancer was only in the ankle for now. I would need another surgery to make sure it was all cleaned out of the ankle. It would entail a muscle and skin graft as well since there isn't a whole lot of extra skin around the ankle.
My surgery was last Tuesday night. I had Dr. Wilkins and Dr. Brown, the plastic surgeon working on me at the same time for five and a half hours. I will never be able to thank them enough for their amazing work. Despite being hooked up to oxygen, three different drains, three different IV's, a catheter, and a monitor on the new skin and muscle around my ankle to make sure it was staying alive, my appearance wasn't enough to scare away my fiancÚ, my family, or all my precious friends that came to visit me. Thank you to everyone who sent flowers, cards, and gifts. Cyclingnews.com: thank you for all the goodies. T-Mobile and USA Cycling: thank you for your constant support and assurance. And Lance Armstrong: thank you so much for the call and for your words of support. What a total and wonderful surprise. I 'm saving that message for sure.
I feel funny writing about this. This ordeal I'm going through, it's nothing like Henk Vogels' horrific, almost life-ending crash nor Nathan O'Neill's awful crash in Altoona that broke his neck and put him in a halo. Those are truly scary incidents and I can only hope the both of them are healing well and looking forward to next season.
The thing we have in common, though, is that whether it's a crash or news that you have a serious, perhaps life- or limb-threatening disease, it helps you put everything in perspective. Those things that are truly important come to the forefront. For me it's my family and my friends and my health. Sure, I missed two of the biggest races of the season, the T-Mobile International and the World Championships. But God willing, I know I'll join my teammates racing again next season. And my surgeons have assured me I will be able to walk by the time I get married in October. What more could I ask for?
Until next time!
Kim