Recently on Cyclingnews.com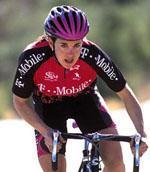 Photo: © Casey Gibson
Time for a change: The Kimberly Bruckner Journal 2003
Last year the 2001 US Road Champion Kimberly Bruckner left the number one ranked women's team in the US after two years with Saturn and joined the growing force that is Team T-Mobile. With her sights firmly set on the Worlds in Hamilton and the Olympic Games in Athens in 2004, Kimberly's diary is sure to provide compelling reading.
Giro d'Italia Femminile, part five: Geographically challenged
Stage 4 - July 8: Frosolone (IS) - San Vito Chietino (CH), 141 km
Last night my mom called and asked me where I was in Italy. I could not tell her. I honestly have no idea. Well, I know that we started near Naples, which is more southern Italy on the Mediterranean coast and since then we've been heading inland, through the mountains. And I knew that today we were heading further east until we reached the Adriatic coast and then we'd take a turn and start heading north along the coast. But as far as names of towns and where we are in proximity to the big cities like Rome and Milan, I'm embarrassed to say I haven't a clue. I love looking at maps and figuring out where exactly in the world I am; it's a great part of this job. But I haven't been able to find a map. I just know that each day we will continue to get closer and closer to Venice. That will be the ending point of our Giro. But I get ahead of myself. We still have six days and seven stages to go.
It was so hot waiting at the start of today's stage and many of the girls, including myself, had rolled up our jersey sleeves and tucked them in so it looked like we were wearing sleeveless jerseys. Apparently that wasn't acceptable to the race officials. They walked through the field and told each one of us personally to untuck our sleeves. We did but as soon as the gun went off, we rolled them right back up. I don't know why sleeve-length makes any difference whatsoever.
The first 35km of the day included two climbs and the Aurora 2002 team tried to stir things up a bit, trying to unnerve Edita Pucinskaite, the current leader. But she stayed calm and relaxed and nothing was getting away. We reached a max of 860 meters and then had 60 kilometers of gently sloping downhill all the way to the Mediterranean coast. Yes, 60km! The oddest thing about today was the eight tunnels that we had to go through on our way down to the coast. Some of the tunnels were not very long, and therefore weren't any big deal. But maybe three of them were quite long and very dark and for me, it was a bit unnerving. There were little lights on the ceiling of the tunnel, but sometimes the lights would be out, and we had complete darkness for just a second or two. All hell could have broken loose just then, but it didn't. I had to pull down my Oakleys just so I could see better and not run into the girl ahead of me.
We were keen on getting a break off today, but our plan wasn't a novel idea. Every team, I believe, had the same plan. And as bad luck would have it, the one break that went did not contain any T-Mobile representative. Very unfortunate for us. I think we were all sleeping at the time. A break of about 13 formed and before we knew what was going on, they had 30 seconds and were gaining steadily. All of us girls started attacking, either solo or in twos to try and bridge up to the break, but no one was letting us go. To make matters worse, we were attacking into a headwind and to make 30 seconds solo up to a fast-moving break was rather impossible. After we tired ourselves out trying to make up for our big mistake, we decided to sit back in the field, eat and drink and rest up for the next day and rack it up to a learning experience. It didn't look like the break was going to come back any time soon.
Eventually we came to the coast and made a turn north. The scenery, the sea was beautiful. I was enjoying it. Finally, with about 40km to go, the G.C. leader's team and Nicole Brandli's team (Nicole's in second overall) started putting in a hard chase to try and bring the gap to the break down to a reasonable level. There were no strong threats to the overall lead in the break, but there was a gap of over four minutes at that point. The pace was high as we came into the finish and I think the final gap was maybe two minutes or less. The final three kilometers wound uphill to a little seaside town but it wasn't steep enough to really break anything up. Finishing first out of the break was Regina Schleicher and second was American Tina Mayolo-Pic. Tina's here riding for the Danish SATS team and a podium finish for her, for any American, is an awesome achievement. I'm super happy for her.
Our total time for today's stage was 3:30. Mari and I noticed as we were watching the men's Tour de France on TV this afternoon that they finished 167km in the same time. And our race was mostly downhill! I think the men's speed today was 48 or 49km/ hour - average. We'd probably top out at that unless we were going downhill. I better just speak for myself though.
Cheers!
Kim