Recently on Cyclingnews.com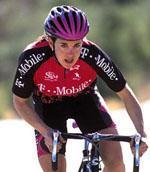 Photo: © Casey Gibson
Time for a change: The Kimberly Bruckner Journal 2003
Last year the 2001 US Road Champion Kimberly Bruckner left the number one ranked women's team in the US after two years with Saturn and joined the growing force that is Team T-Mobile. With her sights firmly set on the Worlds in Hamilton and the Olympic Games in Athens in 2004, Kimberly's diary is sure to provide compelling reading.
Giro d'Italia Femminile, part four: Fast and furious
Stage 2 - July 6: Colle Sannita (BN) - San Marco dei Cavoti (BN), 85 km
The race officials here really like starting us with a long downhill. As we were driving to the start of the race from our hotel, the road kept winding up and up. So our first 19km was winding down and down. Odd. Today's stage was really short and went really fast. Nothing was getting away today. Attacks were attempted but none succeeded. The hardest part of the race for me was the cat 1 climb that came directly after the 19km of downhill. My legs were ACHING while I was trying to get them in climbing mode. They were just not having it. I was afraid I was going to get dropped. Luckily, my teammate Stacey Peters was there and helped pull me back to the main field. After that incident, I started to feel better.
When we got to the 'top' of the cat 1 climb, again, I couldn't believe it was considered a cat 1. Not that I was beating the entire field or anything, but it wasn't half as difficult as the profile had made it out to be. Once again we repeated the climb for the finish, so I knew what was coming... as did everyone else. There's nothing more exciting to say about today's stage; honestly, not a whole lot happened this day. Fast and furious and over in 2.5 hours.
Cheers!
Kim