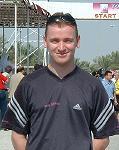 Enjoying the sunshine at the Tour of Qatar
Photo: © Ken Ilegems
The Ken Ilegems Diary 2003
Welcome to the Ken Ilegems Diary. Ken is a mechanic with the Telekom team. If zipping round the world looking after Zabel and Vinokourov's bikes sounds like a glamorous way to make a living – well, there are worse ways to make a Euro, but the pro mechanic's life involves a fair amount of hassle and lots of driving around Europe. It's all worth it when your man gets across the line first, though.
Mathias Kessler, puppy rescuer
Spring season round-up
"He followed me home!"
Photo: © Ken Ilegems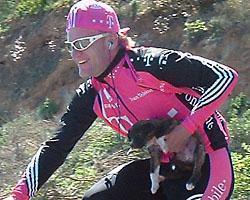 Early morning January 3, only two days after a nice New Year's party, I packed my bags for the first training camp of the year, destination Mallorca. It's almost becoming a habit going to the Spanish island. The weather was not so bad this year, and the integration of the team's new riders went smoothly.
Everything okay then? Well, not really. After 10 days a few riders got sick. A day later the number of sick riders doubled and kept growing steadily. What could have happened? The answer was simple: somebody brought in (unknowingly) an airborne virus that caused stomach problems. And once the virus was in the team, it wasn't easy to get it out again. At the end of the 16 days the balance was 17 casualties, including me. Luckily everybody recovered in the next week without any more problems.
Five days after I got home from Mallorca, I left again. This time we headed to the Canary Islands for a three week altitude training camp. Normally everybody would fly there, but team soigneur Frederik Pollentier talked me into a long journey by land and sea: 2400km of driving and 48 hours on a ferry. I suffered from sea sickness so the trip was hell. I decided to book a flight for the trip home.
We were there with three staff and six riders: Cadel Evans, Giuseppe Guerini, Alex Vinokourov, Mathias Kessler, Mario Aerts and Paolo Savoldelli. We had a really good time and the atmosphere in the team was great. Because the hotel was in a very isolated location, we needed some things to get the mind of the bike some times, and playing soccer on Guero's Playstation was ideal.
Being together so long with such a small group is good for getting to know each other better and discover unexpected things in someone's character.
Rescued
Photo: © Ken Ilegems

One day, driving back up the climb to the hotel we passed a small puppy by the side of the road. We drove a few kilometres further to catch up with Savo and waited there for the others on the side of the road. One by one they passed us and then Mathias arrived - with the puppy under his arm. The little dog had followed him for almost a kilometer, but because there was not a single house in the area he decided to bring it with him. Mathias rode at least 7km like this to deliver the puppy to our car.
Back in the hotel we called an organisation who takes care of lost dogs and the next day I drove Mathias to meet those people and hand them over the dog. They took care of 'Sancho Pancho' as we called him, and now he is running around somewhere in a German house…
Gloom
Photo: © Ken Ilegems

But not everything had an happy ending. In our last week Savo and Aerts had a terrible crash when they were involved in a high-speed frontal collision with a motorcycle. Both were taken to hospital. Aerts suffered some head injuries and Savo broke his nose, some teeth and two vertebrae. We had planned a small party for that evening to celebrate the birthdays of Guero and Cadel, but we cancelled all plans after this disaster.
Savo flew back to Italy two days later to get an operation and our morale was a bit down, so the last week went by a little slowly. I was very glad to fly to Murcia to get some racing finally.
Vuelta a Murcia
The tour of Murcia passed incredibly quickly, probably because of a number of things: the hunger to get on with a race; the nice weather over there; the good, no-stress atmosphere in the team; Erik's first win of the year; and the successful debut of Brian Holm as sports director in our team. Only two things caused some stress. The first was a silly thing that happened after 40 km in the first stage. Brian hit a peace of metal on the road and we had a flat tire with the team car. Luckily we had a second car following the race, so we switched cars. Walter Godefroot, who was visiting us that day, changed the tire and brought back the car. Problem solved - except that we couldn't take all the spare bikes with us on the second car so we left a few behind on the first car. And then there was Murphy's Law: Stephan Schumacher broke a pedal and needed to take his second bike, which was, of course, on the car we left behind.
Because the riders use different types of pedal, the only bike I could give Stephan was Yakovlev's, but the frame was five sizes smaller than Schumi's. I adjusted the seat height as well as I could and sent him on the road again with the small bike. I was just thining about asking another team if I could borrow a better bike for him when we saw Walter coming back with the repaired car. Saved by the bell…
The other piece of hassle was later that evening when we were washing the bikes in front of the hotel. A motorcycle with two young guys drove by and stole one of our bikes. They quickly dissolved in the city traffic and we never saw anything again of them or the bike.
Milan-San Remo and the rest
After a few days at home I joined the troops in Italy for Milan-San Remo. At the finish line it was nice to see some people who I hadn't seen for ages. It's one of the few races where a women's and a men's race finish at the same day at the same place, and since I'd worked for a women's team in the past I still know some of them, but rarely get the chance to see them. This was a good chance for me to catch up with some old friends.
After San Remo we drove straight on with the truck to the Setmana Catalana, starting two days later in Lloret de mar. It's also a nice race to do and we celebrated Erik's second and third victories there.
After a quick trip to Belgium I headed to Spain again for the GP Indurain and the Vuelta Pays Basque. We came fully motivated with a 'big' team and it showed. Kessler won the GP Indurain and underlined his readiness for the upcoming classics. Vino and Aerts also showed their growing form in the difficult stages of the Pays Basque Tour which was dominated by the Euskaltel guys, riding for their home crowds.
The last race I did was the Scheldeprijs. Not the most famous of the spring classics, but for me an important one. Why? Because the race is held in Antwerp, very close to my home, and it' s always something special when you do a race in your own neighbourhood, especially when you travel around so much. I wasn't the only one in our team who was in this situation. Also Frans Van Looy (sports director) is from Antwerp and was keen on a good result. Erik gave us almost what we hoped for by winning the field sprint, unfortunately five seconds behind the four guys who attacked in the final. Nevertheless we were satisfied with the result.
Now I have a few days off to relax a bit. So what have I been doing? Riding my bike and… going to watch races. Today I went to see the Flèche Wallonne. Again one of those few days where a women's and men's challenge are combined on the same day. So I was back on a women's race for the second time in one month. Coincidence? Maybe not completely...
Till next time,
Ken