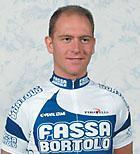 New threads
Photo: © Fassa Bortolo
Lead 'Em Out: The Guido Trenti Journal
Likeable 30 year old Guido Trenti was born in Italy to an Italian father and an American mother, so the Fassa Bortolo rider holds dual citizenship and a USA Cycling racing license. Trenti was proud to represent the United States last year in the world road championships in Zolder, Belgium. Trenti is known as a consummate team rider and his role on his new Fassa Bortolo squad in 2003 will be to act as key lead-out man for sprinter Alessandro Petacchi.
March 27, 2003
A tough Paris-Nice and a morale-boosting MSR
Prologue - March 9: Issy-les-Moulineaux ITT, 4.8 km
Well right away I didn't like the course; it was too hard and I didn't have a great time even though I was feeling good.
Stage 1 - March 10: Auxerre - Paray-le-Monial, 191 km
This was supposed to be an "easy" stage but it wasn't, even if the weather was great! I was feeling good and so was our sprinter Petacchi. Fassa Bortolo went into action at the very end, in the last 3km where we started our train: Cancellara, Velo and me, with Petacchi on my wheel. I brought Alessandro to the 200m mark where he finished with a great sprint and mission accomplished - we won the stage!
Stage 2 - March 11: La Clayette - Saint Etienne, 182.5 km
This was a tough stage for me since my job was to make sure I brought Frigo up to the very front of the group in St. Chamond, just before the final climb of Croix de Chaubouret. We did our job, but not until we were almost totally hammered. At the finish, everybody was talking about the bad crash of Andrei Kivilev from Cofidis. The next day the stage was neutralized as we rode in memory and respect of Kivilev.
Stage 4 - March 13: Source Perrier (Vergèze) ITT, 16.5 km
This was a totally flat time trial and I went out in the morning to check out the course and warm up. There was a really strong mistral wind but everything went well. I didn't give it 100 percent because I knew I would have to work for Frigo the next day as we thought he would take over the leader's jersey after the TT. Well that was the case and we had another toast since we won the stage and took over the leaders jersey. When we went to bed that night, we knew that we would have to work hard the next few days to defend Frigo's leaders jersey.
Stage 5 - March 14: Aix-en-Provence - Toulon (Mont Faron), 152.5 km
We were awakened too early (7.30) because the UCI medical control people arrived for a surprise check. Everything was okay for the blood tests and after breakfast, Frigo, who was my roommate, didn't feel so great. They took his temperature after breakfast and it was high (38°) and he was having intestinal problems. Frigo had to abandon while in the race lead which was too bad since we lost our leader. I ended up just riding the stage in the bunch since it was too hilly for me and I just tried to conserve my energy.
Stage 6 - March 15: Toulon - Cannes, 194.5 km
Today was a lousy day; cold and wet plus we had seven climbs! Even though I managed to go pretty good and only got dropped from the group on the last climb. I managed to finish ahead of plenty of sprinters and there were quite a few riders who just abandoned.
Stage 7 - March 16: Nice - Nice, 160 km
Finally the last stage at Paris-Nice and once again it was very hard; but it's all been good preparation for Milano-San Remo.
After Paris-Nice, I tried to relax and rest up, but I ended up doing a training ride of 220km at 36km/hr! I guess I am in better condition than I thought. With Milano-San Remo in our sights, Fassa Bortolo was feeling confident in our chances; we had Pippo Pozzato who just won Tirreno- Adriatico and even though he was riding his first World Cup race, Pozzato was considered a favorite.
Milano-San Remo
This was my sixth S.Remo and this it - the race for me - I love it! Everything was going okay and we were keeping our sprinters Pozzatto and Petacchi in good position on the Capi and the Cipressa. But it all unraveled on the Cipressa, since Pozzato crashed on the descent while Petacchi and Bartoli were left behind on the climb. So I was the only Fassa rider left up front with a chance in the sprint and even though I was pretty tired from all the work I did for Pozzato and Petacchi, I decided to go for it! I managed to have a good climb up the Poggio and though I couldn't follow when Bettini went, I still had a good sprint left and ended up tenth. I'm satisfied so far the way things are going with my season and at Fassa Bortolo and I'm heading to Belgium for the classics with a lot of morale.
Thanks for reading
Guido