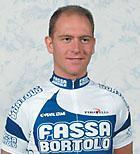 New threads
Photo: © Fassa Bortolo
Lead 'Em Out: The Guido Trenti Journal
Likeable 30 year old Guido Trenti was born in Italy to an Italian father and an American mother, so the Fassa Bortolo rider holds dual citizenship and a USA Cycling racing license. Trenti was proud to represent the United States last year in the world road championships in Zolder, Belgium. Trenti is known as a consummate team rider and his role on his new Fassa Bortolo squad in 2003 will be to act as key lead-out man for sprinter Alessandro Petacchi.
A Rockin' Ritiro
February 11, 2003
Are we all here?
Photo: © Jessica Page

Well I'm starting another season as a pro rider and after 5 years, I've changed my team. Before I was with Acqua e Sapone and Cipollini, but my new team is Fassa Bortolo, the number 1 Italian squad.
We all got together at the team presentation on January 17th and I could see right away the difference between the two teams. No criticism of Acqua e Sapone intended, but Fassa Bortolo is simply much better organized and a more solid team. When Mr. Bortolo gave his speech at the team presentation, he was very clear that this adventure of sponsoring a team was very important for Fassa Bortolo as a company and that he was a cycling fan that appreciated a winning attitude. After the presentation, we went directly to Tuscany and Marina di Bibona for a 15 day "ritiro", or training camp.
Knuckling down
Photo: © Jessica Page
After taking it easy for two days with the team presentation and travel, it was nice to get back on the bike. We had a double serving on the menu from the start; Monday 150km and Tuesday 150km with three climbs at a hard pace. Then Wednesday, we did 105km "easy" at 35km/hr pace. There was another double dose of pain on Thursday and Friday; 165km each day with bad weather from a winter storm. But that didn't stop us from our training rides; even a hail storm! When we got back to the hotel everyone was pretty happy... then we had our massages and a nice sauna to warm up and relax. I guess the best moments were when we were hanging out in the lobby after dinner; joking around and chatting and getting to know each other. Once we broke the ice, the time passed a lot faster.
After a week of training camp, our team manager Giancarlo Ferretti was there to follow us in the team car on our training runs. So you know we went hard from the start and it was pretty much like a race! I had to raise the white flag of surrender pretty quickly; I was still recovering from the antibiotics I took earlier in January for an ear infection that kept me off the bike for almost a week. I ended up riding by myself for part of the time hoping that my condition would improve and now it's coming back fast.
Fassa Bortolo training
Photo: © Jessica Page

During the ritiro, we decided our race programs for the 2003 season and we had a chance to get used to and fit our new bikes. I really like my new team wear from Pearl Izumi and the Pinarello bike. We finally went home after two weeks. I did a quick 60km ride the Monday I got back and since we had a rare snowstorm on Tuesday, I took advantage of the lousy weather as a rest day. Then it was back to work, with some long rides of 5 and 6 hours and some final motor-pacing sessions. I've been doing some riding with Pippo Pozzatto and Matteo Tosatto, who are my new team-mates and live near me. After a short ride of 60km on Saturday, February 8th, I'm relaxing a bit today and getting this diary up to date.
Next week, the racing season starts as I'm off to do the Tour of the Med on the Italian and French Riviera, then Tour of Valencia in Spain. Speak to you after that!
Regards,
Guido