Recently on Cyclingnews.com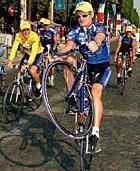 Floyd in action
Photo: © AFP
Hangin' In There: The Floyd Landis Journal
During last year's Tour de France, Cyclingnews welcomed Floyd Landis as a reporter. The talented, gutsy, 26 year old former mountain biker had ridden his way to a start in the Tour as a key part of Lance Armstrong's USPS squad, and Landis went on to distinguish himself as an important member of the now legendary "Blue Train" at Le Tour. Floyd also endeared himself to Cyclingnews readers for his unique take on an American rookie's life in the Tour De France peloton.
In 2003, Cyclingnews is pleased to announce the return of Floyd with his exclusive journal "Hangin' In There."
Higher goals around the corner
May 26, 2003
Hi everybody,
Having done two weeks of training between hip surgery and the start of the Tour of Belgium, I started this race with several good reasons to be afraid. First of all, I still was not convinced, after several conflicting opinions from the experts, that it was a wise idea for me to be racing at all.
I also wasn't convinced that having the second surgery was the right choice, but it was done so all I could do was hope that it all worked out in the end. As I tried to block those concerns from my mind and deal with the Tour of Belgium, I was faced with the thought that I probably was not in very good shape after the distractions of the previous month. On top of that, I was about to attempt some of the most frightening racing in the sport.
For those of you who are unfamiliar with the racing in Belgium, it is generally very windy there, with poor road surfaces. When you combine this with lack of fitness, it becomes very difficult and dangerous to try to stay at the front where it is easier and safer than in the middle of the peloton. But fortunately, due more to luck than anything else, I made it through the entire race without incident other than my pride being hurt in the time trial and on the final stage where the hill race finished in Liege.
Stage One was a little less fortunate for two of my teammates, Zabriski and Mikailov, who were the casualties of a large crash after about only 45 minutes of racing. There was about 15 kilometers of a hard cross wind in the open fields and as is often the case, when there is a hard fight to stay in the front and everyone is trying harder than would be prudent, someone made a mistake and couldn't react fast enough at 60 kilometers per hour. Result: a very large crash that covered the whole road.
It's important to mention that when there is a large crash the guys in front, out of respect, don't usually attack or try to increase the speed. However when the race is already going that fast and everyone has been fighting so hard to stay in the front to avoid the crashes, the race does not just slow down and wait. As is usually the case in this scenario, the 45 guys in front kept right on racing and whoever was not in the front when the crash happened was left to finish 25 minutes down in Stage One.
Stage Two was much less eventful, as far as crashes and dangerous situations go; after we lost two of our eight guys we were all just happy to all finish with the main peloton. But Stage Three brought another setback for us when Roberto Heras´ father, who had been ill for some time with cancer passed away and Roberto abandoned to return to Spain to be with his family. Finally, Stage Four's time trial brought a pleasant surprise in the return to form of George Hincapie, who, after not racing for a few months placed seventh in the TT. George was followed not too far behind by Matt White in 13th.
By the final stage of the Tour of Belgium, I successfully navigated the flat windy stages. In the process, I had become pretty tired and was ready for a day or two of rest. I was quite happy to help George and Matt stay at the front until I just couldn't pedal anymore and then I just rode to the stage finish a few groups back. I'm sure by most standards this race wouldn't be considered a resounding success, but after what I've been through lately, finishing with no hip or other problems was as much as I could hope for and I'm certain that higher goals are right around the corner.
Until next time,
Floyd