Recently on Cyclingnews.com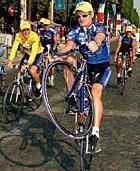 Floyd in action
Photo: © AFP
Hangin' In There: The Floyd Landis Journal
During last year's Tour de France, Cyclingnews welcomed Floyd Landis as a reporter. The talented, gutsy, 26 year old former mountain biker had ridden his way to a start in the Tour as a key part of Lance Armstrong's USPS squad, and Landis went on to distinguish himself as an important member of the now legendary "Blue Train" at Le Tour. Floyd also endeared himself to Cyclingnews readers for his unique take on an American rookie's life in the Tour De France peloton.
In 2003, Cyclingnews is pleased to announce the return of Floyd with his exclusive journal "Hangin' In There."
A short update
May 20, 2003
Hi Cyclingnews readers,
Well, it's been about a week and a half since my hip surgery and I am now back to where I was before I got the new hardware. Now the question is, how fast can I get into shape? I guess we will all find out together; I've been training as hard as I can, but racing in Europe is tough to simulate on your own.
So tomorrow, May 21st, I will start the Tour of Belgium and hopefully then I will have a better gauge of where my fitness is. One thing I do know is that my hip is doing better and better every day, since the surgery and flight to Europe. The the swelling has gone down some each day and now is almost gone. In the last week I have ridden about 800km with no hip pain, just like before the surgery, so at least the problem has been fixed. I had a few more hard training days and now I'm into Belgium for what I am hoping is a not such a shocking start to my European season.
Until next time,
Floyd