Recently on Cyclingnews.com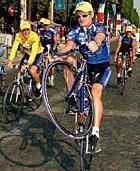 Floyd in action
Photo: © AFP
Hangin' In There: The Floyd Landis Journal
During last year's Tour de France, Cyclingnews welcomed Floyd Landis as a reporter. The talented, gutsy, 26 year old former mountain biker had ridden his way to a start in the Tour as a key part of Lance Armstrong's USPS squad, and Landis went on to distinguish himself as an important member of the now legendary "Blue Train" at Le Tour. Floyd also endeared himself to Cyclingnews readers for his unique take on an American rookie's life in the Tour De France peloton.
In 2003, Cyclingnews is pleased to announce the return of Floyd with his exclusive journal "Hangin' In There."
Some setbacks
May 12, 2003
The six weeks since my last diary entry have been a roller coaster ride for me, from my training, to the first races of the season, to the condition of my hip, things could not have been more hectic.
Let me start with one of the low points. The Sea Otter Classic was supposed to be my first race back from my broken hip and although I wasn't planning on winning, I certainly had hoped to get some fitness with a little racing. And that is just what I got, a "little racing" that is. Sea Otter began with a circuit race in Redwood City which we did not race due to dangerous conditions and open roads. That was followed by a time trial and then what was supposed to be a criterium but which was changed to a circuit race on the Monterey Laguna Seca race track. This is where my Sea Otter race ended; I had some chain problems during the race and to keep it short, I needed a new bike, which in a normal race is not a problem, however the laps at Laguna Seca were just too short for a caravan and too long for free laps.
I got a bike from the Mavic neutral support car and when I reached the pit area, I got a bike change and was back on one of my own. At this point I had already lost 30 seconds to the group and it was clear I would not get back on, but I was not that concerned since in the previous days time trial, the race officials did not enforce the 12 percent time cut (which, and I am not kidding here, would have left less than 20 riders in the field had they put it in) so I just kept riding until I got caught.
Well that's how it ended for my debut race, since the brain dead officials at Sea Otter, after a complete sham of a race, decided to give pro-rated times and eliminate several riders, including me, from this so-called race. I was at Sea Otter for four days and raced less than one hour!
The following week was much better; I was now back home in Southern California and training hard for the Tour de Georgia. Even though I had lost some fitness at Sea Otter, I was feeling good and hopeful that the next race would be different. I wasn't disappointed; the promoters of the Tour de Georgia should be complimented for the organization of a first year event of that scale (and I'm not just comparing it to Sea Otter). I still was not at Tour de Georgia to try to win but rather to get some more fitness and then, my plan was, to fly directly to Europe and begin my season there. However, during the Georgia race, what I had been concerned about for some time came to pass. You see, the bolts which were holding my hip together had backed out from the bone a few millimeters as it healed and were causing me pain as the tendons rubbed over the bolts. Even though the pain was bearable, I began to worry about what would happen if I fell on my right side with the bolts sticking out.
Having raced for six days I saw the problem as minor, and when I arrived home I got a CT scan to decide if the bolts could come out. But what I got was a reading on the scan that said there was some "indication of a non union", meaning, in layman's terms, that my hip bone was not healing and I should probably not have raced at all in Georgia.
A few more tests yielded several doctors' opinions, ranging from. "Floyd, stop walking completely and don't ride for three months" to "Floyd, you're fine, we can take those bolts out now". Well, following several sleepless nights over all this confusion, I went with the middle opinions and had the three bolts removed from my hip, and had three new, shorter ones installed. Then, just to keep things exciting, I jumped on a plane the day after surgery and flew to Spain for one more opinion from our USPS team doctor, Dr. Garcia de Moral in Valencia to see if the prognosis was good to begin training for a second time.
It is very difficult to put into words just how stressful it is when all these experts disagree and not only that, they had all changed their medical opinions! The ones who were aggressive from the beginning of my injury had switched with the conservative ones leading to complete confusion in my head. That's less than desirable for someone who is supposed to focus on training for the Tour de France! But, nevertheless, I am here in Spain now and even though I am not sure that I made the right decision, I am training once again albeit with a bruised and swollen leg (which is not out of the ordinary four days after surgery and a transcontinental flight). I've been riding four or five hours a day, getting settled in my apartment and getting 100 percent focused on Tour de France training.
My next race in the revised plan is the Tour of Belgium, but for now it's one jet-lagged, limping day at a time for me.
Until next time Floyd