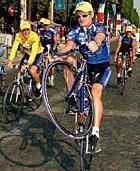 Floyd in action
Photo: © AFP
Hangin' In There: The Floyd Landis Journal
During last year's Tour de France, Cyclingnews welcomed Floyd Landis as a reporter. The talented, gutsy, 26 year old former mountain biker had ridden his way to a start in the Tour as a key part of Lance Armstrong's USPS squad, and Landis went on to distinguish himself as an important member of the now legendary "Blue Train" at Le Tour. Floyd also endeared himself to Cyclingnews readers for his unique take on an American rookie's life in the Tour De France peloton.
In 2003, Cyclingnews is pleased to announce the return of Floyd with his exclusive journal "Hangin' In There."
A Burning Desire
April 3, 2003
It's just about time for my 2003 season debut, and it's a good thing because I can no longer read about races which I should be in and stay sane. Every year when the season begins, I am a little disappointed that I have to leave my family, my home, and the California sunshine. But this year, although I'll miss my family until they join me in Spain a few weeks later, my burning desire to go race eclipses any disappointment in leaving home.
At this point, I have worked my way up to a training schedule of 750 kilometers this past week, which will be followed by the Sea Otter Classic. I've been reminded at least once a week by Johan Bruyneel that Sea Otter is just for training. (I wonder why he feels the need to remind me?!)
I don't believe there is much possibility of doing anything else at the Sea Otter since I have only been training outside for one month and everyone else has been racing for several months. However I'm very motivated to come back stronger than ever by July and that is also what Johan is thinking, I'm sure. Anyway, two weeks after that is the Tour of Georgia and I should be in much better shape by then. At least that is what I'm hoping since it looks like a very hard race and should suit me better than most U.S. races do.
Just in case anyone is wondering, my hip is coming along fine. Having never broken a bone before I had no idea just how long and painful the rehabilitation process can be, especially when a large joint is involved. I have progressed to the point where I can walk as much as I like but still with a limp which becomes worse later in the day. My cycling, on the other hand has also gotten much better over the last few weeks since I have been riding longer rides outside.
For the first week I had some knee and thigh pain which kept me from standing up for any amount of time, at least not without feeling very unsteady. Also in the first week of riding due to the pain in my thigh, I got all of the power from my right leg during the up half of my pedal stroke. This problem required less and less attention as the thigh pain has lessened and has now disappeared, however it has left my right leg much weaker than my left. My right leg strength is improving every day and at this rate, any pain should be gone completely in two more weeks.
I can tell you this because the improvement over the last 10 days has been remarkable and I can now stand on the pedals for any amount of time without knee or thigh pain. So I'm coming along in the healing and recuperation process as quickly as can be expected and the next time you hear from me on Cyclingnews, I'll be able to tell you all what to expect in your first race back after breaking your hip!
Until next time
Floyd