Recently on Cyclingnews.com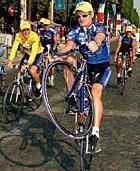 Floyd in action
Photo: © AFP
Hangin' In There: The Floyd Landis Journal
During last year's Tour de France, Cyclingnews welcomed Floyd Landis as a reporter. The talented, gutsy, 26 year old former mountain biker had ridden his way to a start in the Tour as a key part of Lance Armstrong's USPS squad, and Landis went on to distinguish himself as an important member of the now legendary "Blue Train" at Le Tour. Floyd also endeared himself to Cyclingnews readers for his unique take on an American rookie's life in the Tour De France peloton.
In 2003, Cyclingnews is pleased to announce the return of Floyd with his exclusive journal "Hangin' In There."
Mr. Motivated
March 25, 2003
Mr. Motivated
Photo: © R. Bryne

Well, after three weeks of riding on the road now, I've increased the time of my longest ride to four and a half hours. The pain in my leg is almost gone while riding, but walking is still a challenge and I still find it difficult to balance on that leg. However, after many years of bike racing, walking is certainly not my favorite thing and if I had to chose one of the two, it would be cycling.
That said, I now have plans to finally begin racing again and will do so in the beginning of April barring any unforeseen setbacks. I'll begin my season with the Sea Otter Classic on April 9-12, followed by the Tour de Georgia on April 22-27. The USPS team management believes that starting with a few American races, which are considerably easier than the European races in April, will be a better way for me to build some fitness while trying not to overdo things.
I'm happy with this program idea for several reasons; number one, I haven't done Sea Otter for several years and have good memories of racing mountain bikes there along with my first few years as a roadie. number two, I believe the Tour de Georgia should be a great race now and in the future and I am excited to be part of the beginning of that. However, don't expect to see much of me in the results in these early races because I need to do them more for fitness and training than results.
Right after the Tour de Georgia, I'll go back to Europe to try and get ready in time for the Tour de France. The plan now is to do the Four Days of Dunkerque on May 7-11, after which I will train with Lance in the mountains until the Dauphiné Libéré on June 8-15. After a few more weeks of training with Lance, I should be ready by July 5th for the 100th anniversary edition of the Tour de France, when Lance will try to tie the record of Miguel Indurain and win five consecutive Tours de France. Anything is possible (after all, I did break my hip) but if things go normally up to July, there is no reason why I will not be in top form for the Tour. Some riders prefer to race more than that to get into shape, but I have always preferred to train hard and race less; believe me, with my new found motivation after eight weeks of rest, training will be easy!
On another note, my heart goes out to the family and close friends of Andre Kivilev. When I heard the news last week, I couldn't believe it. His death was heart wrenching, to see someone so young die while living his dream. I cannot imagine the shock it was to those close to him. For me it's another reminder to live each day as if it is the last and treat other people with respect because it may be your last chance.
Until next time
Floyd